Festivals & Events
Semana Santa: Our Ultimate Guide to Spring Break in the DR
Pool party in Punta Cana
Photo: Shutterstock
Tap into the Essence of Semana Santa 2022 in the Dominican Republic
For many followers of the Christian faith, Semana Santa (Holy Week) is a time for reflection, family, and observance - but for many others, it's a week to hit the beaches, flood the bars and Colmadones (small grocery stores that double as bars), and go all out for a Spring Break adventure of a lifetime.
This year, Holy Week kicks off on Palm Sunday, April 10, and concludes on Easter Sunday, April 16.  So, to get you prepped for the religious and ultra-festive global event of 2022, we'll go through everything you'll need to know to do Semana Santa the Dominican way.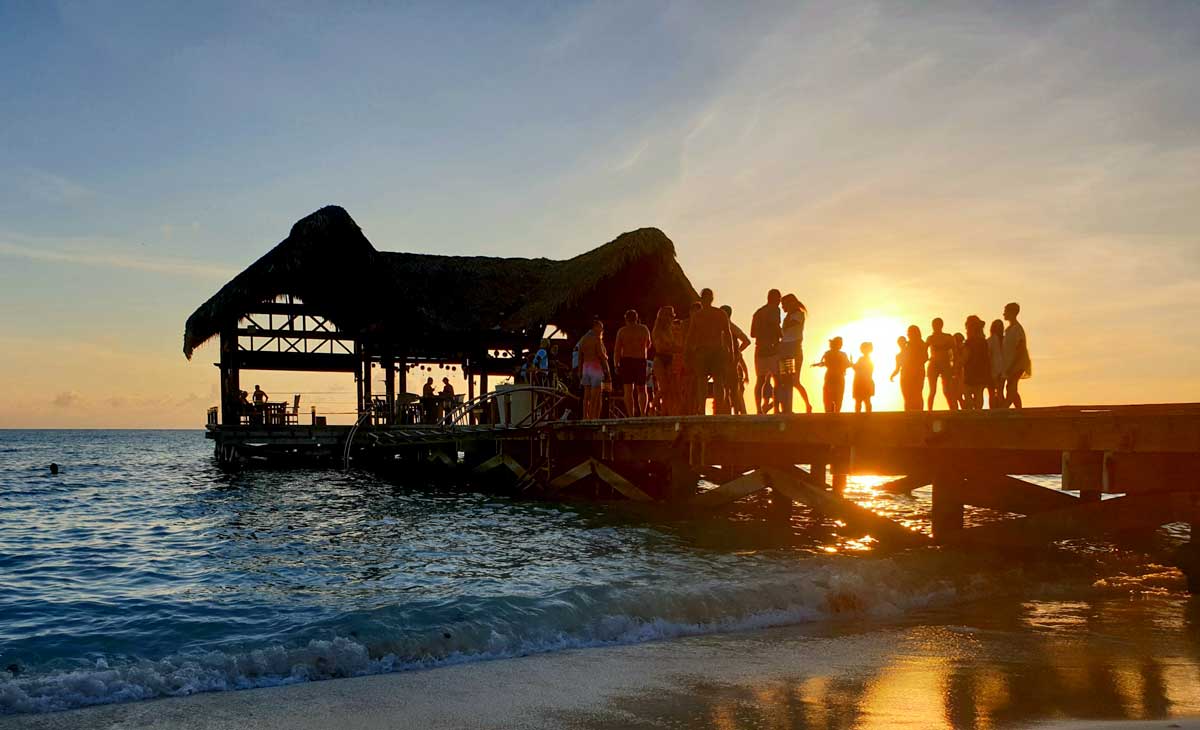 Sunset on the beach in Dominicus
Photo: Unsplash.com
Just Out of Curiosity
Holy week is a predominantly Roman-Catholic holiday. Its beginnings date way back to the 4th century A.D. in Europe when only Holy Friday and Easter Sunday were celebrated.  As its popularity grew among believers through the eras, the other weekdays were added to commemorate other key events of the passion of the Christ, such as the Last Supper or Juda's infamous kiss of betrayal.
Family Fun in the Sun
The Dominican Republic was made for Semana Santa, with numerous beaches, eye-watering landscapes, and fine Primavera (spring) weather.
The social atmosphere is one of excitement and togetherness for the local population - gathering at the coastal boulevards or Malecones, national monuments, and parks with family and friends.
Religious Activities
Throughout the week, dozens of cathedrals and thousands of parishes in the D.R. hold their respective festivities and processions in cities, towns, and small villages - where song, prayer, and dance fill the air.
Watersports
During the holy holiday, some recreational activities like boating, jet skiing, and deep-sea fishing are typically off-limits to minimize accidents - so, if you want to get your adrenaline on, try this: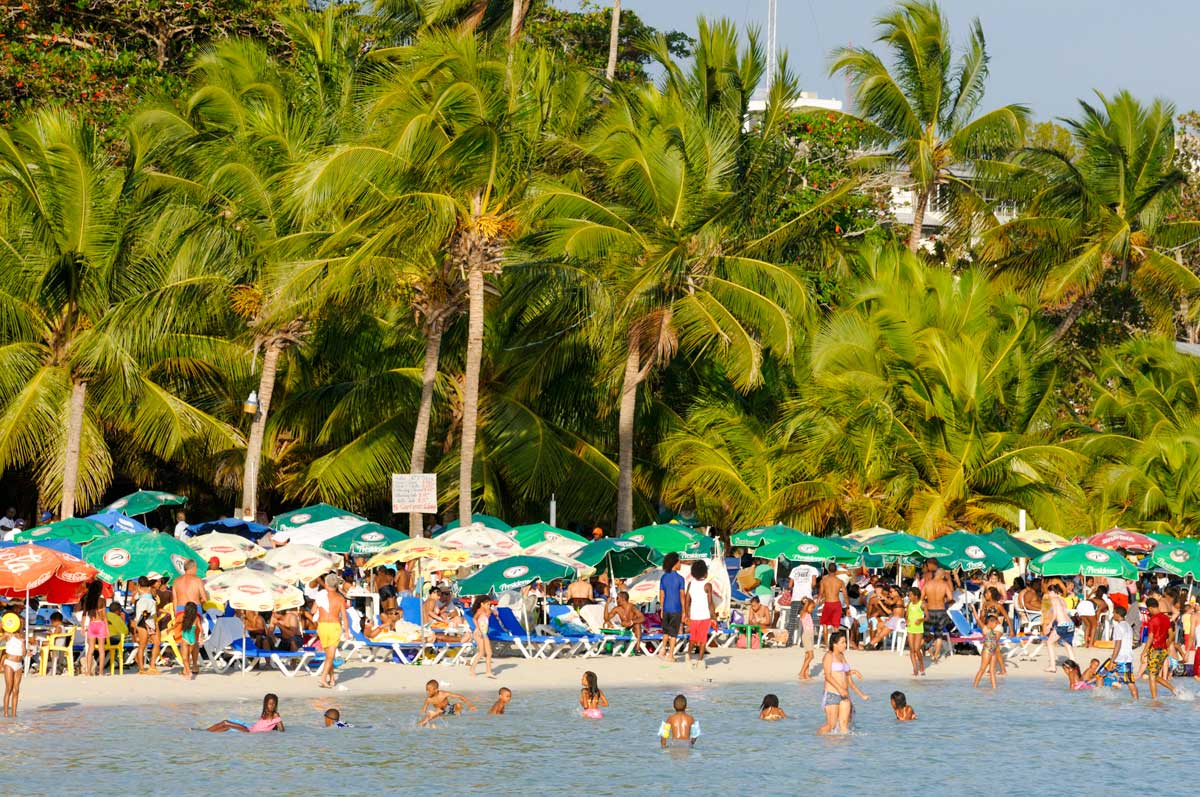 Boca Chica beach
Photo: Hemis / Alamy
Beaches & Rivers
Before the Spanish arrival to La Hispaniola, the indigenous Taíno people were already catching some sun and holding massive cookouts called Barbacoas, which we all know today as the Barbecue.
That's right!  Tainos invented the Barbecue, and the tradition continues today, as Dominicans and world travelers light up their grills along the same seashores and river banks.
Beach locations are highly protected and surveilled during the week, with assistance from the national guard, the Red ross, and even limited military presence to ensure everyone's safety – unfortunately, Spring tides, afternoon winds, and revelry mean that drownings are common during Easter.
Even though it's "prohibited" (wink)  to party on the beach, authorities won't really mess with you about sneaking alcohol in an "unlabeled" bottle - so long as you're not making a scene.  Cheers!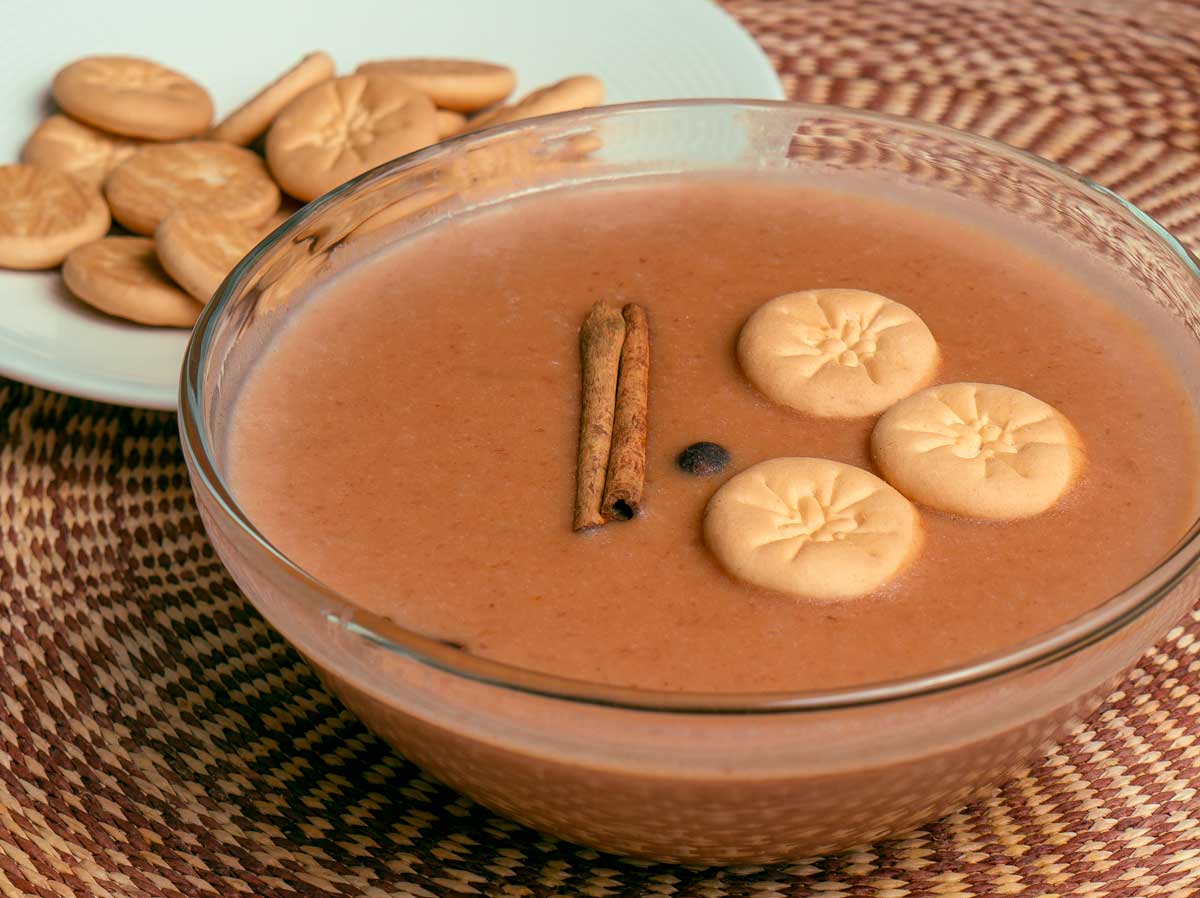 A bowl of Habichuela con Dulce
Photo: Shutterstock
Holy Food
Apart from all of the above, one of Semana Santa's main attractions in the D.R. is the savory and healthy cuisine.
Many will abstain from eating meat throughout the whole week, but it's only required on Easter Friday for believers - although you'll see some people sneaking out on their family dinner to get some Pica Pollo (fried chicken).
Habichuela con Dulce (sweet cream of beans)
Best served hot, Habichuela con Dulce is the king - or Queen - of Dominican Easter desserts.
Traditionally, Red Beans are slowly stewed into natural coconut and whole milk until reaching a liquidy soup-like consistency.
Once the bean and coconut flavors are infused, diced cubes of Batata (sweet potato) are introduced that begin to add thickness and mild sweetness to the mix.  And to top it off, for that extra "Dulce" - tarty California Sun-Dried Raisins, cinnamon sticks, and cloves are scattered in.
But don't pick up your spoon just yet!
No Habichuela con Dulce is complete without the little wafer-like crackers with the signature cross in the middle.  You know - for the extra blessing.
Cod Fish Dishes
As a substitute for meat, Dominican households and restaurants prepare Cod Fish in a variety of popular Holy Week recipes, like:
- Bacalao Guisado con Papa - (Sauteed potato and Cod in tomato sauce)
- Bacalaítos - (Cod Fish Fritters)
- Bolas de Bacalao - (Cod Fish Balls or Croquettes)
Chacá Dominicana
Another traditional Passover dessert coming from way back is Chacá or cracked corn pudding. This southwestern treat is primarily prepared in small villages in the central Campos.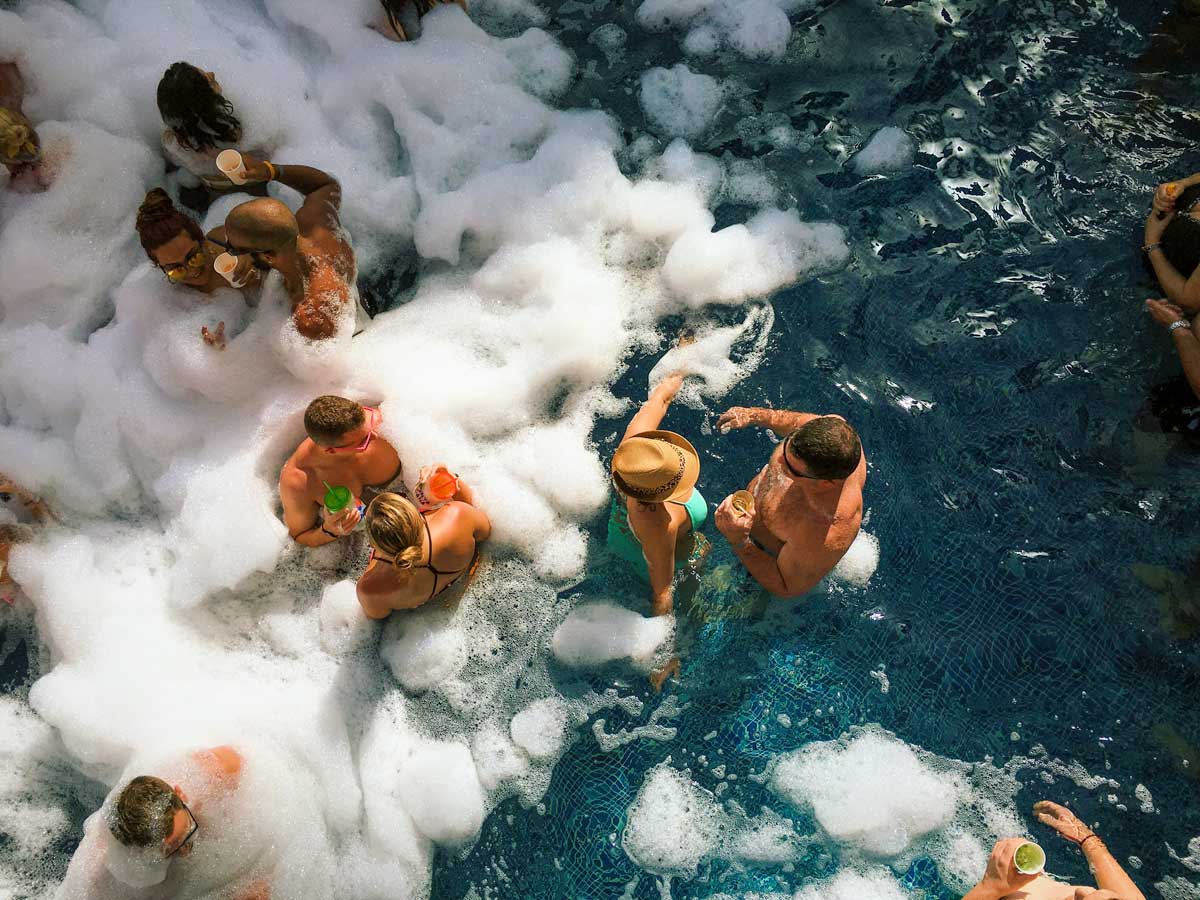 Pool party in Punta Cana
Photo: Unsplash.com
Drinks, Music, and Amigos
Party restrictions have never really stopped Dominicans and visitors from having a great time.
Local homes, private condominiums, and beach resorts host their own Spring Break "underground" activities. So keep a lookout for:
- Pool Parties / Piscina Party
- Clandestine EDM Events
- Drinking competitions
- Reggaeton and Dembow Dance contests
You won't hear any major announcements about these spur-of-the-moment events. But don't worry - when it comes to spring break parties, Dominicans get the word out on the streets quickly.
Typical Dominican Spring Break Drinks to Try:
- Cuba Libre (Ron Brugal Añejo and Coca-cola)
- Santo Libre (Ron Brugal Blanco and Sprite/7UP)
- Mamajuana (Afrodisiac rum-whine-roots drink)
- Cerveza / Beer (Presidente - Bohemia)
- Dominican Daiquiri (super-strong: contains Rum 151)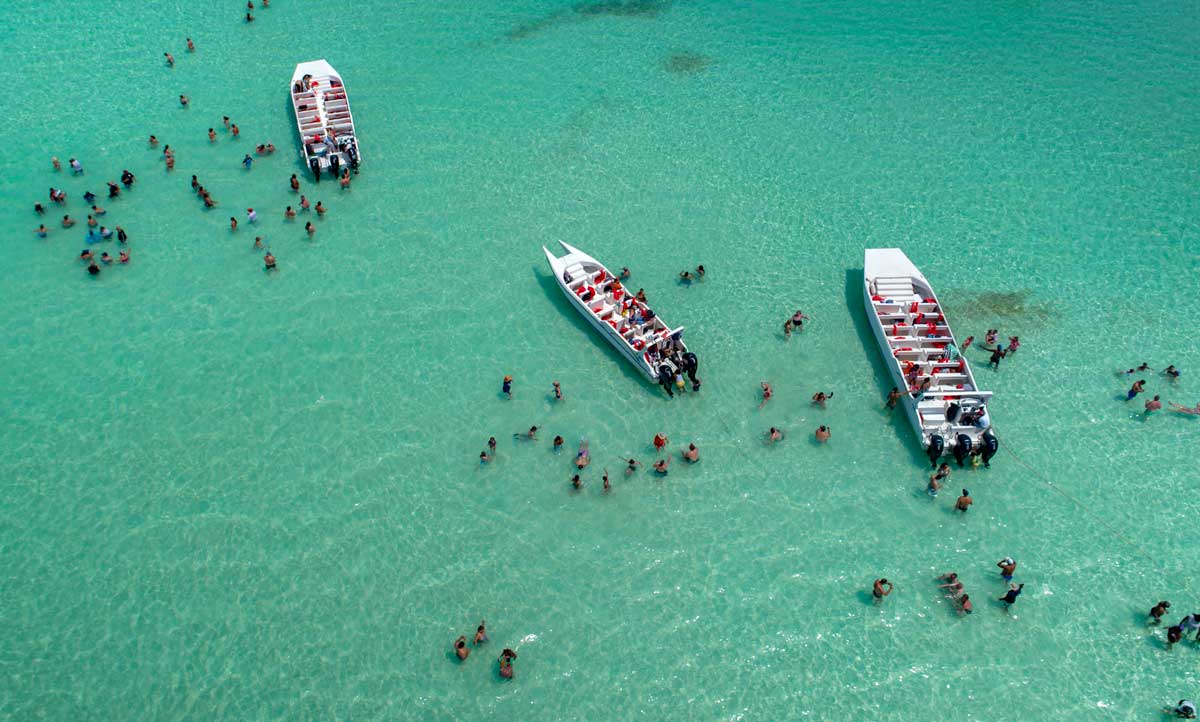 People swimming at Saona Island
Photo: Ryan Bowen
Best Festive locations
As you're searching for a place to spend Semana Santa, take a look at these ideal destinations to party at and get your prayer on.
The North Coast
The north coast or zona Norte has the widest selection of tropical hotspots on La Hispaniola.  With the province of Puerto Plata alone holding key tourist destinations like:
- Punta Rucia
- Sosúa and Cabarete
Further east, passing by the lovely Río San Juan municipality, you'll reach the coconut palm peninsula of Samaná.
La Vega
Heading inland along the Cordillera Central (central mountain range), the towns of Constanza and Jarabacoa are perfect if you love being within the forests and mountain tops.
Avid mountain biking, paragliding, and hiking enthusiasts will feel right at home.
La Altagracia
A 45-minute drive from the Our Lady of Grace Basilica in the province of Higuey, beachgoers pack the beaches and resorts of Bavaro Beach and Punta Cana.
The nearby lesser-known beaches of Uvero Alto and Macao provide a much-needed space for tourists who get a little claustrophobic.
Santo Domingo
Without question, the Zona Colonial in Santo Domingo has the biggest gatherings, parties, religious processions, and events in the nation.  In addition, some of the most historical sites and cathedrals, like the Catedral Primada de America, and Museo de las Casas Reales, are highly coveted.
Know Before You Go
It's good to remember that Spring Break or Holy Week in the Dominican Republic can get a little hectic, prompting government officials to instate curfews or bans on specific activities that become a risk to everyone.  But here are some wise tips and what to look out for.
1. All beaches and rivers around the country are usually closed off around 5 pm-6 pm.
2. In many cases, it's prohibited to consume alcohol on beaches or public parks - even though contraband is quite common.
3. The Atlantic Ocean and the Caribbean Sea can get a little choppy at times in the spring, so please be mindful not to go swimming out in the deep, as it only takes a few seconds to get dragged out into the sea.
4. Keep your money close and your credit cards even closer.  Pick-pockets can be found all across the world.
5. Big concerts and festivals are widely prohibited in the country, except for hotels and resorts.
Explore More Festivals & Events
Subscribe to our newsletter
Get more travel inspiration, tips and exclusive offers sent straight to your inbox