Destinations
Find Adventure in Jarabacoa
Mountain climbing in Jarabacoa
Photo: Mikkel Ulriksen
This mountainside destination is the hub of the Dominican Republic's eco-tourism - and home to some of the Caribbean's wildest outdoor adventures.
The Dominican Republic is in essence, a country of superlatives. It houses some of the world's best beaches; the highest mountain in the Caribbean, amazing waterfalls, the most incredible mountain landscapes, rivers, lagoons, impressive water caves, lakes. This country seems to have it all!
If you're looking for an experience beyond the beach parties, leave the beaten path far behind and see a different side of the Caribbean. You will not only be amazed by the beauty of the landscape - pine trees, tall mountains, waterfalls and rivers - you can also dive into some of the Caribbean's wildest outdoor adventures.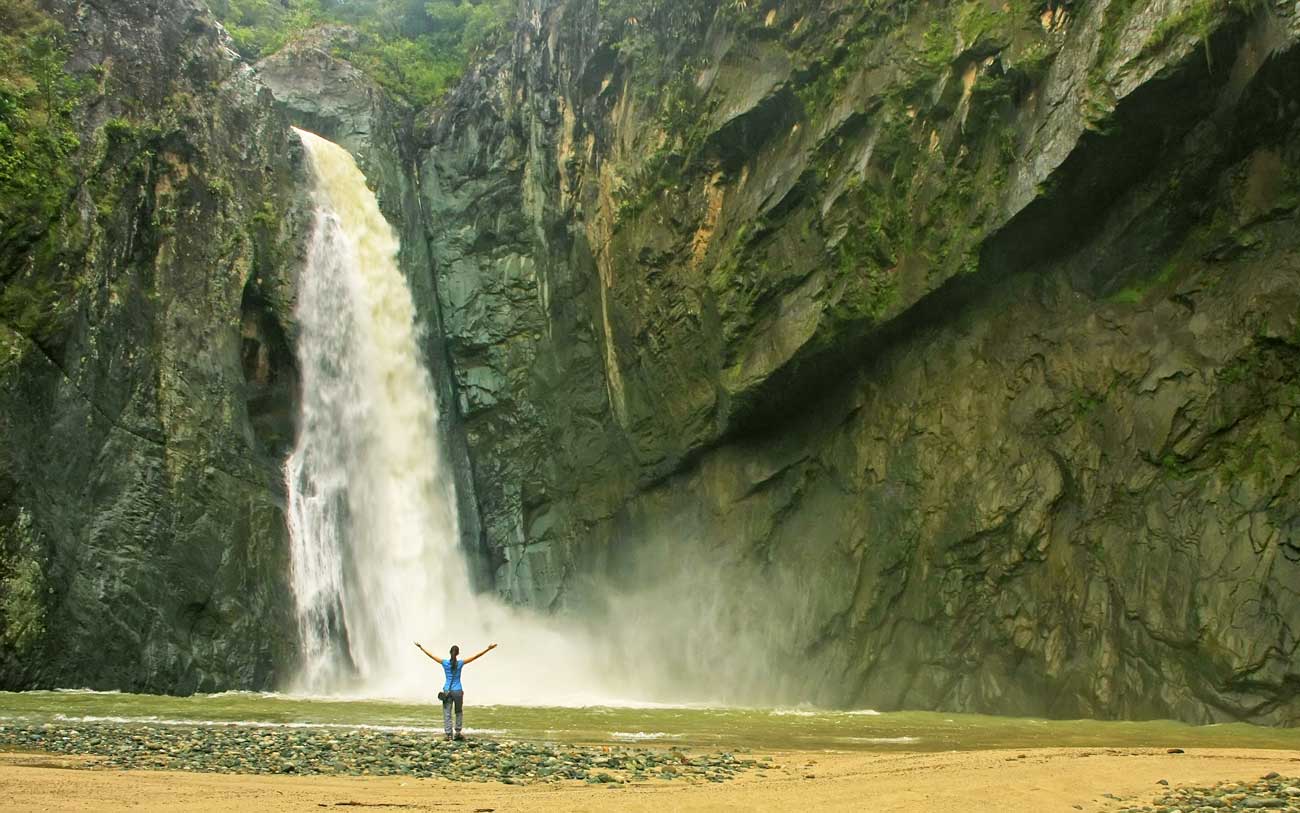 The Salto de Jimenoa Uno waterfall
Photo: Shutterstock
Amaze yourself with Jarabacoa's breathtaking waterfalls
Salto de Jimenoa Uno
This beautiful waterfall is one of the easiest to access. It's a stunning cascade that pours from a dramatic cut in a towering rock face. A few scenes of the movie Jurassic Park were filmed at this incredible spot. Getting here is surprisingly easy considering what a treasure it is - find out how in our guide on how to hike Salto de Jimenoa Uno.
Baiguate Waterfall
This waterfall is very suitable for swimming. The water is shallow, about two feet high, and flows into the Baiguate River. You can get to Baiguate Waterfall by car, but if you feel more adventurous, there's a horse ride tour that takes you through the roads of Jarabacoa and the jungle before reaching the waterfall.
Hidden Waterfall (Salto Escondido)
Why is it so hidden? This is one destination you can't get to by car. You'll have to leave your car in Manabao and hike up a serious track to be able to find this waterfall. If you're up for a physical challenge, the secret waterfall is worth the effort. This waterfall might just be one of the most peaceful and inspiring places you will ever see.
Top tip: Take a break at the foot of the mountain to enjoy one of the delicious handmade ice creams manufactured by the locals, or enjoy one of their medicinal teas.
27 Waterfalls
A unique complex of 27 waterfalls that emanate from the Damajagua River, and yet another great location for hiking and swimming.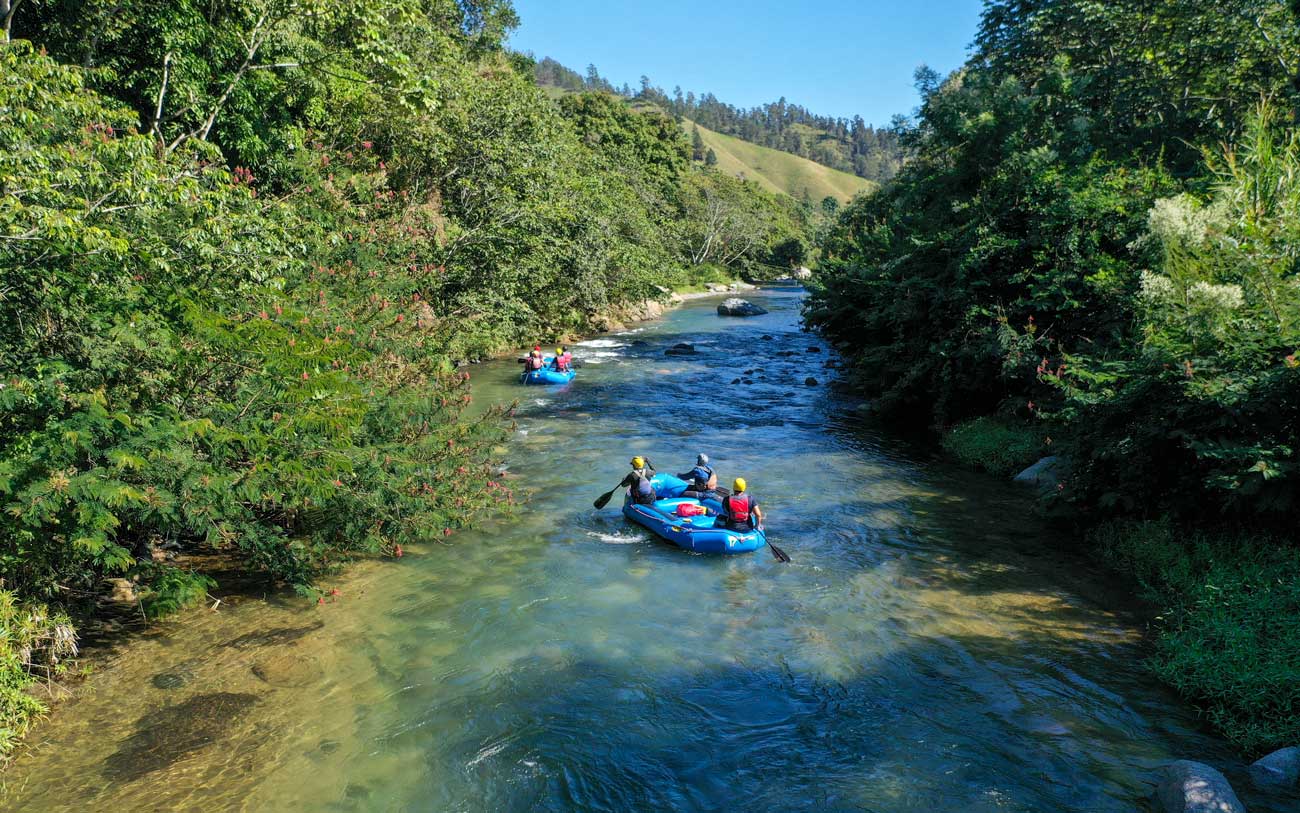 River rafting in Jarabacoa
Photo: Mikkel Ulriksen
Dive into a heart-pumping outdoor adventure
Hike to the highest peak in the Caribbean
At Manabao in Jarabacoa you can book a hiking excursion to Pico Duarte, the highest peak in the country and the entire Caribbean. A full hike will take you three days to get to the peak. On the way there you'll trek through incredible landscapes, across raging rivers, prehistoric-looking jungled valleys, and wildlife reserves. Climb the tallest peak in the Caribbean and brag about it for the rest of your life.
Visit Valle del Tetero
This beautiful valley, halfway to the top of Pico Duarte mountain, is a pristine place for camping and wild-swimming in the river. Many hikers on their way to the peak fall in love with the Valle del Tetero and decide to camp here for a few days and just relax, cook over the campfires and swim in the river before continuing the hike to the top.
River rafting
The only white water rafting river in the entire Caribbean is right here in the central highlands of the Dominican Republic. A once in a lifetime exhilarating experience not to be missed, rafting the Yaque Del Norte is a serious departure from the beaches and golf resorts the DR is famous for. Rafting tours start at just USD $50 per person. Read more about when to go, what to expect and how to book on our guide to white water rafting in the central highlands.
Paragliding
Some agencies at Jarabacoa offer paragliding tours. Accompanied by a professional pilot, you can soar above the Jarabacoa valleys.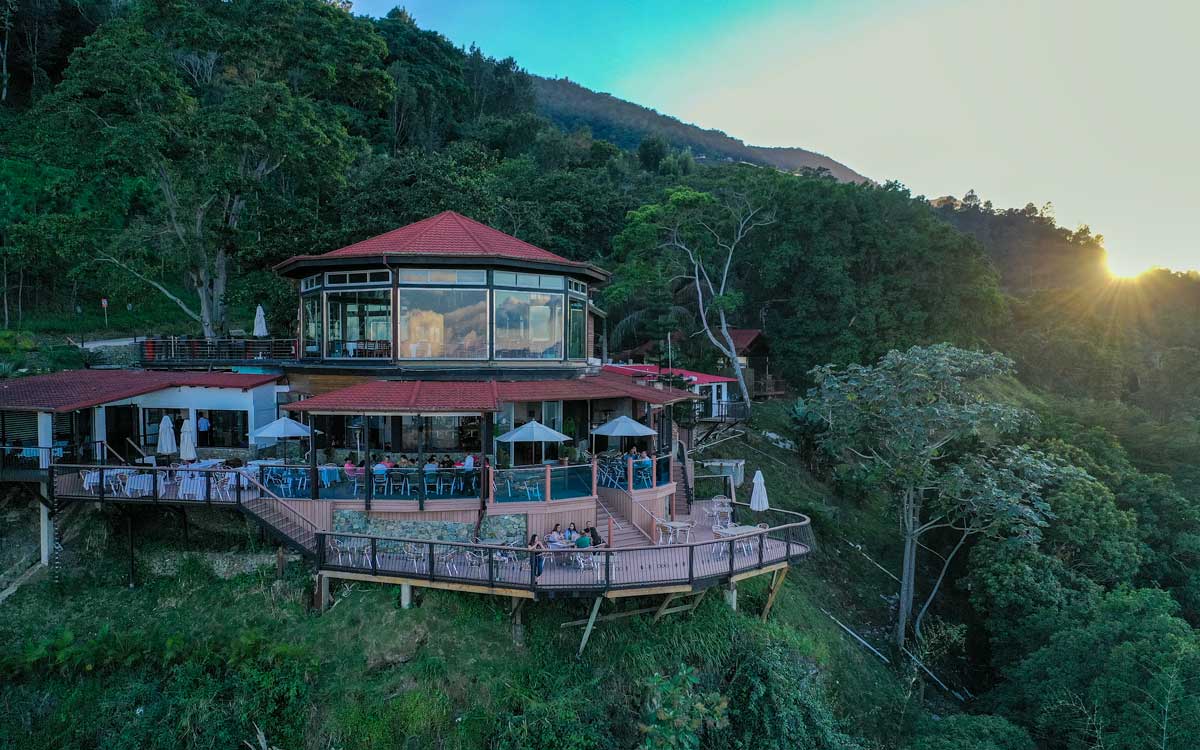 Jamaca de Dios Restaurant, Jarabacoa
Photo: Mikkel Ulriksen
Where to eat, drink and dance in Jarabacoa
You'll find several specialty restaurants in Jarabacoa, bars and coffee shops to enjoy a drink or a snack.
Jamaca de Dios Restaurant
Located at the top of Jamaca de Dios, a tall mountain in Jarabacoa, this restaurant offers delicious food while the visitors enjoy the breathtaking view of Jarabacoa mountains and rivers. The restaurant is a 15 minute drive from central Jarabacoa.
El Taíno restaurant
Offers an open buffet of delicious, diverse, authentic Dominican food.
Tostado restaurant
Serves up gigantic juicy burgers with generous side dishes. One of their huge servings is often enough for two people. There are other options on the menu, but the gigantic burgers are the crowd favorite by a country mile. There's live music on weekends.
Jarabacoa Food Truck Park
This is a more informal option, where you can find delicious Dominican food, Mexican and Colombian dishes, pizza and international cuisine at great prices. There's a children's playground and interesting art murals to look at while you lunch.
Venue Bar and Lounge and Entre Amigos Disco and Bar
If you want to have a drink, a snack and enjoy the Jarabacoa nightlife, Venue Bar are two of the best options.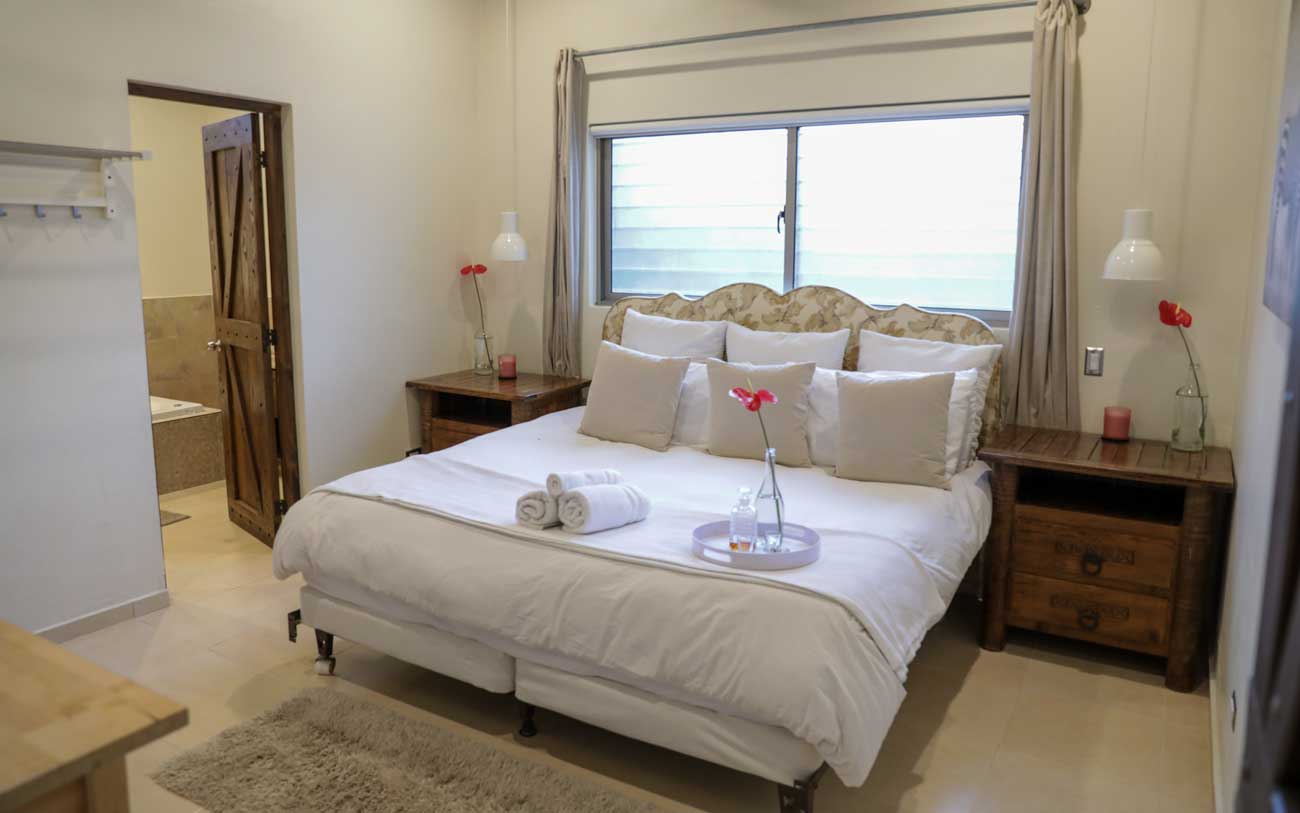 Jarabacoa Mountain Hostel, Jarabacoa
Photo: Mikkel Ulriksen
Where to wake up in Jarabacoa
Written by Nora Pérez.
Published August 2020
Explore Bahía de Las Águilas
Go glamping in Bahía de Las Águilas, a pristine paradise with ultramarine shores, incredible wildlife, and eco-lodges in the Dominican Republic.
Camping on the beach, Bahía de Las Águilas
Photo: chrisontour84 / Shutterstock.com
Looking for more Adventure?
Subscribe to our newsletter
Get more travel inspiration, tips and exclusive offers sent straight to your inbox