Destinations
Explore Bahía de Las Águilas
Camping on the beach, Bahía de Las Águilas
Photo: chrisontour84 / Shutterstock.com
Are you an eco-friendly traveler with a passion for incredible wildlife? Here's why Bahía de Las Águilas should be your first choice for a Caribbean adventure.
Bahía de Las Águilas (Eagle's Bay) is a tropical destination relatively undiscovered by global travelers, with a stunning beach stretching into coral reefs full of brittle-stars and other exotic species all easy to see through the crystal-clear water. Surrounding the bay, travelers can explore a unique ecosystem and enjoy the chance to glimpse rare and endangered species.
Bahía de Las Águilas' exotic beach spans five miles, all within the Jaragua National Park, a protected reserve undisturbed by major resorts, hotels, or restaurants on site. It's just you, the sea, and sky - and adventure!
Magnificent coral reefs cover the Caribbean sea floor as you boat across the water from Cabo Rojo to the bay of Bahía de Las Águilas. You'll want to spend the night in the local village of Las Cuevas ("The Caves") - a series of natural caves once inhabited only by local fishermen, but now beginning to thrive.
Keen photographer? You're gonna need your drone for this one, 'cause the panorama is stunning.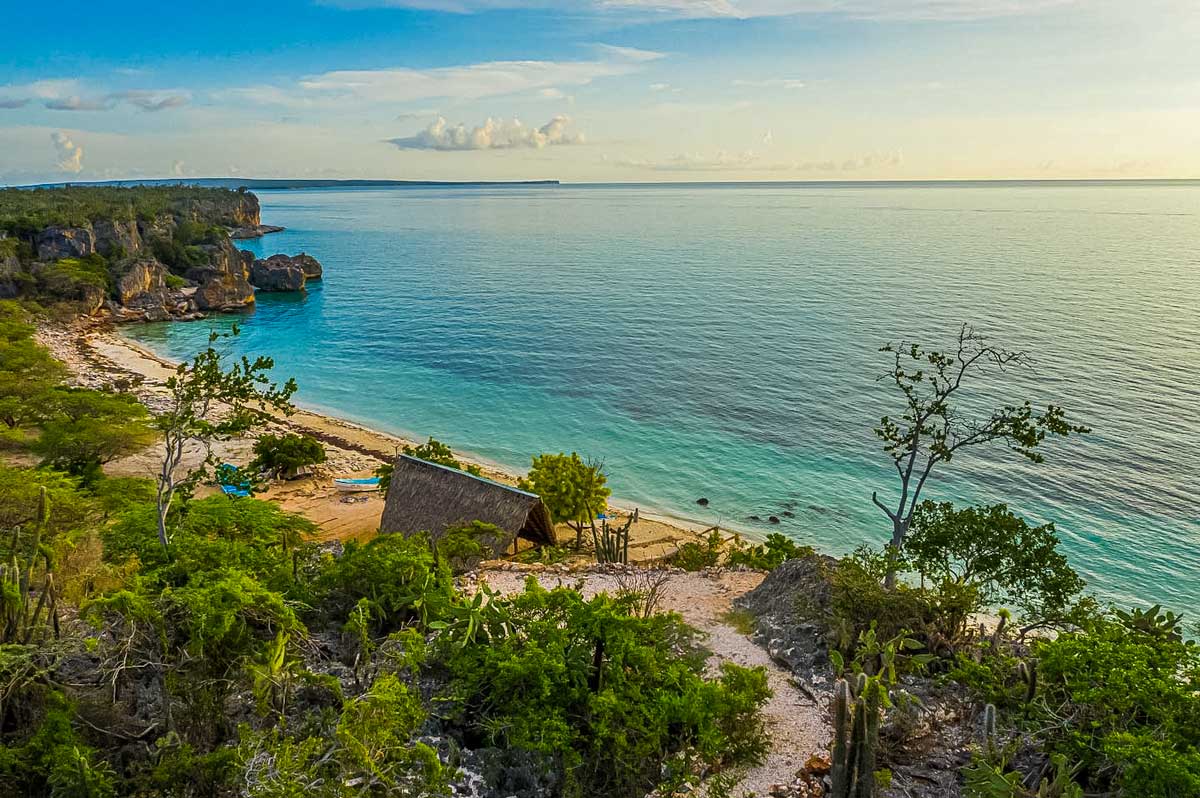 Bahía de Las Águilas
Photo: Rancho Típico Cueva de Las Águilas
Protected Reserves
Bahía de Las Águilas is located in the province of Pedernales, some 3 hours by car from the nation's capital Santo Domingo. The weather is typically subtropical, making it a favorable place for:
- Canelilla (a medicinal rosewood treasured for its use in herbal teas)
- Raft Trees
- Balsa Palm
- Horned Melon Fruits
The province of Pedernales is also home to Lago Enriquillo National Park and Sierra de Bahoruco, where UNESCO has designated Hispaniola's first biosphere reserve! The Bahoruco-Enriquillo-Jaragua Reserve (on the Dominican side) joins up with Pic La Selle Reserve in Haiti along the Haitian-Dominican border to create the island's first transboundary biosphere reserve - one of only 21 transboundary biosphere reserves in the world.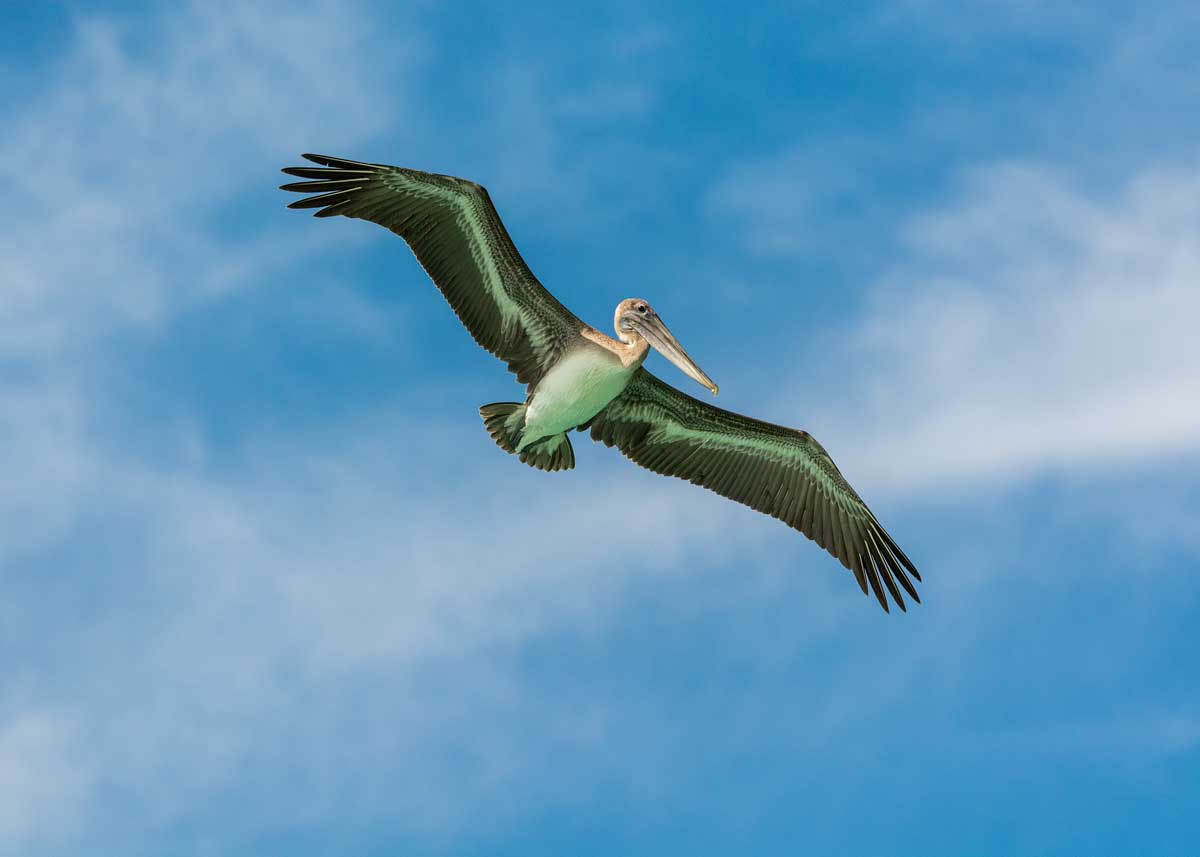 Pelican flying over Bahía de Las Águilas
Photo: Jakob Fischer / Shutterstock.com
Wildlife
Catch a glimpse of wild and rare species of Pelagic birds, reptiles and mammals in their natural habitat. Rhino iguanas can be seen running across the terrain, as the sound of seagulls flying overhead echoes throughout the park.
At certain times of the year (from June to December), visitors can witness the birth of thousands of Hawksbill sea turtles, all hastily making their way to the safety of the sea - an unforgettable experience for anyone lucky enough to see it.
Although you'd be lucky indeed to spot one of these highly endangered mammals, by supporting ethical local ecotourism industry you're supporting the ongoing protection of habitat for:
The Hispaniolan Solenodon
This little guy can only be found in the Dominican Republic and Haiti - nowhere else on earth - and is a relic survivor of once more numerous prehistoric venomous mammals. Though small in size, Solenodons are venomous and can produce a lethal bite.
The Hutia (Hutia Conga)
Also the last of its kind, the hutia is a herbivorous rodent that nests in trees and caves.

Tent with ocean view at Rancho Típico Cueva de Las Águilas, Bahía de Las Águilas
Photo: Rancho Típico Cueva de Las Águilas
Top things to see and do around Bahia de Las Águilas
Go diving in Cabo Rojo
Swimming in Cabo Rojo (Red Cape) is the best opportunity to interact with sea life, explore the thriving Coral Reefs, inhabited by:
 - Starfish
 - Octopuses
 - Sea Horses
 - Blowfish
If you're lucky, you might see an elusive manatee grazing on seagrass or Hawksbill sea turtle gliding by.
See the Flamingos of Laguna de Oviedo
This lagoon is actually the second largest body of water in the Dominican Republic, said to have a much higher salt level than ocean water. But the main attraction is the surprising Pink Flamingo population living in the surrounding Mangrove area. You'll also see Pelicans and Blue Herons. Bring a camera!
Take photos on Isla Beata and Alto Velo
Connected by an underwater mountain range, the islands feature spectacular cliffs and are an exceptional location for photography.
Go glamping In Cabo Rojo
Since there are no resorts or hotels in Bahía de Las Águilas due to the bay's protected status, the ideal way to stay nearby is to camp out like a true explorer (with a few extra perks, of course) at Cabo Rojo before you head off to the bay.
Eat and sleep at Rancho Típico Cueva de Las Águilas
Located on the beach of Cabo Rojo, this combined restaurant and campsite is a great alternative if you want to stay even closer to Bahía de Las Águilas. You'll be provided with a personal camping tent and basic amenities, as well as great grub - so you can tour the area with a lighter pack.
Sleep at the Echo Del Mar by Mint
Also in Cabo Rojo, the Echo Del Mar offers cozy wooden suites as well as the option of also camping out on the shore (for that extra rugged feel!). Full meals are included, as well as a minibar for a little cocktail or two - best enjoyed under the stars. You'll be glamping like a pro.
Taste the bounty of the sea
The whole province of Pedernales is famous for its seafood, with an abundance of access to local fresh-caught fish and crustaceans. Local specialties found in the area include Grilled Red Snapper, lobster and shrimp, squid and octopus; usually served with plantains, rice, or french fries.
How long to stay
We recommend at least an overnight stay at the bay.
Written by Omar Guzman.
Published December 2020
Explore more Nature & Wildlife
Subscribe to our newsletter
Get more travel inspiration, tips and exclusive offers sent straight to your inbox