Wildlife & Nature
Ojos Indígenas Ecological Reserve
Reserva Ecológica Ojos Indígenas, Punta Cana
Photo: Reserva Ecológica Ojos Indígenas
Ojos Indígenas (Indigenous Eyes) is a nature reserve south of Punta Cana. Visitors can swim in incredible Larimar-colored lagoons fringed with lush vegetation, and wander through self-guided trails (and an Iguana zoo!) to learn about indigenous Taíno culture and agriculture.
Less than ten minutes' drive from central Punta Cana, a visit to Ojos Indigenas makes an excellent day-trip.
Founded and managed by Fundacion Grupo Punta Cana, the Ojos Indigenas National Ecological Reserve is a doorway to a time when Taínos lived, bathed and hunted on these very lands.
On site, you'll take a self-guided tour to 12 freshwater lagoons, held sacred to the indigenous people for their resemblance to eyes (Spanish: ojos). The Taíno gave each lagoon Taíno names like Yucahu, Baruguá, Casibajágua, and Guáma - the largest and deepest lagoon reserved for the Head Chief himself, and the one you're going to jump right into.
Trek through an ancient Taino food forest
A system of trails takes you through the 1,500 acres of protected land, with over 500 species of plants that create a unique habitat for its wildlife. The indigenous Taíno were sophisticated agriculturalists, and around the Ojos Indegenas site a food forest remains that bears traces of their tending.
Look out for Mangles and Gri-Gri Trees, as well as the Guayiga plant, which Taínos turned into flour and made arepas (biscuits), bollos (rolls), and bread with. Many of these foods are still prepared in the Dominican Republic today. You'll also see fruit trees and medicinal plants that were part of the Taíno everyday diet, including the Guajaca plant, El Noni fruit and Palma Cana.
The Guajaca Plant has been used across the Americas for treating liver inflammations, hernias, rheumatoid arthritis, and hemorrhaging. A pomade made from the plant was applied to abscesses and tumors. Typically found in Southeast Asia, the Noni Fruit ( a.k.a Indian mulberry or Great Morinda) is a powerful source of antioxidants, used for fighting infections, pains, and arthritis. The Palma Cana (sabal palmetto) was used for food and fibre. Taínos ate the soft heart and used other parts to make clothing, shelter, weapons and tools. Its usefulness made it a part of all aspects of their culture.
Today at Ojos Indigenas, these plants are being conserved for future generations and breakthrough scientific research.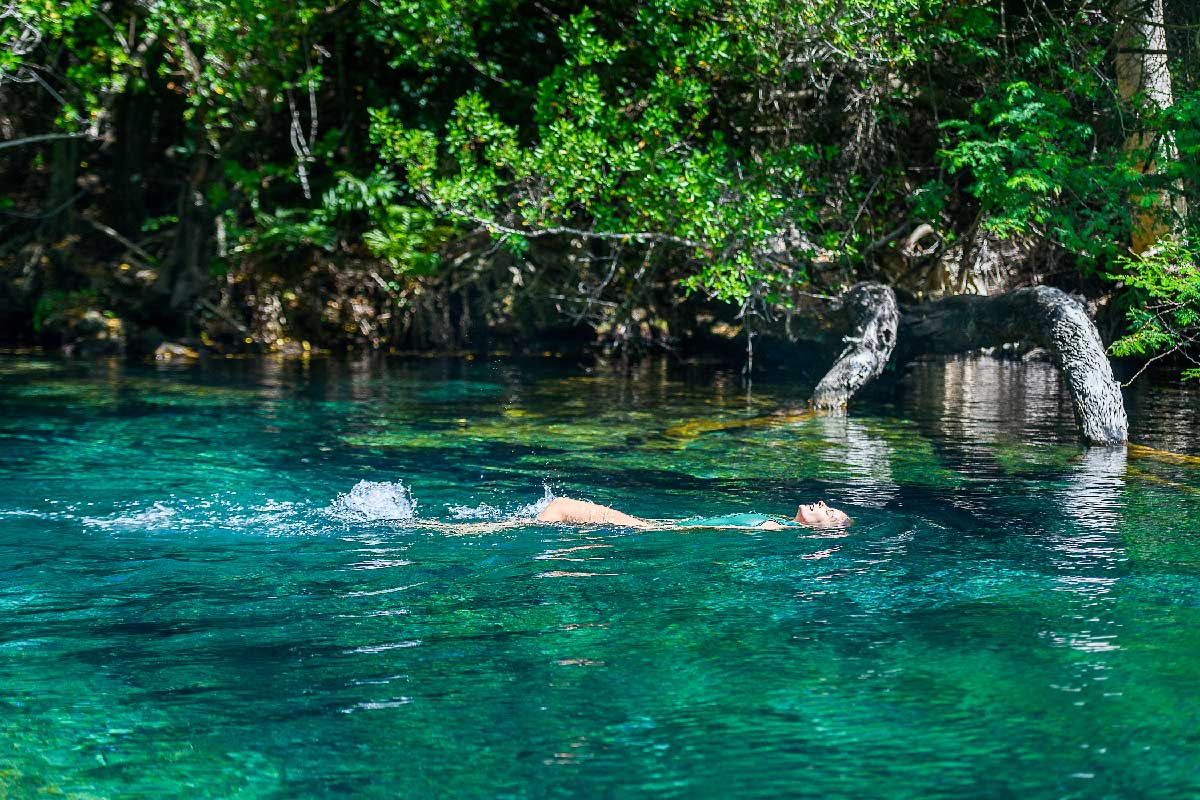 Lagoon at Reserva Ecológica Ojos Indígenas
Photo: Reserva Ecológica Ojos Indígenas
Walk On The Wild Side
Ojos Indigenas protects hundreds of bird, reptile, mammal, and crustacean species. Along your way through the park you'll see the likes of:
- Blue Crabs and Hermits
- Turtles and Rhino Iguanas
- Ridgway and Sparrow Hawks
As part of a conservation project, there's an Iguana habitat you can visit to learn more about Ojos Indigenas; the park also features a Petting Zoo, great for families with children. If you're feeling adventurous, you can take a horseback ride around the park.
If you feel like keeping the ball rolling, you could book a joint tour to the Grupo Punta Cana Foundation Center to see how they're growing fresh vegetables in a dry climate using worm composting, turning kitchen waste and garden rubbish from the local resorts into an organic fertilizer.
The Foundation also helps produce 2,000 gallons of honey and pollen every year from 500 local bee colonies. Delicious.
Getting there
Ojos Indigenas is less than ten minutes' drive south of Punta Cana. It's marked on Google maps and well-signed.
Written by Omar Guzman.
Published October 2021
Five of the best books about the Dominican Republic
Looking for a good read to sink into while you're soaking up the atmosphere? You'll love these great English-language books from the Dominican Republic's top authors.
Bookshop in Zona Colonial, Santo Domingo
Photo: Mikkel Ulriksen
Subscribe to our newsletter
Get more travel inspiration, tips and exclusive offers sent straight to your inbox