Wildlife & Nature
How to See the Whales in Samaná Bay
Humpback whale in Samaná Bay
Photo: Kit Korzun / Shutterstock.com
If you're in the Dominican Republic between January 15 - March 25, try to make the trek north to see the whales in Samaná. After all, they've come some 3000 miles to see you.
Samaná is the perfect place to watch the North Atlantic Humpback Whales who overwinter in the warm marine sanctuary of Samaná Bay before they begin their long migration to their summer grounds - as far away as Greenland and Iceland!
Not all the humpback whales travel in the same group, but at any one time during the Samaná whale-watching season, there are at least 300 whales in Samaná Bay. With all those whales, you'll have ample chance to watch all sorts of behaviour on display - it's more a matter of patience than luck.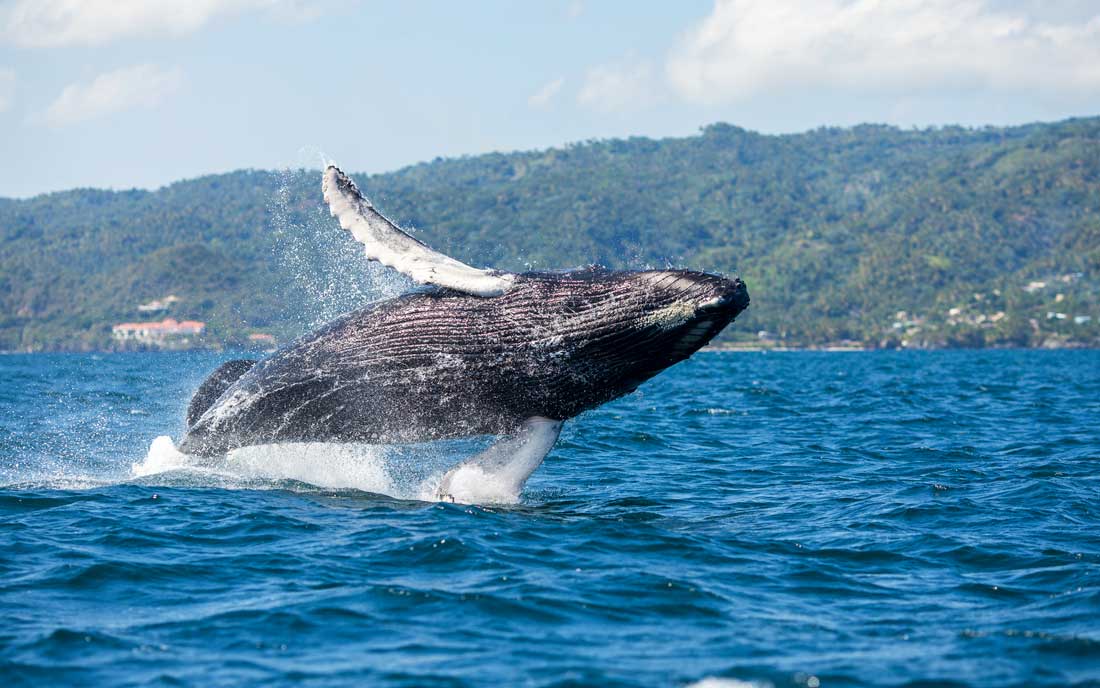 A humpback whale breaching in Samaná Bay
Photo: Jenya Tarasof / Shutterstock.com
Migration route
Once they leave the northern waters of Iceland and Greenland at the approach of winter, they follow the current of the Caribbean Sea from Puerto Rico to Punta Cana on the easternmost tip of the Dominican Republic, then to Samaná Bay, the Bahamas and up to the Gulf of Mexico. Finally, they make the trip back north to fatten up in the cold waters that are full of krill, their primary food.
Marine Sanctuary
The whale nursery in Samaná Bay is heavily protected. Only whale-watching boats are allowed to enter the bay, and even these are heavily restricted. Every spring, the interior of the bay essentially becomes a mothers' ward, for delivering calves and nursing. Male whales hang out towards the outer part of the bay.
Learn more about marine life and other Dominican wildlife here!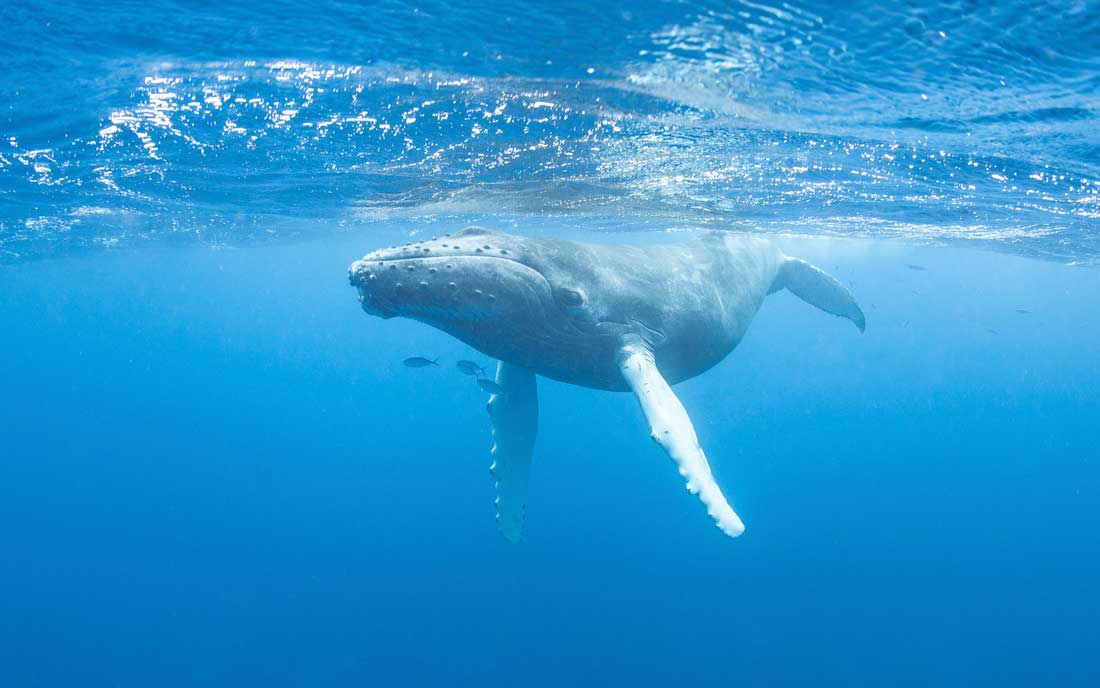 A young humpback whale swmming in the Caribbean
Photo: Ethan Daniels / Shutterstock.com
What you'll see
With a little patience and luck, you'll see humpback whales leap out of the water in an incredible display of acrobatic grace. Scientists say they do this not just for fun, but to alert other whales to a good feeding ground, or as part of courting rituals. Sometimes, it's their way of getting rid of sunburnt skin after their long trip south.
Apart from seeing moms swimming around with their newborn calves, you'll also hear the males' courting songs. Your guide will use a hydrophone so you can listen in, but don't neglect to keep your eyes peeled for surface activity!
Some of the most exciting surface activity you'll see happens when up to twenty male whales compete for mating rights with a female. The drama includes blowing water, head lunging, slamming each other, and breaching.
Breaching is when a whale launches into the air then crashes back down onto the water's surface. It's not too hard for the whale to achieve, but the sight is certainly impressive to humans, and presumably to other whales as well. Breaching is a common courting ritual (but not all breaching is part of courting - whales breach for plenty of reasons).
Some of the other movements to watch for are "flippering" - raising the flippers and flapping them against the water's surface, sort of a lesser breach. You'll also see them rolling in the water in a horizontal posture.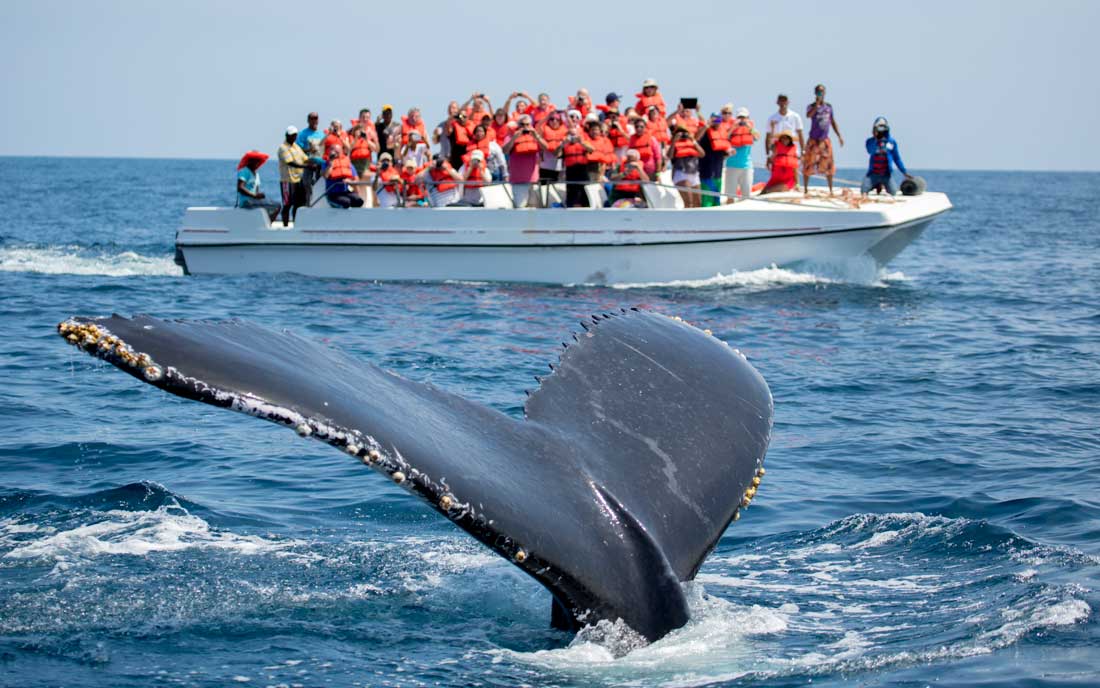 Tourist on whale watching excursion in Samaná
Photo: Kit Korzun / Shutterstock.com
How to choose a boat trip
Because the bay can have strong undercurrents and plenty of spray at this time of year, it's best to go out in strong boats, built to properly house the number of travelers. If the boat looks overcrowded, don't board it. Safety first.
Because Samaná Bay is officially protected as a whale sanctuary, the rules for viewing are pretty strict. Boat speed and number of boats near sighted whales are carefully controlled, making it a safer place for the whales - and for you. When you're told something isn't permitted, trust your guide and adhere to the guidelines so that the whales can keep finding safe refuge here.
The oldest and most reputable Samaná whale-watching excursion is run by Whale Samaná. These guys are the pros, and it's easy to book directly on their website. An on-board expert will narrate what's going on and answer your questions. Tickets start at $144 for an 8-hour excursion that includes a visit to Bacardi Island or Cayo Levantado.
Want to shop around for a different itinerary? Check out the other tours available by searching TripAdvisor, Travelocity or by asking for advice at your hotel desk. Every tour offers something different.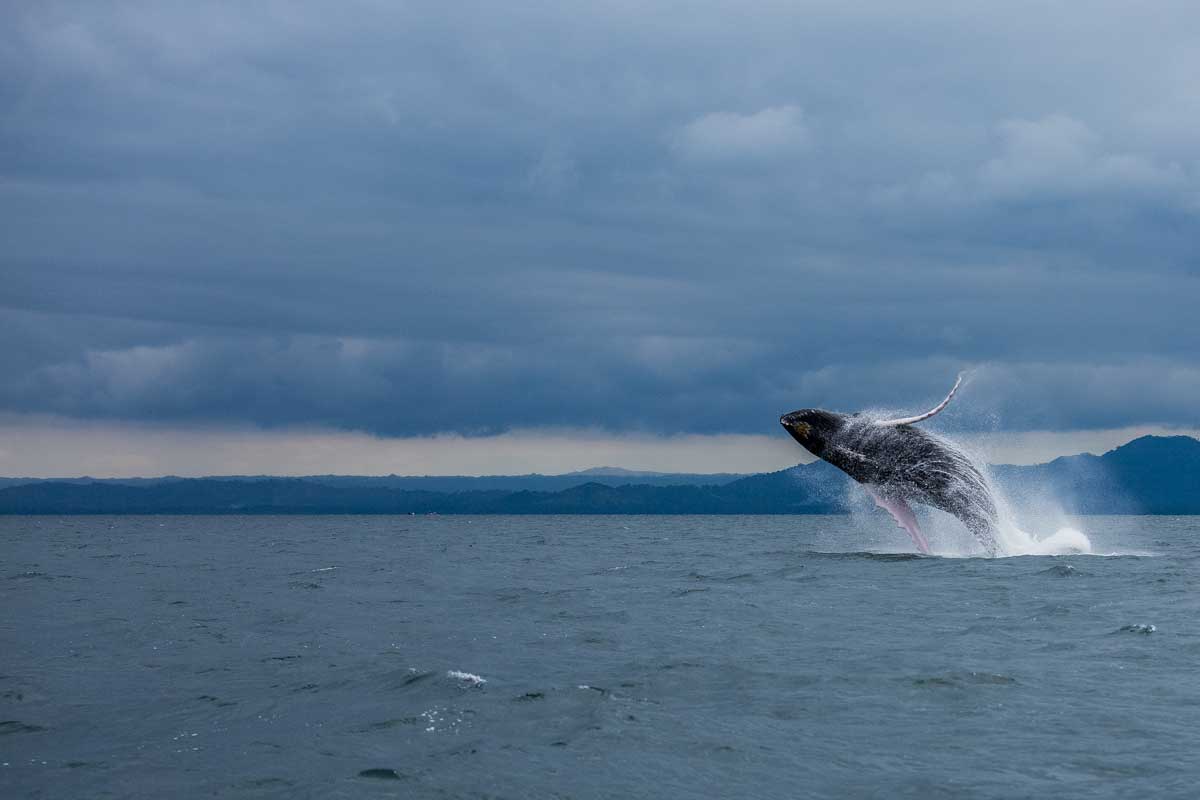 Humpback whale in Samaná Bay
Photo: Kit Korzun / Shutterstock.com
Getting there
Most whale-watching tours include the option of transport to Samaná from Punta Cana and other cities. If you want to get here on your own steam, you can reach Samaná from other cities via air-conditioned Caribe Tours or Metro buses. If you're not planning to stay overnight, it's important to check when the last bus leaves from Samaná, as the hour might be earlier than you expect.
See how to get around in the Dominican Republic like a local.

While you're here, don't miss...
If there's time, try to make it to the Center for Conservation and Ecodevelopment of Samaná Bay and its Environment Whale Museum and Nature Center (Museo de las Ballenas) in Samaná before your tour. You'll appreciate your voyage into the Bay much better that way. The cost is 100 pesos to enter, and their hours are 9-11 AM and 2-5 PM daily.
Written by G. Abdullah.
Published September 2020
(Updated April 2022)
Explore more Wildlife & Nature
Subscribe to our newsletter
Get more travel inspiration, tips and exclusive offers sent straight to your inbox