Adventure travel
Go Mountain Biking in the Dominican Republic
Mountain biking in Jarabacoa
Photo: Mikkel Ulriksen
Everything you need to know about mountain biking in the Dominican Republic
The Dominican Republic is packed full of wild tropical forests, vibrant small towns and picturesque mountain paths just waiting to be explored. There's so much to see and do beyond the resorts, and one of the best ways to see it all is to take to the land by mountain bike.
Mountain biking in the Dominican Republic opens up incredible trails to discover, with paths varying across a wide range of difficulties and unique terrains. The central highlands offer traffic-free trails through enchanted "cloud" forests, with unbelievable views of the mountains and plantations. The coastal regions have some really special mountain bike routes where you can trace winding rivers, swim underneath waterfalls, and even explore cave systems.
The DR is well set up to facilitate thrill-seekers, with an abundance of adventure tour centers ready to provide you with bikes and mountain biking equipment so you can be prepared for anything.
With 29 national parks in the DR plus a plethora of protected wilderness areas, you won't be short of opportunities to set out by bike and discover something wonderful.
Quick Facts:
- 29 national parks, plus more protected wilderness areas
- Wild forests, raging rivers, caves, waterfalls, plantations and thousands of species of wildlife to discover.
- Mountain, forest, river and coastal trails all available.
Top 5 Spots for Mountain Biking in the Dominican Republic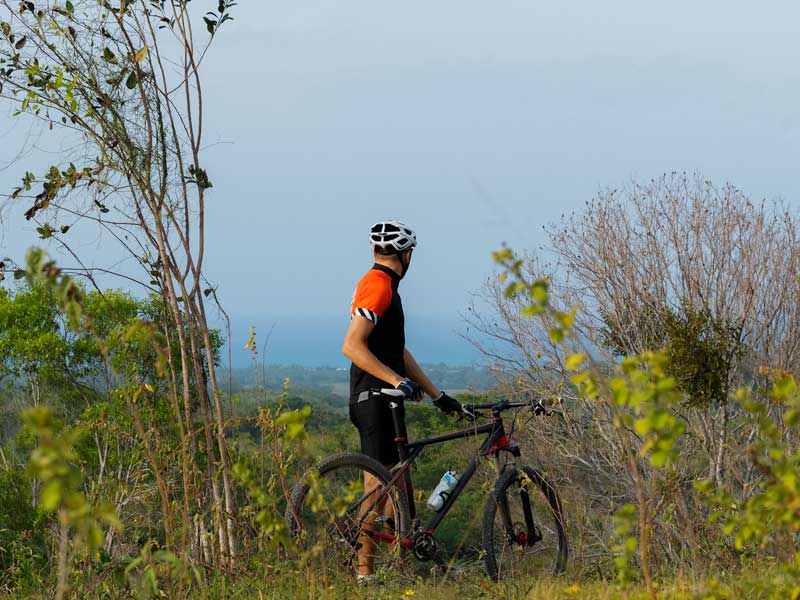 Mountain biker with view from El Choco mountain, Cabarete
Photo: dreii / Shutterstock.com
1. El Choco National Park
El Choco National Park is the most popular spot for mountain biking in the Dominican Republic with over 30 square miles of stunning nature to be explored. Thick tropical forests can be explored by a number of different mountain biking routes, varying in difficulty. Most are well maintained throughout the year. As you ascend through the hills you'll come across local farms, mansions, and ranches. The trails here can be tough so make sure you rent the appropriate equipment. The end goal here is the sublime view from the top of El Choco Mountain that will blow you away. The panorama takes in a beautiful view of Cabarete all the way along to Nagua.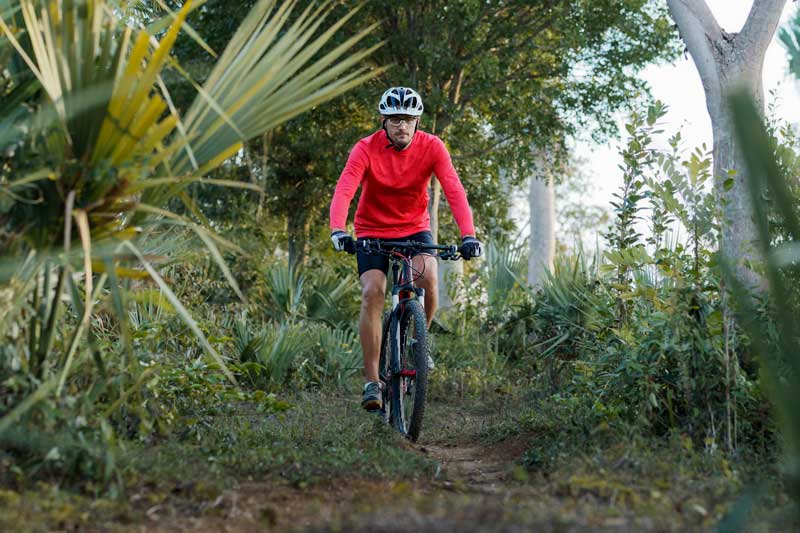 Mountain biker in the Dominican Republic
Photo: dreii / Shutterstock.com
2. Cabarete
The area of Cabarete is home to some of the most interesting mountain biking in the DR with great dirt tracks. The scenery here is jaw-dropping, so you might want to account for some extra time in case you find yourself stopping for a photo every ten minutes along the trail. Tracing the meandering Islabon and Yasica rivers is highly recommended - for the breathtaking scenery, of course, but also the chance to spot unique local wildlife. Look out for snakes, iguanas, ravens, and squirrel monkeys (yes, really). Cabarete is also where you'll find the trailhead for a scenic route through the countryside to the small town of Moca, affording great views over the Cibao Valley. An excellent destination if you want to mix up your mountain biking with kitesurfing.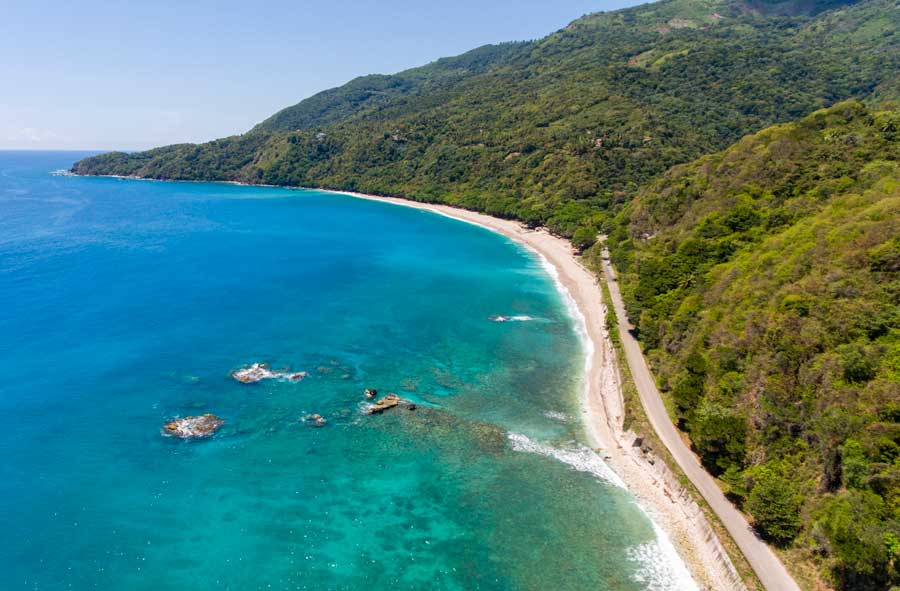 Barahona Coastline
Photo: Shutterstock
3. Barahona
Best known as a water sports destination, Barahona is also home to some awesome hiking and mountain biking trails. The surrounding area has earned the nickname 'The Pearl of the South' thanks to its impressive white sand beaches, untamed forests, sparkling waterfalls, and epic mountains. Luckily for us, all this can be explored via two wheels. The mountain biking routes here are famously beautiful, taking you up through dense tropical forests with spectacular views over the golden coastline. Barahona is one of our top picks for mountain biking beginners.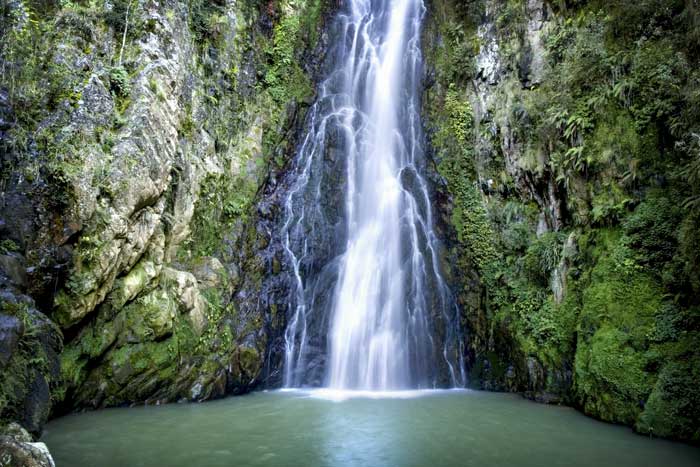 Aguas Blancas Waterfall in Constanza
Photo: Shutterstock
4. Constanza
You can't go mountain biking in the Dominican Republic without visiting Constanza. This quintessentially Dominican region consists of rolling hills latticed with vast vegetable plantations. Along the way you'll discover some quaint towns, meet friendly locals, and dine at small restaurants where you'll find delicious, unique foods. Top routes here are the route that leads to the Agua Blancas waterfall - the longest waterfall in the entire Carribean, dropping an impressive 272 feet into the pool below!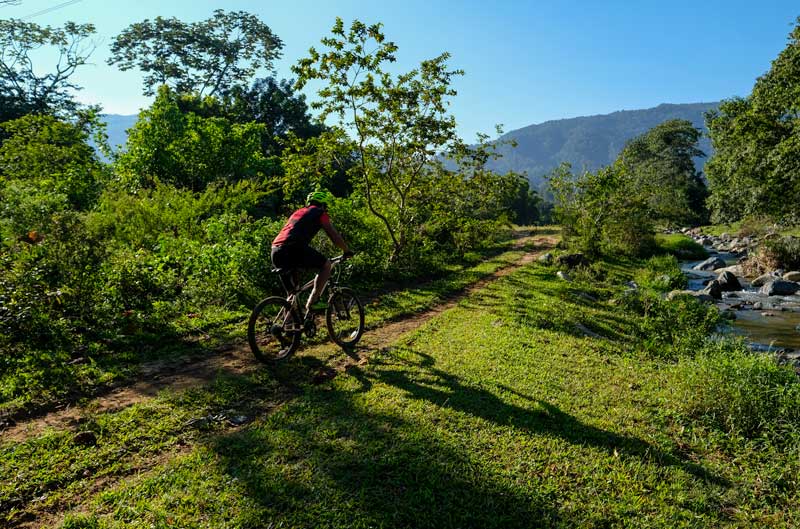 Mountain biking in Jarabacoa
Photo: Mikkel Ulriksen
5. Jarabacoa
Looking for some peace and tranquillity? Look no further than the Domincan Republic's little slice of heaven, Jarabacoa. As the trails ascend the foothills, they'll take you through peaceful scenic mountainside towns. If you only stop in one, make it Pinar Dorado, a town surrounded by luscious vegetation and spectacular views over the DR's largest mountain range, the Cordillera Central. The roads here feel like they were purposely built for mountain biking, making this particular trail perfect for any mountain biking beginners. While you're here, don't miss the chance to visit the local waterfalls and explore La Confluencia Park, where the Jimenoa and Yaque del Norte rivers converge creating hot-tub-like pools of bubbling water.
Need to know
When to go:
- Mountain biking in Dominican Republic is enjoyed all-year-round.
- You can rent bikes and mountain biking equipment from local adventure or tour centers.
- December to April is the best time to visit.
- June to October is rainy and hurricane season.
Read our guide about when to visit the Dominican Republic.
Average Mountain Bike Rental Prices in the DR
- Full-Day: $20-$30
- One Week: $120-130
- Extra Equipment: $5-10
Top-Rated Mountain Bike Tour Groups:
Written by Andrew Miles.
Published July 2020.

Top things to see in the Dominican Republic
Subscribe to our newsletter
Get more travel inspiration, tips and exclusive offers sent straight to your inbox