Destinations
Constanza: The Unexpected Dominican Destination
Sunrise in Constanza
Photo: Augusto Peña
The Dominican Republic is full of gorgeous beaches, coconut palms and rum cocktails, but did you know it also has frost-capped mountains?
Bring your camera and appetite for adventure as you zip-line, mountain bike, hike, and go paragliding in Constanza for a spectacular view of the Valley of Jarabacoa, and the rural scenery of Santiago.
Just 2 ½ hours from the city of Puerto Plata, the town of Constanza in the Dominican Republic perches on a plateau 4000 feet above sea level, hidden inside the island's largest mountain range. The journey to Constanza offers curious travelers the chance to see a very different side of the Caribbean.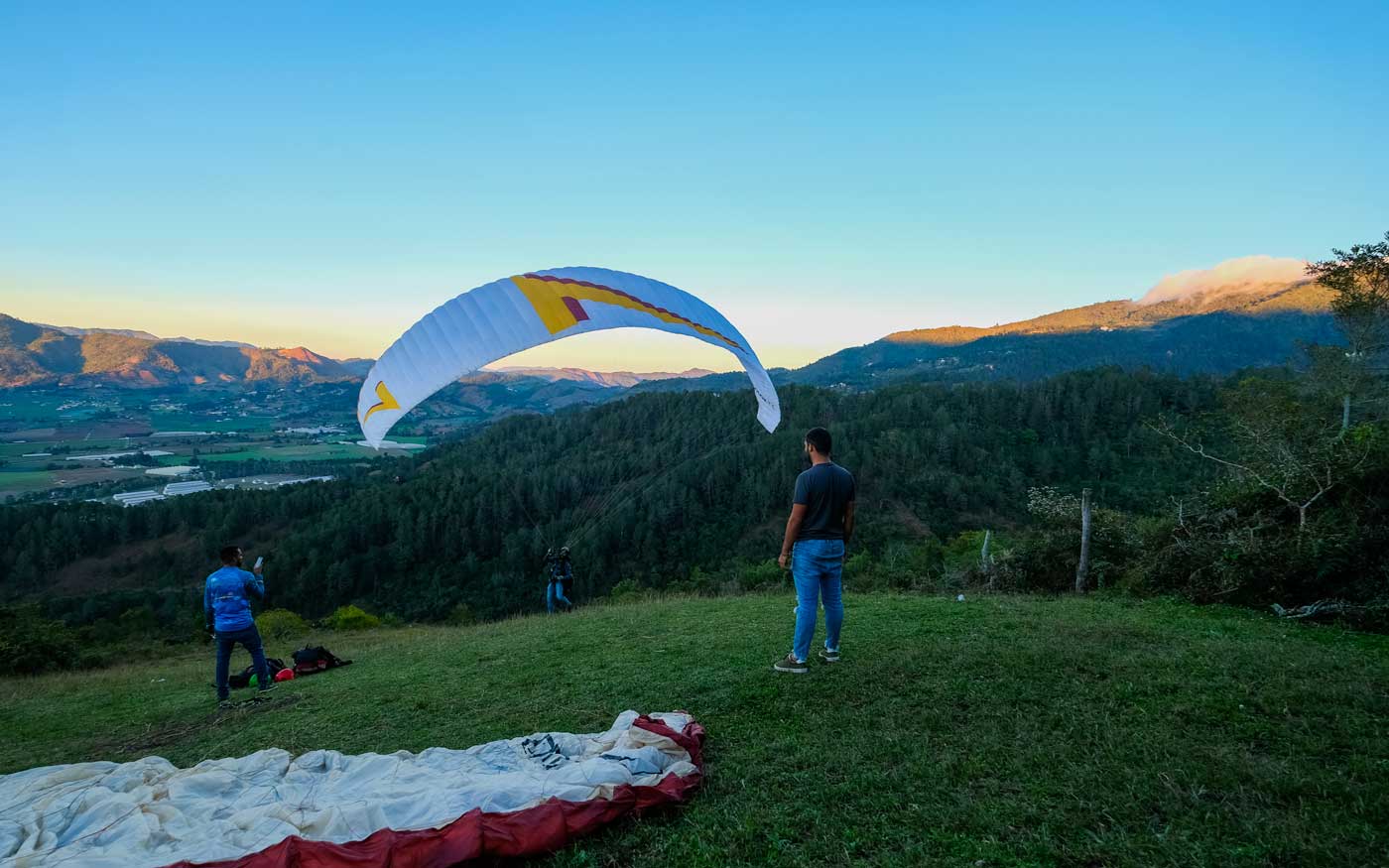 Paragliding in Constanza
Photo: Anton Lau
Thrill seeking in Costanza
This adventurous destination is a fan-favorite of out-doorsy, nature loving, and thrill-seeking travelers. The mountain and valley terrain stretches out for miles, making any tour an epic one, and putting your body to the test with these adrenaline-pumping activities:
Paragliding + Ziplining 
The Flying Tony Parapente group specializes in sending thousands of tourists flying over the Constanza valley.
If you really want to get a crazy rush, try Ziplining through the cloud forests!  The Dominican Ministry of Tourism conducts frequent inspections to ensure the zipline is safe.
Hiking in Valle Nuevo and Ébano Verde National Parks 
Begin your morning in sunlight shining through purple mountain tops and a full breakfast of mangú (mashed plantains), eggs and sausages (or locally-grown vegetables) before setting out on a day hike.
Professional mountain rangers guide you through pine and cloud forests, telling you about the region's history along the way to the Aguas Blancas Waterfall.
Mountain Biking 
Further up into Valle Nuevo is an area called Madre de las Aguas (Mother of the waters), where indigenous legend has it that all rivers are born. In fact, Valle Nuevo encompasses five separate river basins and over 700 rivers start in the park.
Here you can ride one of many dirt paths (some from indigenous times), stopping at checkpoints to see and hear the rush of Valle Nuevo's main rivers: Rio Yúna, Ocóa, Tireo, and the stunning Aguas Blancas.
Don't miss the Salto de Aguas Blancas - the Caribbean's highest waterfall!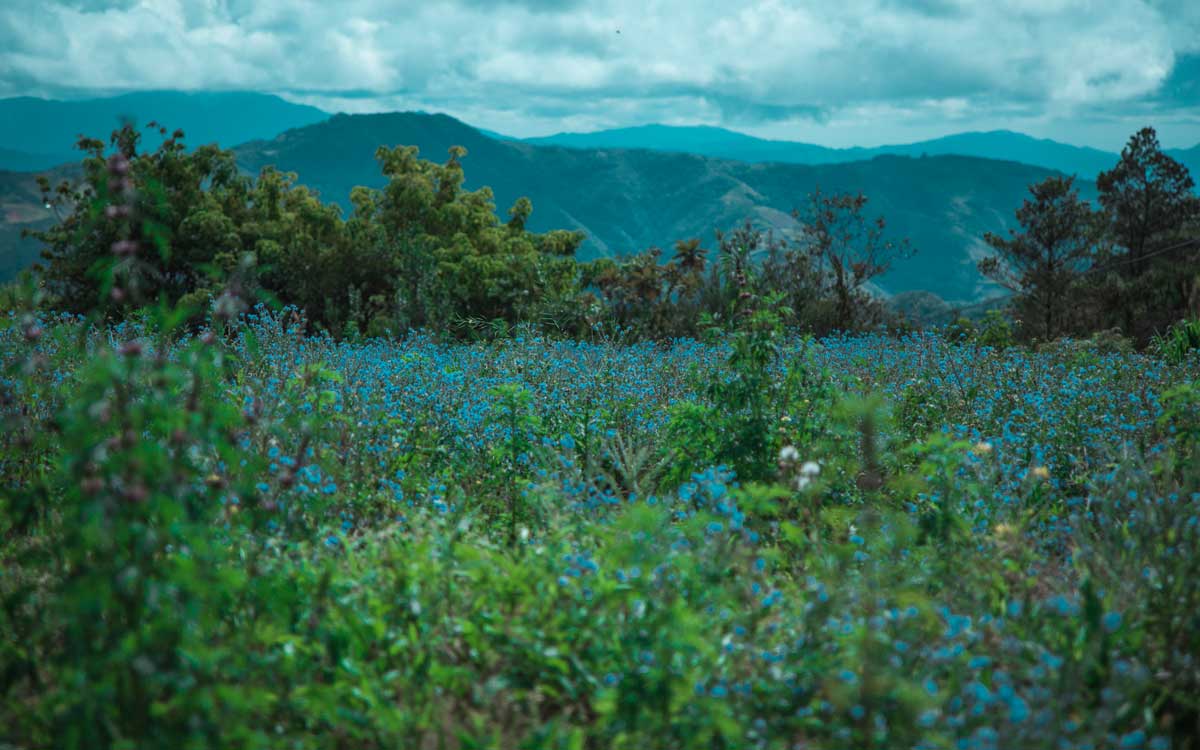 Valle Nuevo National Park, Constanza
Photo: Shutterstock.com
An unexpected sanctuary
Constanza is one of the most fertile agricultural regions in the Dominican Republic, producing an array of fruits and vegetables, many of which can only grow in Costanza's relatively frigid climate. Temperatures on the plateau average at 65℉ (18℃) year-round, but can drop to freezing in winter. In 2018, 3 inches of snowfall was recorded - in the Caribbean!
On any given day, you'll see frost covering the landscape in Valle Nuevo and Ébano Verde, two fascinating National Parks in the Dominican Republic's central region. Valle Nuevo is an exceptional destination for mountain trekking and bird watching. At an altitude of over 7,200 feet, the cloud forests of Vale Neuvo are home to more than 500 unique plants - 138 of which can't be seen anywhere else on earth - creating a rich habitat for the abundance of birds, butterflies and amphibians that live here.
Bring your best camera - you'll be glad you did
While Constanza proper is fairly domesticated, fingers of remnant pine forest linger on the plateau and are a great place to find unique wildlife. Travelers come here for the chance to see animals like Palm Crows, Antillean Siskins, Hispaniolan woodpeckers, Golden swallows, and Hispaniolan Parrots - you might even spy the elusive Eastern Chat-tanager and La Selle Thrush! You'll also see wild relatives of cats and rabbits.
While you're here, don't miss Constanza's botanical gardens. A guided walk will show you flagship flowers like yellow margaritas, verbenas and astromelias (Peruvian Lilies).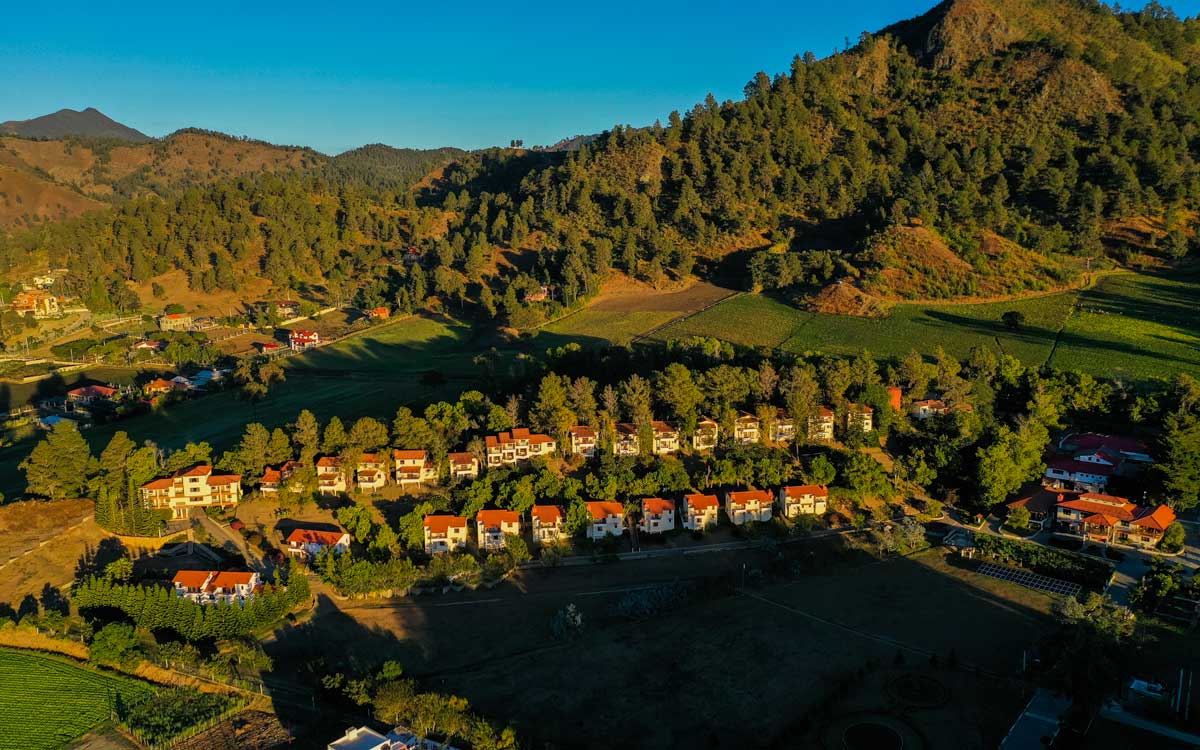 Altocerro Villas, Hotel & Camping, Constanza
Photo: Anton Lau
Where to stay
Constanza has eco-friendly hotels and villas for couples, families and tour groups. Temperatures drop so low at night here that in contrast to the rest of the Dominican Republic most accommodations in Costanza come without A/C, or even a fan; just thick blankets to keep you warm.
Here's some cozy places to check out (and in):
Villa Pajón Eco-lodge 
An awesome place to spend the night while on a hiking expedition through Madre de Las Aguas, Valle Nuevo. This eco-lodge offers free stays as part of many hiking tour packages.
Altocerro Villas, Hotel & Camping 
This 34 villa complex provides cozy lodgings with full amenities for groups or families; complete with a fireplace and located in the center of the Constanza Valley. A great choice if you want to kick back in extra comfort while taking in the dramatic nature all around you.
Hotel Rancho Constanza
Hotel Rancho incorporates the surrounding rural aesthetic into its rustic ranch design, simply reflecting its natural mountainous surroundings in the heart of Constanza - with comfortable mountain view accommodations- and if you're traveling with children- there's an open playground in the back.
Don't miss: Costanza's local fresh organic produce
Over a dozen agricultural communities of about 3,000 people live around the center of Constanza, making it one of the country's top growers of fresh produce like:
- Strawberries, wild berries, peaches and passion fruit
- Carrots, potatoes, plantains and yuca
- Cabbages, kale and chalets
A local saying has it that in Costanza, "the crops are so plentiful, no one here knows what hunger is", and residents here are famously generous with their bounty - happy to give away fresh produce to visitors just to show off how delicious it is!
Dominican culture and customs: know before you go
If it's your first time visiting the Dominican Republic, a little knowledge about Dominican culture and customs will boost your confidence to go out, meet the locals, find your way, order off the menu, and browse and haggle.
Fruit seller in Constanza
Photo: Mikkel Ulriksen
Explore the Dominican Republic's nature
Subscribe to our newsletter
Get more travel inspiration, tips and exclusive offers sent straight to your inbox