Things to do
Hike Pico Duarte - the highest mountain in the Caribbean
Foggy weather at Pico Duarte
Photo: Juan Fernandez / Unsplash.com
The Dominican Republic shares the island with Haiti, occupying two-thirds of the territory. It's not only home to some of the best beaches in the world, you can also find open water caves, waterfalls, rivers, valleys, lakes, rainforests and tall mountainous regions. The country's highest and largest mountain range is the Cordillera Central, which includes Pico Duarte, the highest peak in both the Dominican Republic and all of the Caribbean islands. Several peaks there exceed 5,000 ft.
With its impressive peaks and surprisingly cool climate (by Caribbean standards) the Cordillera Central mountain range is sometimes nicknamed the Dominican Alps. The Jose Armando Bermudez National Park (Bermudez Park for short) straddles the Cordillera range and is home to the imposing Pico Duarte - 10,000+ feet (3,000 meters) in altitude.
Do you love adventure? Want to try something different during your next vacation? Come and climb the highest mountain of the Caribbean!
Getting to the park entrance
Most hikers who visit Pico Duarte come through Jarabacoa. At Manabao in Jarabacoa, there is an official park entrance, where hikers begin the trail. You'll also find the park's office where you can hire local expert guides and rent hiking equipment and mules to carry your food and bags. During high season, you can find many other groups in Jarabacoa preparing for the trip to the summit, and some of those groups will be happy for you to join them.
The hike is usually done in three days and two nights. Day one usually takes you 11 miles from La Ciénaga up to Compartición, where you'll sleep at an 8,000 feet elevation, and day two is dedicated to a round trip from Compartición to Pico Duarte then back again.
The La Ciénaga route via the entrance of Parque Bermúdez is considered the best approach because the weather on that side of the summit is milder, with breezes and rain showers more likely. It also gives you the fastest access to Valle del Tetero, a beautiful valley where hikers often stop to make camp and relax.
The other three marked routes include Mata Grande, Las Lagunas, Los Corralitos and Sabaneta, ranging from 25 to 70 miles in length and from 3 to 7 or more days' hiking. All routes guarantee amazing views of tropical, pine, mountain broadleaf, and cloud forests. Talk to your group and your guide about the pros and cons of each.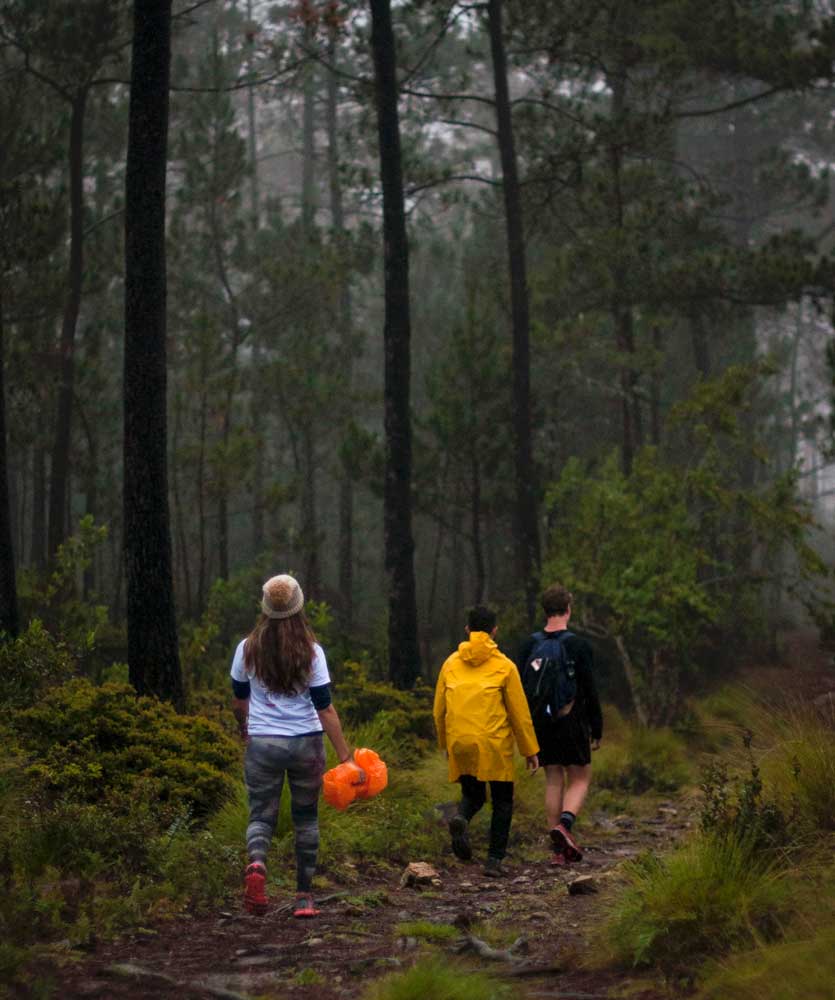 People hiking to Pico Duarte
Photo: Juan Fernandez / Unsplash.com
Pico Duarte difficulty
Getting to the summit is physically demanding, but the hike isn't an overly technical one. As long as you have a good level of fitness and endurance and hike with an experienced guide, the hike is suitable for beginner intermediate hikers. experience but well worth it. Of course, go with an experienced hiker and let someone else know your intended route and expected time of return.
Pico Duarte hike costs
The Bermudez park entrance fee is RD$100 (US$1.71). Guides cost RD$800 (US$13.66) per day, and a mule costs RD$400 (US$6.83) per person plus RD$450 (US$7.68) per carrier mule. For the latest official fees for guides and mules, check the listing at the Bermudez park office in La Ciénaga.
Whether you travel with a group or unaccompanied, mules are considered mandatory. The easiest and safest option is to join an arranged hike with a professional guide or tour company.
Pico Duarte hiking tour companies
Rancho Baiguate offers hiking packages to Pico Duarte, from two-night to five-night treks depending on how much time you have and how much ground you want to cover each day. Tour packages start at US$255 per person for the three-day, two-night trek.
Jarabacoa Mountain Hostel is partnered with Jarabacoa Eco Adventures who offer hiking tours to Pico Duarte. These tours are run by experienced locals and are probably the cheapest out of the professional, well-reviewed tour options.
Where to sleep before the hike
When to go
High season in the Dominican Republic is from mid-December to mid-April. Tours depart more frequently in peak season, but you can hike Pico Duarte throughout the northern hemisphere summer as well. Even in July and August, the mountain range is cool at the top.
Written by Nora Perez.
Published September 2020
Explore Bahía de Las Águilas
Go glamping in Bahía de Las Águilas, a pristine paradise with ultramarine shores, incredible wildlife, and eco-lodges in the Dominican Republic.
Camping on the beach, Bahía de Las Águilas
Photo: chrisontour84 / Shutterstock.com
Subscribe to our newsletter
Get more travel inspiration, tips and exclusive offers sent straight to your inbox