Adventure travel
Go Kitesurfing in Cabarete
Kite surfer doing tricks, Cabarete
Photo: G-Valeriy / Shutterstock.com
One of the original kitesurfing meccas, Cabarete in the Dominican Republic is the Caribbean kitesurfing heaven.
Since the sport began, people have been traveling far and wide to hit the waves of Cabarete. Why? The wind blows all year round here and the winter months whip up some serious rolling waves.
The town of Cabarete itself is the perfect place for traveling kitesurfers to kick back, enjoy a beer and meet some awesome new friends. Like the wind, fellow kitesurfers are here all year round, so expect to find a great social scene, quality nightlife and plenty of parties where you can meet some people to go enjoy the waves with.
Cabarete is also home to some amazing local pro kitesurfers. If you're lucky, you might get to meet them and learn a few things. When it comes to kitesurfing spots, Cabarete has some awesome surprises in store - it's a great place to find incredible kitesurfing opportunities and experiences.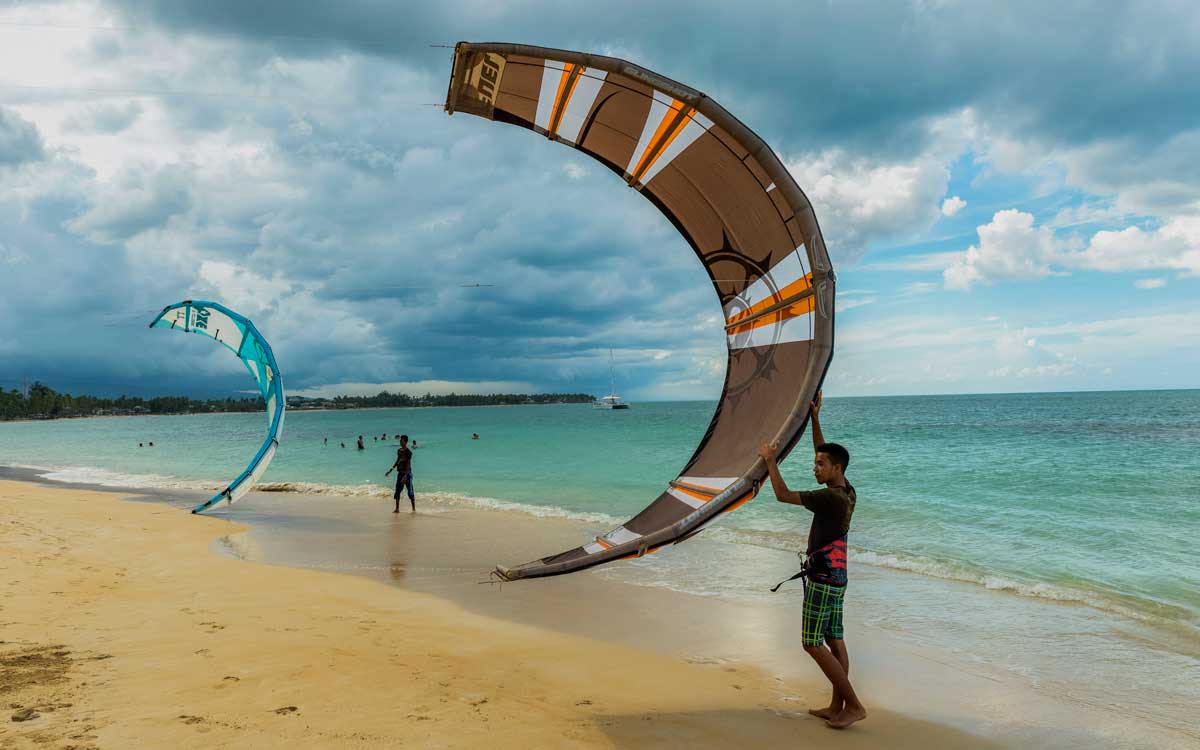 Getting ready for kitesurfing in Samana
Photo: Saaton / Shutterstock.com
Quick Facts
- A mecca for kitesurfing and known by kitesurfers worldwide.
- Consistent winds throughout the year.
- Some of the sickest spots for amazing kitesurfing.
- A bohemian town full of fellow kitesurfers and amazing nightlife.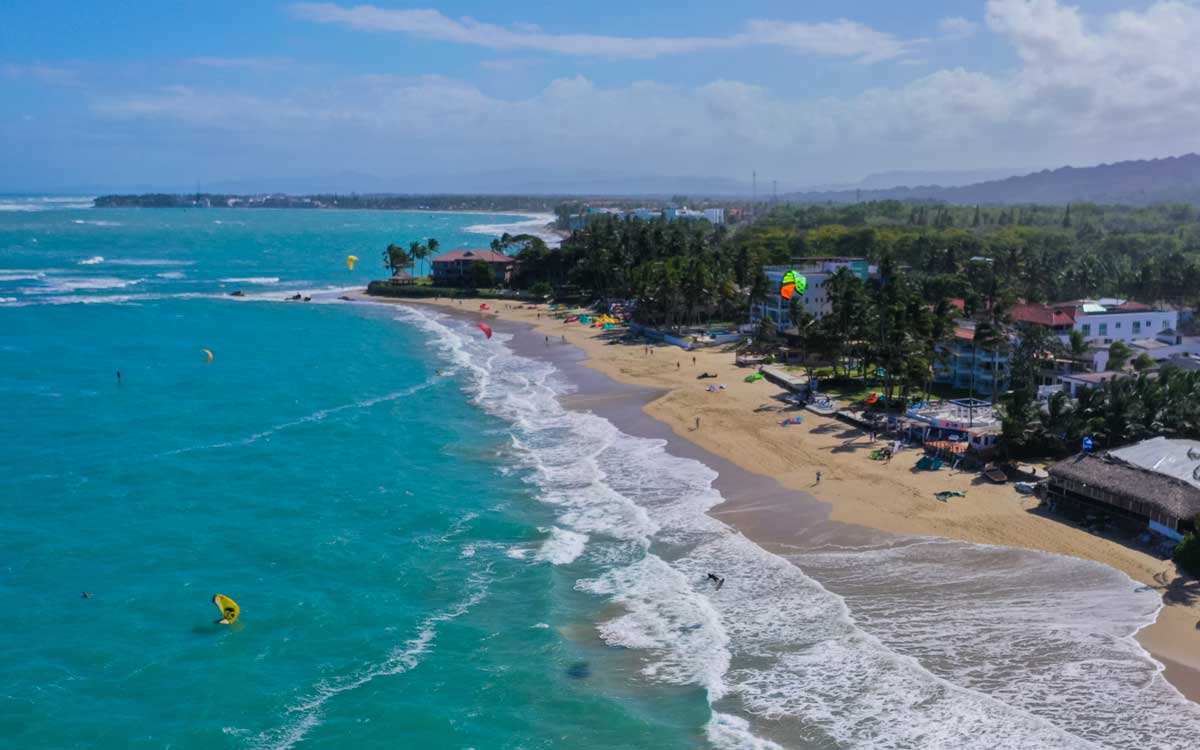 Kite Beach in Cabarete
Photo: Mikkel Ulriksen
Top 5 Spots for Kitesurfing in Cabarete
Kite Beach
Kite Beach is exactly what it says on the tin - a beach for kitesurfing! Kite Beach is by far the most popular spot for kitesurfing in Cabarete, but don't let its popularity put you off. There is a good reason to get the kite out here, with a great mix of flatwater and good waves along the reef.
La Boca
La Boca is about 7km south of Cabarete. This tiny flatwater lagoon is what kitesurfing heaven is made of, with an epic river mouth opening out into the ocean as you hit the wind. Because it can be tricky with surrounding trees being very close to the shore, beginners might want to avoid this one. Intermediate and advanced kitesurfers will love this one though, making La Boca a favorite training spot for local pros.
Cabarete Bay
Close to the center of Cabarete town, this beach is large with big open spaces, so don't be surprised to find some windsurfers in this spot. It's also a great spot for kitesurfers with the reefs at the back offering up some good kiting opportunities.
Bozo Beach (and Goleta Beach) 
If you're after some decent kite schools then head north-west to Bozo beach where some of the best schools ply their trade. The reef is located about 1km out, and you can expect some choppy conditions here, making this beach more appropriate for advanced kiters. Beginners are best kiting in the afternoon when everything calms down.
Encuentro 
Probably one of the most beautiful kiting spots in the whole Carribean. Encuentro has beautiful scenery, pristine blue waters, and great winds. This is where regular kitesurfing competitions take place as waves can get seriously heavy in winter. If you want to head to Encuentro, the best time is afternoons, when the heat dies down and the wind picks up.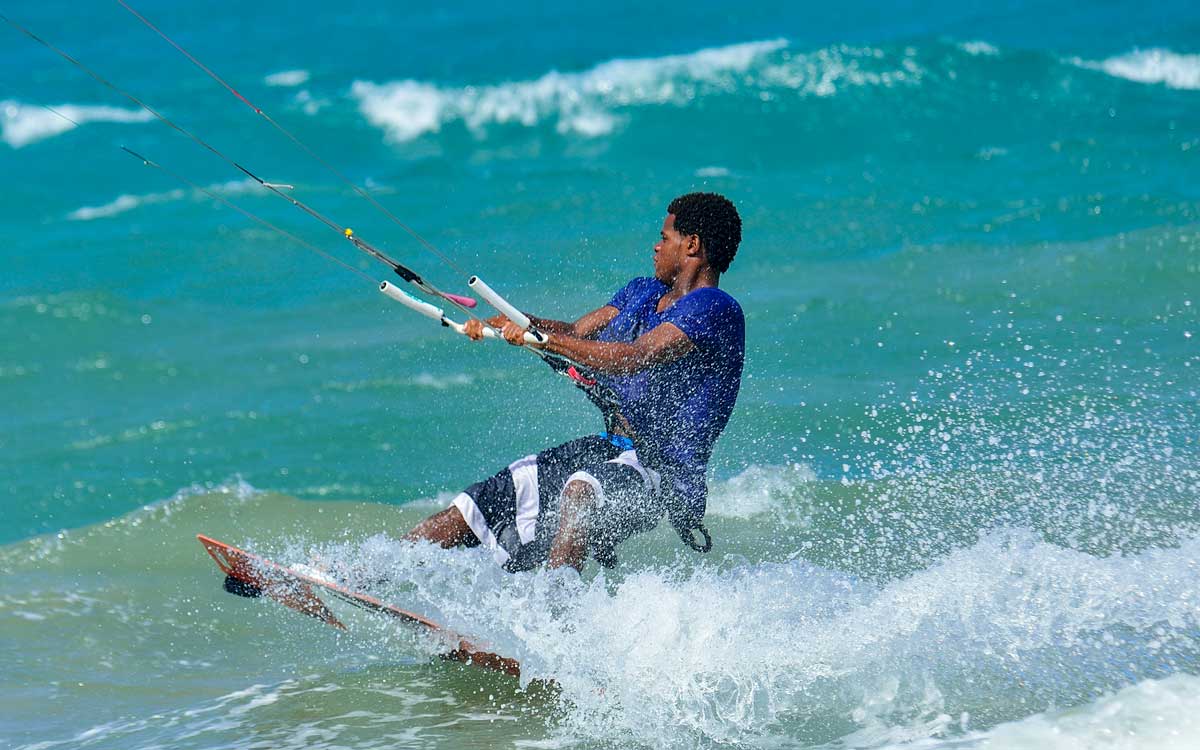 Kitesurfing in Cabarete
Photo: Shutterstock.com
Need to know
When to go
- Kitesurfing in Cabarete is enjoyed all-year-round.
- The windy season is April to September.
- October and November are the rainy months.
- From December to March there is less chance of good winds.
Read more about when to visit the Dominican Republic here.
Top Kitesurf Schools
Prices for Kitesurf Lessons in Cabarete
Costs for kitesurfing lessons vary depending on the school you choose and the time of year. Most schools offer a number of packages from 1-day beginners' courses to 3-day intense beginners' courses and some offer 1-week all-inclusive deals where they guarantee you will learn to kitesurf by the end. It's always best to check on the school's website first and contact them directly before arriving.
Written by Andrew Miles.
Published August 2020
Looking for more adventure?
Subscribe to our newsletter
Get more travel inspiration, tips and exclusive offers sent straight to your inbox