Adventure Travel
Go surfing in the Dominican Republic
Surfer doing tricks
Photo: Baranov E / Shutterstock.com
Everything you need to know about surfing on the north coast of the Dominican Republic, plus the top 10 surf spots for 10 different experiences
Top surfing spots
The north coast of the Dominican Republic is home to some of the world's most popular beaches for surf-lovers. The wind blows all year round here and the winter months whip up some serious rolling waves. Every February, the world's best surfers, windsurfers and kitesurfers hit Playa Encuentro to compete at the Master of the Ocean surfing tournament.
You'll also find surfing beaches and schools on the north coast of the Samaná peninsula. If you're planning your trip to the DR, whether you're going on a dedicated surfing vacation or looking for your first lesson, here are the spots you'll want to know about:
Cabarete is a world-famous hub for kitesurfing and windsurfing and a favorite bohemian hideout of surfers. A little to the east, Río San Juan is home to gorgeous surf beaches, surf schools and even surf camps. Further east, Las Terrenas on the Samaná peninsula is another surfing hub.
To help you plan your trip, we've listed the top 10 surf spots in the Dominican Republic, and what makes each of them unique.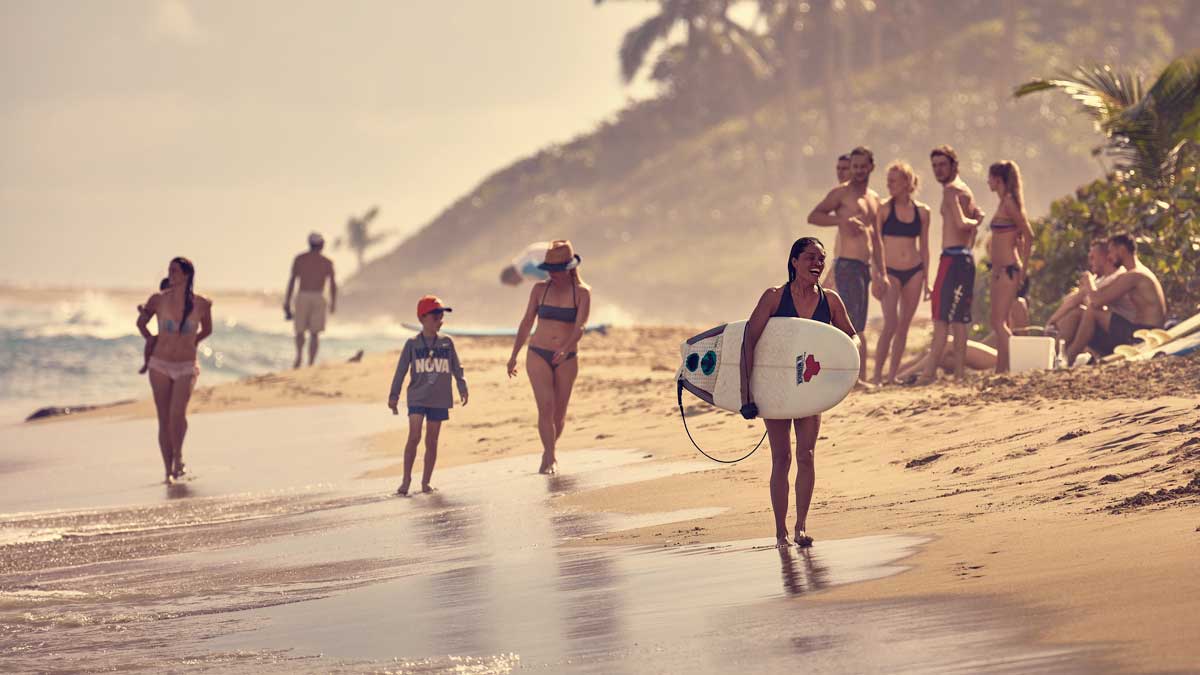 Girl with surfboard
Photo: Baranov E / Shutterstock.com
The best surf beach in the Dominican Republic...
...overall: Playa Encuentro 
Is the surfers' beach par excellence. This beach has the most consistently excellent surfing conditions on the north coast, and is one of the best surf spots anywhere in the Caribbean region. When other surf spots nearby go flat, you'll find that Playa Encuentro still has waist-high waves. This beach is perfect for beginners and intermediates.
Playa Encuentro has beautiful scenery, pristine blue waters, and great winds. Every weekend, local pros and international stars head to Playa Encuentro to practice. If you're an experienced surfer and want to head to Encuentro, the best time is afternoons, when the heat dies down and the wind picks up.
In winter, the winds can get seriously heavy, and the world's best surfers, windsurfers and kitesurfers hit Playa Encuentro every February to compete at the Master of the Ocean surfing tournament.
If you've never surfed but always wanted to try, this is a great place to start, with beginner lessons averaging US $50 for a 2-3 hour lesson. You'll find several surf schools and surf camps based on Playa Encuentro.
The beach is fringed with places to rent boards and grab drinks afterwards.
..for pros: Playa Preciosa and El Barco beach
These are both top spots, but they are not suitable for beginners. They both have excellent quality waves.
...to avoid the crowds: Playa El Valle
About a forty-five minute drive from Las Galeras, Playa El Valle is a postcard-perfect surfing strip - minus the crowds. You can learn to surf here with Pirata Surf School, but you'll have to book in advance since Pirata is based in Punta Cana and will be making the trip to El Valle especially for you.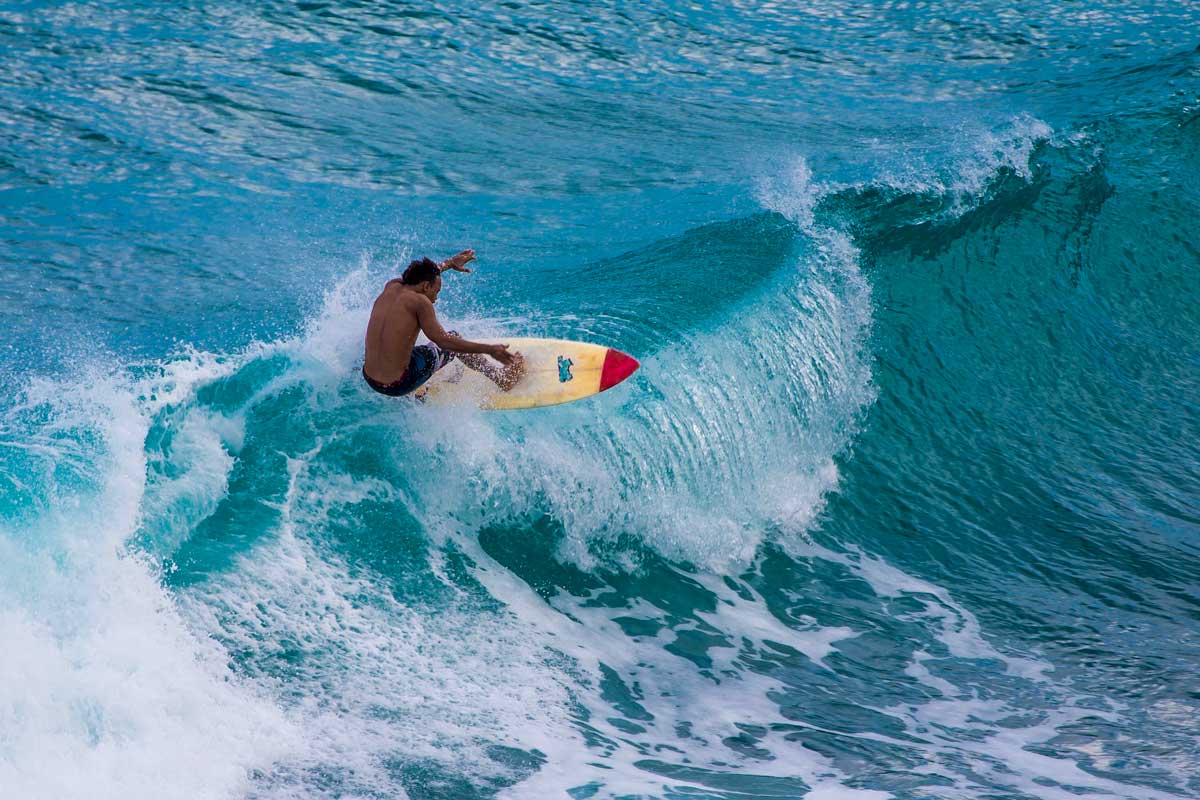 Surfer doing tricks in Río San Juan
Photo: Nikolai Dunaevskii / Shutterstock.com
...for kitesurfing and windsurfing: Bozo Beach
If you're after some decent kite schools then head north-west to Bozo beach where some of the best schools ply their trade. The reef is located about 1km out, and you can expect some choppy conditions here, making this beach more appropriate for advanced kiters. Beginners are best kiting in the afternoon when everything calms down.
...in summer: Mananero
Just southeast of Cabarete, Mananero has a fast left and right beach break, and is great in summer and early mornings, since the wind affects it more strongly than other beaches.
...on the Samaná peninsula: Playa Bonita and Playa Coson
Playa Bonita has the best waves of all the local beaches and is a great place to learn to surf, and a fantastic place to watch the sunset. Coson Beach is a long, lovely beach framed by palm trees, about four miles from Las Terrenas and easy to reach. The great waves here make it another top surfing spot, and locals visit the beach to sell Dominican-grown coconuts and coconut oil.
...to learn to surf away from peak season crowds: Playa Grande
And "Grande" it is, with over two miles of clean, spacious beach and impressive waves that even professional surfers find challenging. The Surf Instruction School offers lessons for surfers of all experience levels.
...near Punta Cana: Playa Macao
Two miles north of Bavaro's luxe resorts, Playa Macao has its own personality with golden sands and impressive waves, perfect for surfers and boho barbeques right on the powdery beach. Macao Surf Camp offers surfboard rentals and surfing lessons in English, Italian, Spanish and Russian.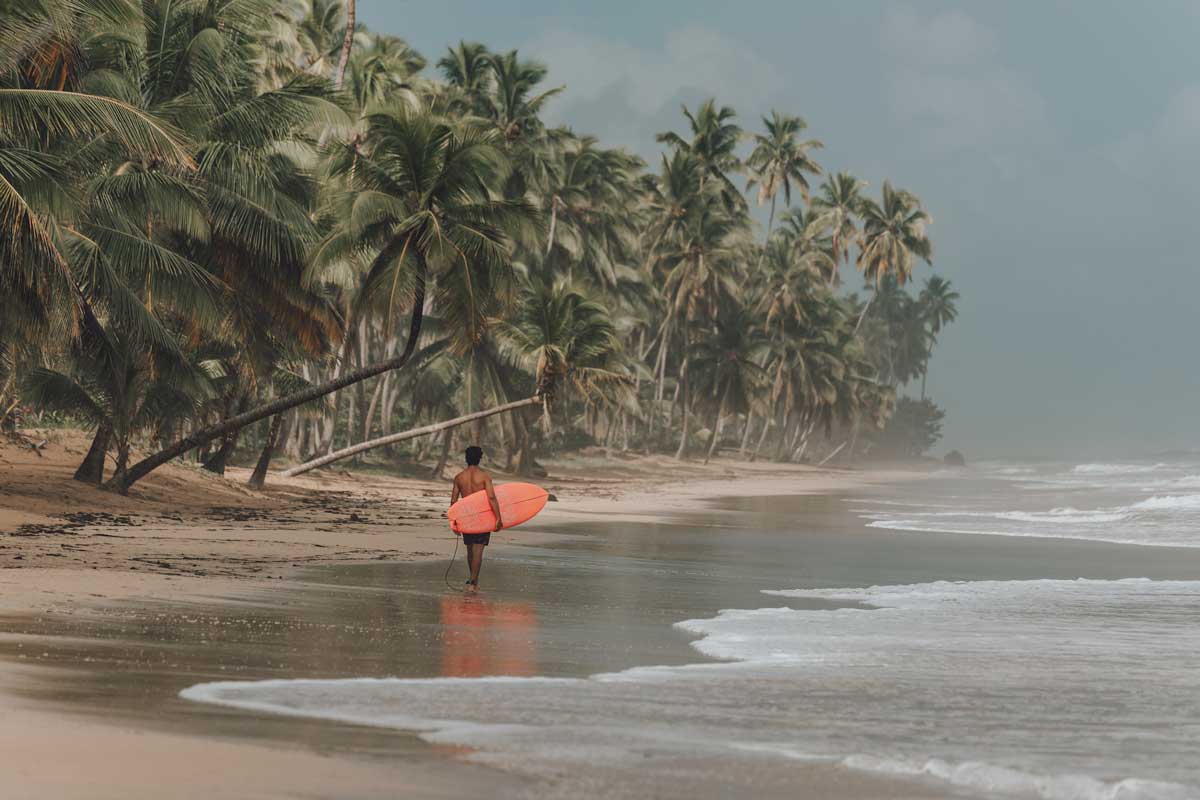 Surfer walking at Coson Beach, Las Terrenas
Photo: Pavel Prodan / Shutterstock.com
When is the best time to go surfing in the Dominican Republic?
For pros, the best season (with the highest peaks) is from October through March, when waves average four to six feet. For beginners and intermediates, the weather conditions are great all year round. From April to September, waves average three to five feet.
The dry season (December to April) offers the best conditions for water sports (surfing, snorkeling, diving, windsurfing, rafting and more). During the dry season, seas are calmer, beaches tend to be cleaner, and river currents aren't as rough or changeable as during the wet season.
The wet season here is mild compared to other destination surfing hotspots around the world, especially spots in Southeast Asia. The best thing about surfing on the north coast of the Dominican Republic is that you have about 350 days each year that you can go surfing without having to worry about the beaches going flat.
Read more about when it's best to visit the Dominican Republic.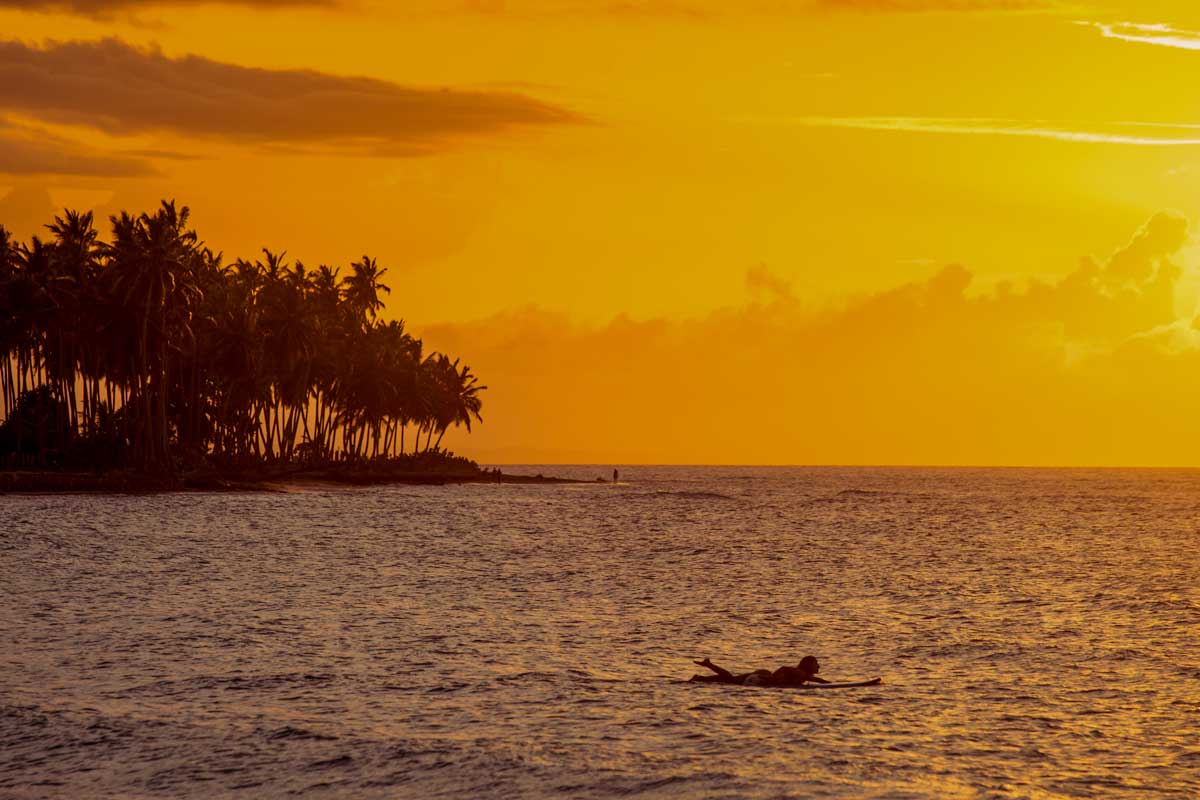 Surfing in the sunset, Samaná
Photo: Pavel Prodan / Shutterstock.com
Getting there
Playa Encuentro is a 45 minute drive east of downtown Puerto Plata, or a 20 minute drive east of Sosúa. Cabarete, Río San Juan and Las Terrenas are all destinations in their own right and offer great amenities as well as access to the nearest surf beaches, and all of them are easy to reach from Santo Domingo, with frequent public transport options during the high season. Read more about getting around the Dominican Republic.
You can fly direct to Puerto Plata from several North American cities including Miami, New York, Boston and Montreal. American Airlines, Jet Blue, Continental, Air Canada and West Jet all fly direct to DR destinations. If you're coming from Europe, it's probably cheaper to fly to Punta Cana (near Macao beach), with direct flights from several European cities.
Read more about how (and when!) to find the cheapest flights to the Dominican Republic.
Written by Nora Pérez.
Published October 2020
Looking for more adventure?
Subscribe to our newsletter
Get more travel inspiration, tips and exclusive offers sent straight to your inbox