Destinations
The basics on Punta Cana and Bávaro
Beach in Bávaro
Photo: Valentin Valkov / Shutterstock.com
Punta Cana is one of the hottest destinations in the Caribbean, attracting over four million international tourists, musicians and entrepreneurs every year. Together, Bávaro and Punta Cana combine to form what's known as La Costa del Coco, or the Coconut Coast - a 30-mile strip of pristine coastline with at least ten distinct destination-worthy beaches.
Here, the weather's beautiful all year round, with warm, shallow turquoise waters so clear that you can easily see right down to the bottom. With instagram-worthy white sand beaches, palm trees, coral reefs, dolphin pods and schools of colorful tropical fish, the Coconut Coast's natural bounty makes it the creme de la creme of the Caribbean.
And it Only gets Better
But it's not just beaches that make Punta Cana the most popular destination in the Caribbean. Bávaro is home to lavish, all-inclusive luxury resorts, many of them right on the beaches. You'll also find the most electric nightlife in all of the Dominican Republic, from beach parties with live music to exclusive upscale clubs and sell-out events.
In between swimming, snorkelling and scuba diving you can play volleyball or enjoy a round of golf at one of the world-class golf courses in the area, and if you're looking for a more action-packed holiday, there's zip-lining, windsurfing, kayaking, horseback riding and sailing. The balmy days and electric nights create the ideal atmosphere for an exciting and action-filled getaway.
In between and around the beaches are communities such as Veron, Juanillo, Cabeza del Toro, Macao and Uvero Alto.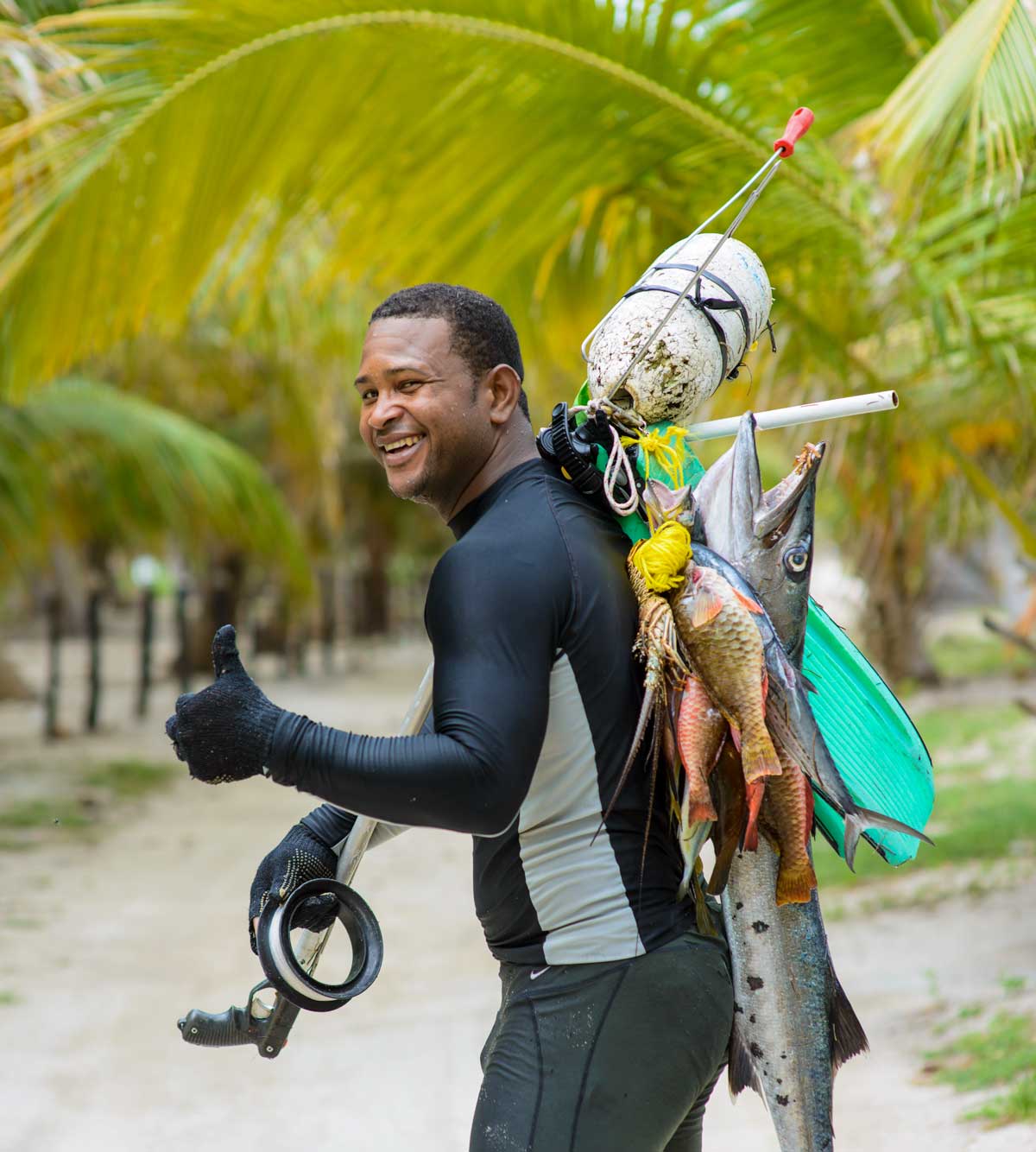 Spearfishing in Punta Cana
Photo: Aleksandr Rybalko / Shutterstock.com
Amazing Beaches and Unique Marine Life
Punta Cana is on the south east coast of the Dominican Republic, where the Caribbean Sea meets the Atlantic Ocean. Remember that Punta Cana isn't just one beach, but several, many of which routinely rank among the best beaches in the world.
Macao Beach
Two miles north of Bavaro's luxe resorts, Playa Macao has its own personality with golden sands and impressive waves, perfect for surfers and boho barbeques right on the powdery beach. Macao Surf Camp offers surfboard rentals and surfing lessons in English, Italian, Spanish and Russian.
Cabeza de Toro
A Blue Flag prize-winning beach, Cabeza de Toro (The Bull's Head) is our top pick for photography, video, deep-sea diving and getting up-close and personal with wildlife. Blue Flag is one of the world's most recognised voluntary eco-labels, marking beaches and coastal tourism centers with excellent environmental standards. Snorkel with stingrays and sharks at Marinarium Excursions or go underwater walking at the Seaquarium!
Uvero Alto
Laying low in the northernmost part of Punta Cana, this chill beach is the best place to ditch the crowds for peace and total relaxation. Just you and paradise. If the seemingly endless sunshine falters while you're here, duck inside and treat yourself to an hour or three in one of Uvero Alto's day spas.
Underwater wonders
The Coconut Coast is lined with coral barrier reefs and a series of "natural pools" - expanses of shallow sea with a floor of sun-warmed, silky-soft sand. The water is bright turquoise and unbelievably clear, making it easy to get up close and personal with starfish and schools of colorful tropical fish.
In different spots around Punta Cana you can meet dolphins, manatees, green sea turtles, yellow stingrays, sharks, parrot fish and seahorses. Look for Manati Park, Dolphin Explorer, Dolphin Island Park, Marinarium and Seaquarium.
Love animals? You'll love our article on Wildlife in Dominican Republic!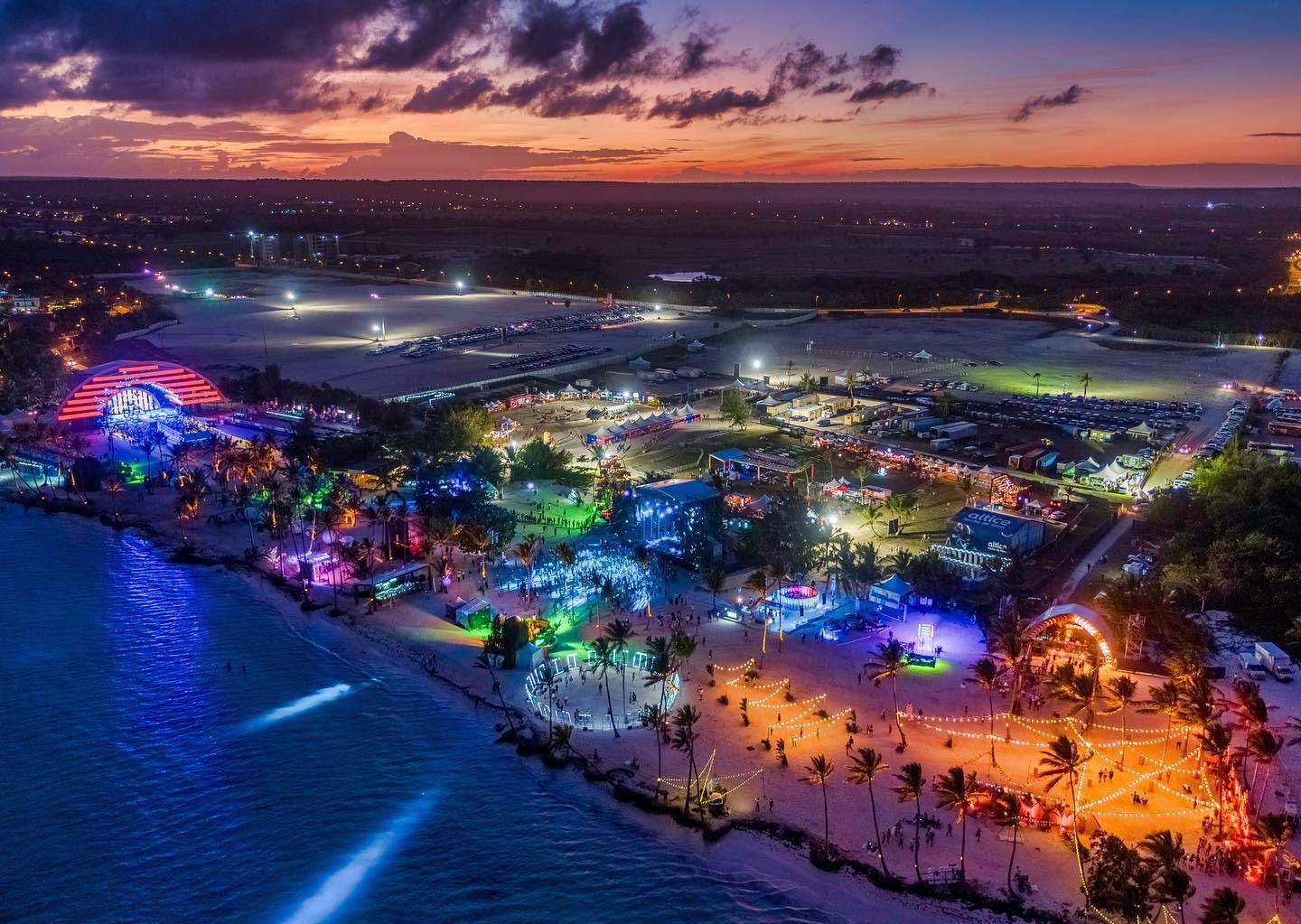 Electric Paradise Festival in Punta Cana
Photo: Pedro Braulio / Electric Paradise
Electric party atmosphere
Celebrities like Marc Antony, Will Smith, Denzel Washington and Beyoncé have been known to get their party on in Punta Cana. If you're a devotee of dance music, plan your trip to coincide with music festivals like Heat, Meréngue or Electric Paradise.
When you're not hitting up an event, Bavaro's nightclubs will give you a night worth remembering, rocking out with your besties or making new ones from all over the world. These are the spots that'll keep you dancing all night:
Imagine is a club set in a natural underground cave, with separate areas for different genres of music: one side for Merengue, Salsa, and Dembo, and the other side plays Club, Techno, and Pop.
This club is a broadway and acrobatics show, Punta Cana Style, with top-of-the-line choreographed dances, stunts and lights-and-music extravaganzas. Tickets start at USD $100, but for the best value, shop around for a package deal that includes unlimited drinks and table service.
A high-end nightclub like no other in Bavaro, Oro lays on the luxury with first class service, select varieties of champagne, single malts and top-shelf spirits. Oro accommodates large groups for birthdays, bachelor parties, and celebrations.
What's your ideal sun-soaked adventure?
Whatever type of traveler you are, there's something fun for you to do around Punta Cana – even if that's nothing at all.
Full Day Catalina Island
Spend the day diving and snorkeling, exploring the sea bed and natural coral reefs like "The Wall" (known for sinking a few ships) and the "Aquarium" (named for its diversity of tropical fish).  You'll have time to chill and eat fresh seafood, salads, and grilled meats.
Extreme Buggy
Take the adventure off-road and rev your 4-wheeler through tropical areas on this action-packed guided tour.
Deep Sea Fishing
Sail off into the Atlantic Ocean or Caribbean for an expedition with experienced fishermen. Bring home a catch to make you feel like king of the seas, and grill it up right on the beach under the tutelage of local chefs.
Horseback in Uvero Alto
If a life goal for you is to literally ride off into the sunset, Uvero Alto horseback trail riding is where it's at. Mount your saddles and hit the trail like a true explorer. You'll get to see the Coconut Coast from a different perspective than most travelers.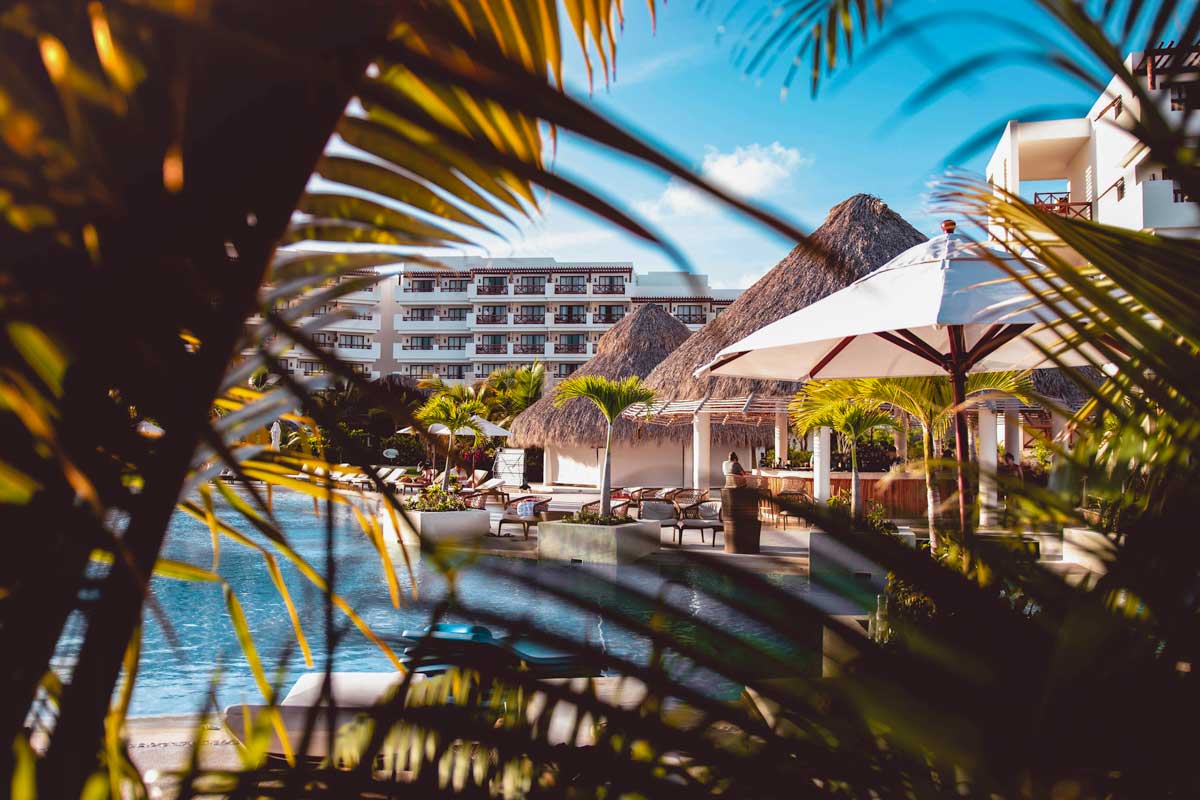 Beachfront hotel in Punta Cana
Photo: Bryan Angelo / Unsplash.com
Boutique beachfront hotels
Bavaro is a hub for boutique beachfront hotels, luxury all-inclusive resorts and even a few eco-friendly lodges. While other destinations in the Dominican Republic retain their sleepy seaside-village-feel and do things on island time, Punta Cana resorts are competitive, offering high-quality service 24/7. Whether you stay in a small hotel or luxury resort, you can expect the same warm hospitality.
Best place to stay for…
...parties
Hard Rock Hotel and Casino Punta Cana
The Hard Rock brand is synonymous with all-out parties, events, and activities.  And that's just the case in Punta Cana.  You'll have access to VIP sections in Concerts, select Restaurants, and Casino areas. Everyone deserves a little celebrity treatment in their life.
...couples
Turquesa is an adults-only hotel great for couples looking to spend some quality time together. Cortecito Beach is only a 3-minute drive away, where you can reserve a chaise lounge and have your drinks served to you while catching some sun rays.
...luxury on a budget
This is a beautiful home-style resort, with all of the amenities of its luxury competitors at a lower cost. Arena Gorda Beach is also located close by with unlimited all-inclusive services and cool water activities, plus Golf nearby at the Punta Cana Golf Club.
Bávaro Food Scene
Bávaro has one of the highest populations of foreign nationals in the Dominican Republic, changing the way people eat in Punta Cana with mainstream businesses like: KFC, Pizza Hut, Subways, etc. You'll also find Portuguese, Italian, and Cuban Restaurants.
Food trucks are now starting to become a thing, offering a spin to traditional Dominican cuisine for tourists looking for fun, no-fuss, delicious Dominican eats.
Explore Bahía de Las Águilas
Go glamping in Bahía de Las Águilas, a pristine paradise with ultramarine shores, incredible wildlife, and eco-lodges in the Dominican Republic.
Camping on the beach, Bahía de Las Águilas
Photo: chrisontour84 / Shutterstock.com
Explore Dominican art & culture
Subscribe to our newsletter
Get more travel inspiration, tips and exclusive offers sent straight to your inbox