Things to do
2023 Guide to Diving in the Dominican Republic
Scuba diving, Punta Cana
Photo: Reinhard Dirscherl / Alamy
Everything you need to know about diving in the Dominican Republic. Discover the best spots, when to visit and costs.
Divers of all abilities will have great fun diving in the Dominican Republic. You can explore a plethora of marine life, coral reefs, caves and shipwrecks, in water between 77℉(25℃) and 88℉(31℃) all year round. This island nation has a thousand miles of coastline with comparatively pristine water perfect for underwater adventures.
No matter where your adventure takes you in the Dominican Republic you will be sure to find a PADI-certified center that caters to all types of diving experiences and PADI certification levels.
Catalina Island diving gives you the chance to swim with the turtles and magnificent eagle rays or explore the shipwrecks that dwell within the  Bayahibe Bay.
The beauty of diving in the Dominican Republic is how much there is still waiting to be fully explored - secluded islands that are tough to access and wrecks only reachable by advanced divers.
Quick Facts:
- 9 different ecological regions to explore.
- Underwater environments include mangroves, shipwrecks, coral reefs, and caves.
- Divers of all capabilities and PADI certification levels welcome.
- Spot whales between December and April.
Top 5 Spots for Diving in the Dominican Republic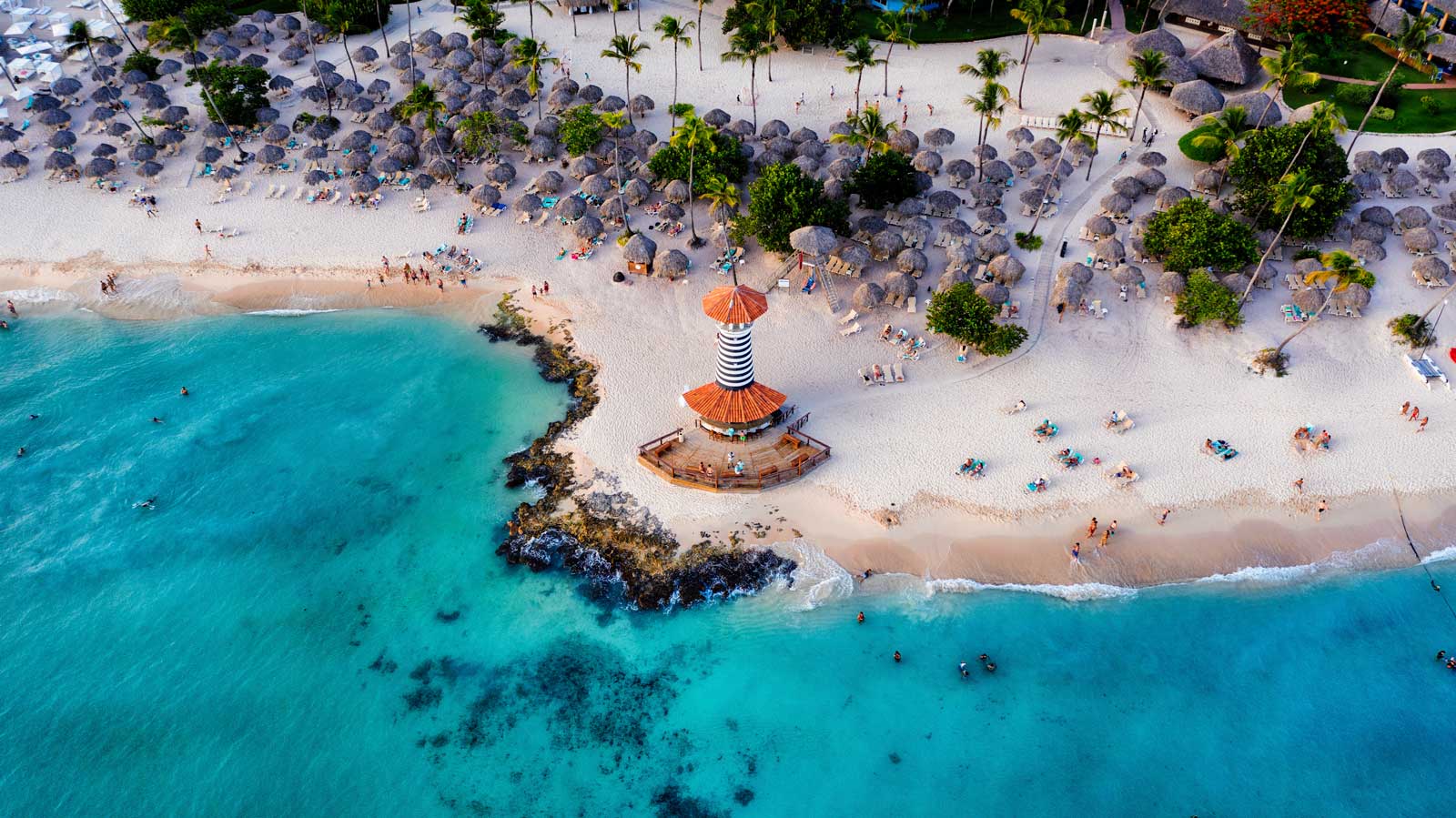 Beach, Bayahibe
Photo: Shutterstock.com
1. Bayahibe
Bayahibe is the most popular area for diving in the Dominican Republic.
Bayahibe offers access to Catalina Island diving and the coral reef of Saona to explore. There's two shipwrecks to discover here - the Atlantic Princess is the most accessible for all diving abilities at only 45 feet deep. Advanced divers can explore the wreck of Saint George which is more difficult to reach at 120 feet deep.
Types of diving in Bayahibe include drift, deep, cave and wreck diving.

Sea turtles swimming near Playa Fronton, Samaná
Photo: Las Galeras Divers
2. Cayo Reef, Paradise Island
This stunning atoll is straight out of the travel brochures and a top spot for subaquatic adventures. Paradise Island is very secluded, fringed by mangroves, lush vegetation, and surrounded by mountains. This all makes for some of the most pristine ocean waters divers can dream of.
Here, divers will be treated to thriving marine ecosystems teeming with life and areas that are completely uncharted. Types of diving in Cayo Reef include drift and deep diving.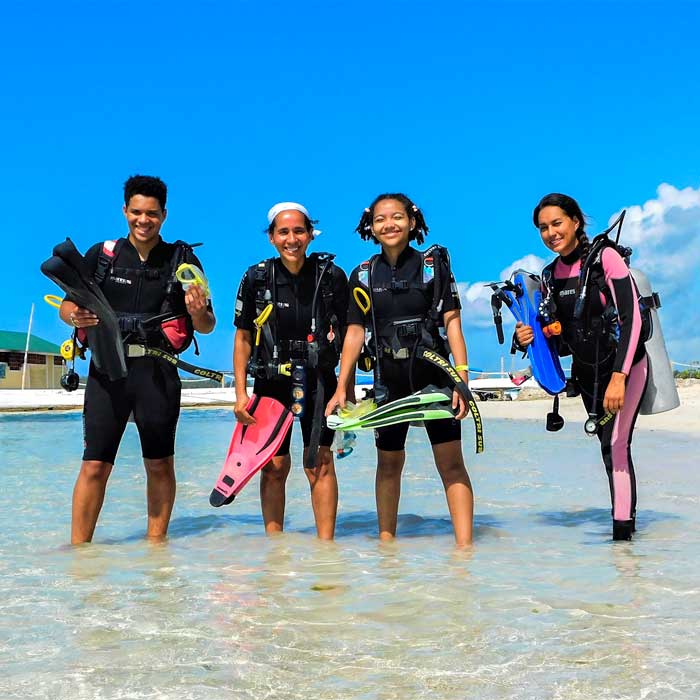 Divers getting ready in Boca Chica
Photo: oceandivingsd.com
3. Santo Domingo and Boca Chica
Both Santo Domingo and Boca Chica have bays protected within the Underwater National Park. The result? Some of the most well-preserved underwater landscapes you can imagine. Divers can explore a number of water-filled cave systems and shipwrecks. Local guides are required to get the best of these locations but a huge benefit of this area is the calmer waters and shallow dives, perfect for all diving abilities.
More experienced divers are free to head further out where you will come across stronger tides and wrecks that are only reachable by advanced divers. This is one of the best areas for advanced diving in the Dominican Republic.
Types of diving in Santo Domingo and Boca Chica include drift, deep, cave and wreck diving.

Diving in Sosua
Photo: sosuabeachdr.com
4. Airport Wall, Sosua
A once-in-a-lifetime opportunity for an off-the-wall dive experience right here in Dominican Republic. Descend off the vertical facade into the blue waters below for an exhilarating experience you will never forget. Depths reach around 115 feet here with the chance to explore cave systems and tunnels whilst enjoying the sight of reef sharks and eagle rays. Be sure to keep a lookout for these and the many fascinating species of sea life you'll find swimming between the rocks here.
Types of diving in Sosua include deep and cave diving.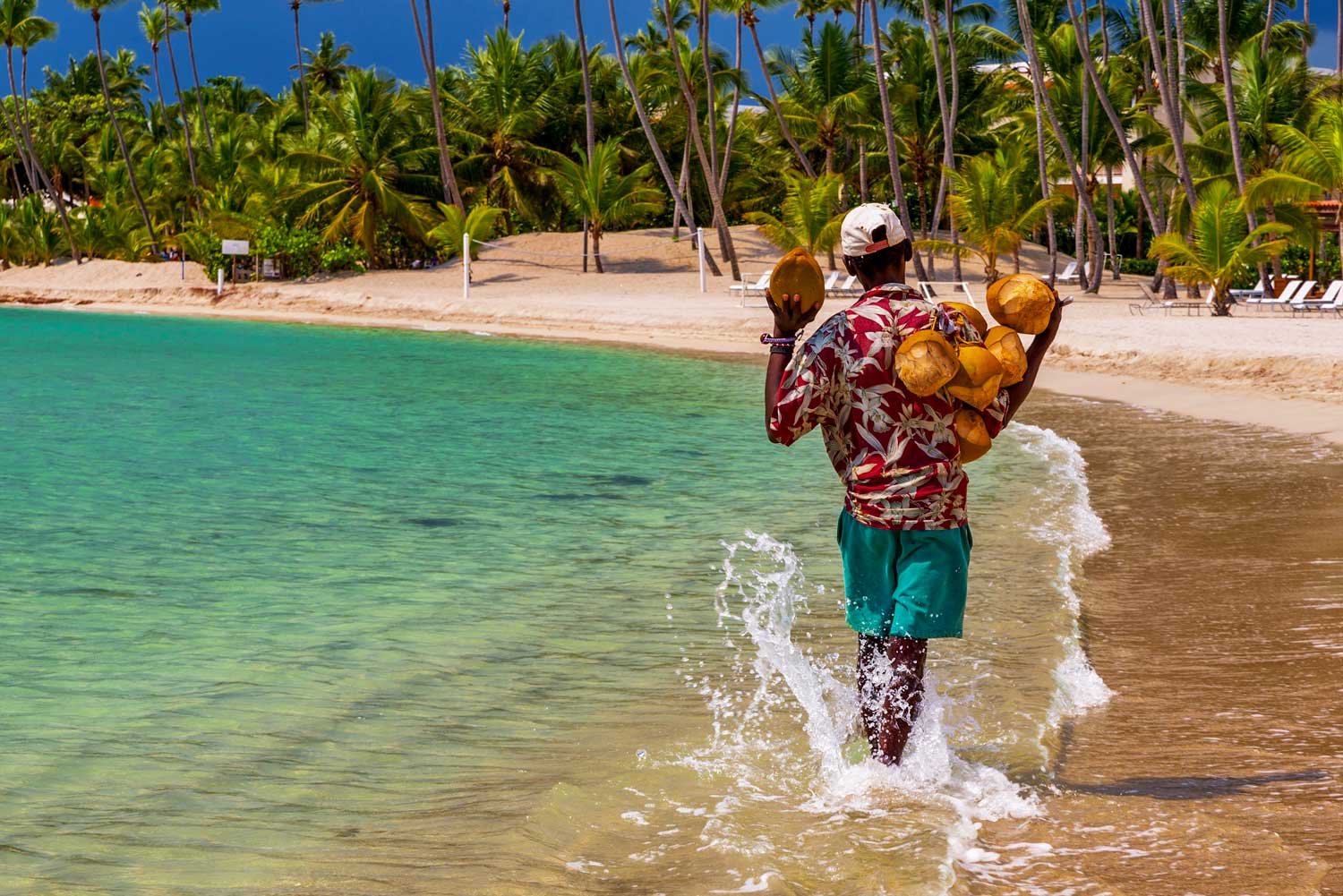 Juan Dolio Beach, Dominican Republic
Photo: Shutterstock.com
5. Juan Dolio
Juan Dolio is a well-protected bay area and one of the top spots for beginners with clear waters, huge amounts of marine life and easy swimming. Just off the coast, divers and snorkelers can discover a beautiful reef teeming with marine life including tropical fish, small sharks, and rays. Dives here are so easy and enjoyable that Juan Dolio is our top recommendation for first-time divers in the Dominican Republic.
There are three wrecks here too: The Alto Velto, Tanya V and the Hickory. All three wrecks are easy to reach and offer divers the chance to explore stunning overgrown coral and vibrant ecosystems.
Types of diving in Juan Dolio include drift, deep and wreck diving.
Need to know
When to go diving in the Dominican Republic
- The Caribbean sea is warm all year round, and diving centres stay open throughout the year
- June to November are the least crowded (and June to October is hurricane season)
- December to May offers the chance to see humpback whales
Read more about when best to visit the Dominican Republic here.
Average Dive Prices:
1 Dive: $40-50
Equipment: $10-15
Average PADI Certification Prices:
Beginner: $200-250
Open Water: $300-370
Advanced Open Water: $250-320
Written by Andrew Miles.
Published July 2020.
Top things to see in the Dominican Republic
Subscribe to our newsletter
Get more travel inspiration, tips and exclusive offers sent straight to your inbox