Thing To Do
Baseball in the Dominican Republic
Baseball stadium in the Dominican Republic
Photo: Emma Sampson / Alamy Stock Photo
Find out why baseball is such a big deal here, where (and when!) to catch a game of "pelota", and where you can find the hall of fame.
Baseball - or pelota, as it's called here - is the official sport of the Dominican Republic, and it's fair to say that it's a pretty big deal. Despite this island nation's tiny size relative to the United States, Dominicans account for more than ten percent of Major League players in American Major League Baseball!
In 2019, there were 882 players in the American Major League, of whom 251 were born overseas and a whopping 102 were Dominican. You might have heard of famous Dominican baseball players like Sammy Sosa, David Ortiz, Pedro Martinez and Robinson Cano.
Parents teach young children how to play, always encouraging the next generation of world-class talent to rise up the ranks of the Dominican league. Being a baseball player is a great honor here in the DR, and many young people can be seen practicing in their spare time, dreaming of making it big.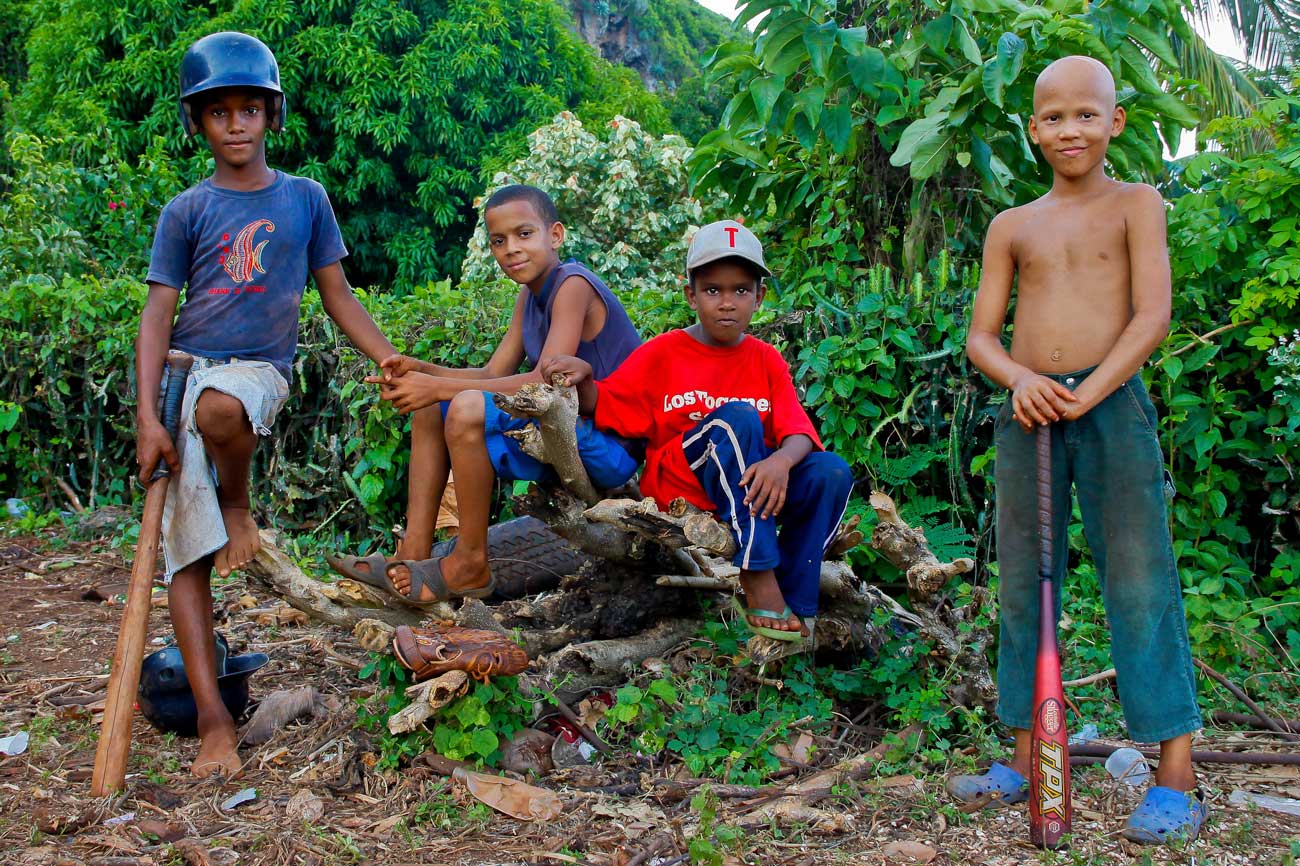 Kids playing baseball in Los Cacaos
Photo: Martin Corr / Shutterstock.com
The basics of major league baseball in the DR
Here in the DR, the major league sees six provincial teams face off each year from October through to the end of December.
The six major teams are:
- Estrellas Orientales  (The Stars) 
- Tigres del Licey  (The Tigers)
- Leones del Escogido  (The Lions) 
- Águilas Cibaeñas  (Cibao Eagles)
- Gigantes del Cibao  (Cibao Giants)
- Toros del Este  (Eastern Bulls) 
The Tigers have the most championships overall, but on January 22, 2022 the Giants beat the Stars 8-3, much to the joy of their fans who'd endured a long drought between championship wins.
Each of these teams has their own stadium in their home province, and watching a game at one of these is a wonderful way to get involved in Dominican culture.
After the local season ends in late December, the winning team represents the Dominican Republic in the Caribbean Series, competing with teams from Mexico, Venezuela, Puerto Rico and Cuba.
If you're in the DR at the start of the year, you might be able to catch an international match while you're here. The 2023 Caribbean Series will be initiated in Caracas, Venezuela.
How to get involved
Going along to a Dominican "juego de pelota" is just as much about the atmosphere as it is about the game. Don't worry if you don't know much about baseball - local fans will be happy to explain the basics.
Santo Domingo
In Santo Domingo, the Estadio Quisqueya stadium is home to the Tigres del Licey (blues) and the Leones del Escogido (reds). The stadium is easy to access from most Santo Domingo hotels, located on Avenue Tiradentes in the central city.
La Romana
La Romana is the home of the Los Toros del Este baseball team. If you're visiting during baseball season, which runs from October to January, you can join local crowds cheering on their home team at Francisco Micheli Stadium.
Santiago de los Caballeros
In Santiago de los Caballeros you'll find Estadio Cibao stadium, home of the Cibao Aguilas baseball team (Go Aguilas!). Professional baseball games are held between October and January. Tickets start at DP $ 350 (about US $ 6).
San Pedro de Macorís
In San Pedro de Macorís, a city on the southeast coast, Estadio Tetelo Vargas stadium hosts the home games of Estrellas Orientales. San Pedro de Macorís is where pelota was first introduced to the Dominican Republic, by Cuban immigrants at the end of the 19th century.
San Francisco de Macorís
In San Francisco de Macorís, a small inland city southeast of Santiago de los Caballeros, not to be confused with San Pedro de Macorís, the Estadio Julian Javier stadium is the home of Gigantes del Cibao.
Visit the hall of fame near Santo Domingo
Want to see a Dominican baseball hall of fame? A 45-minute drive down the highway that runs out of Santo Domingo through Boca Chica, you can stop at the BHD Bank, where the lobby has been transformed into a baseball museum, full of memorabilia donated by players and fans.
Written by Aura De Los Santos.
Published October 2021.
Updated April 2022.
Looking for some cool things to do?
Subscribe to our newsletter
Get more travel inspiration, tips and exclusive offers sent straight to your inbox