Dominican Republic up close
Dominican culture and customs: know before you go
Street vendor in Constanza
Photo: Mikkel Ulriksen
Wanna learn how to meet the locals, find your way, order off the menu, and browse and haggle? Read along here.

One of the indigenous Taíno names for the island of Hispaniola is Quisqueya - "Mother of All Lands", so it seems fit that today modern Dominican culture is influenced by cultures from all around the world.
The Dominican people were at the epicentre of the mass colonization of the Americas - surviving invasions, civil war, and dictatorship. They were the native Taíno, the African slaves, the Dutch merchants, and French pirates that would become the diverse people you'll see today, living free in an independent nation.
At the core of Dominican culture is a spirit of happiness, easy living, and family, and Dominican's are full of pride for their heritage of music, dance, and sazón criollo ("Dominican spices").
Want to know more about Taíno culture in Hispaniola? Read Here!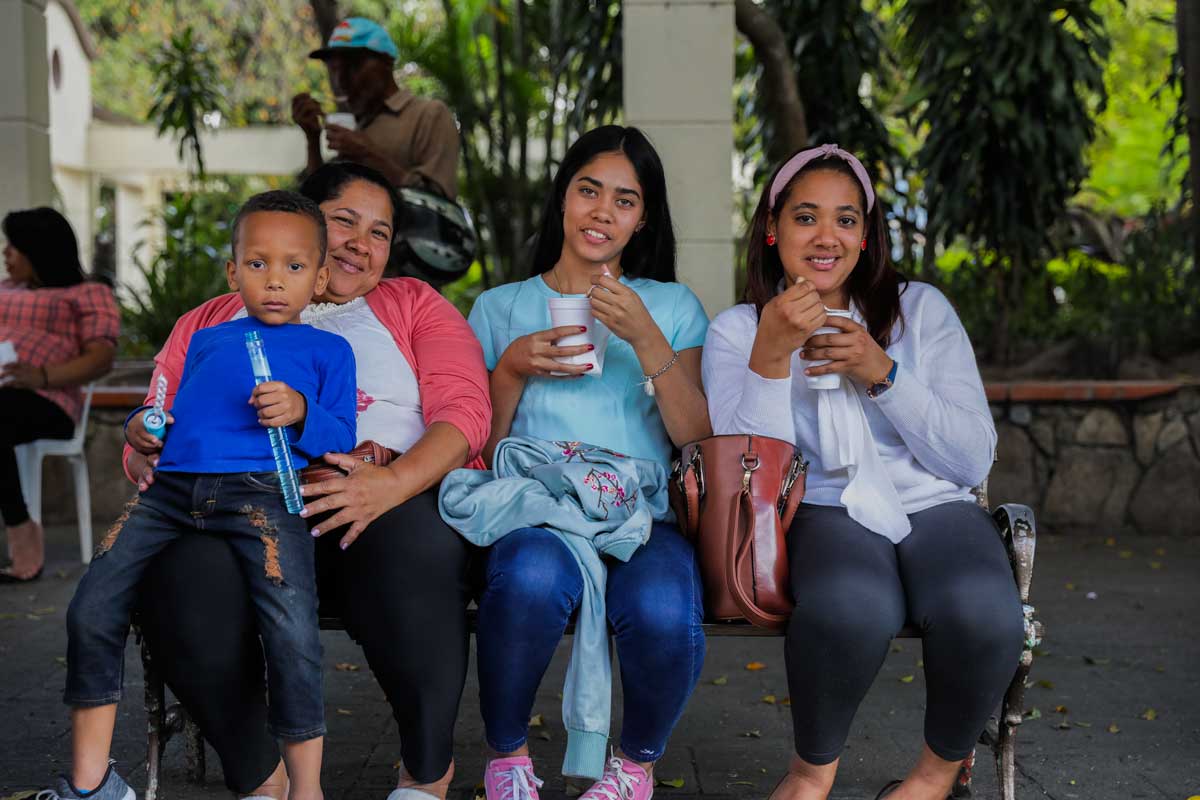 Dominicans eating ice cream in a park
Photo: Mikkel Ulriksen
Dominican Custom Basics
If it's your first time visiting, a little knowledge about Dominican culture and customs will boost your confidence to go out, meet the locals, find your way, order off the menu, and browse and haggle.
Spanish
Spanish is the official language in the DR, and if you don't already know the basics, learning some essential travel-Spanish before you arrive is a great idea.
La Siesta and Business Hours
Dominicans do not mess around when it comes to lunch time. When the clock hits noon, you'll see pedestrians and traffic in almost a frenzy to rush home, to the local Comedor ("eatery"), or to the nearest place that serves up a traditional plate of chicken, rice, and beans - called La bandera or "The Flag".
Almost all Dominican businesses, big and small, close their doors from 12:00pm - 2:00pm, for a quick nap after feasting. If there's no nap time, Dominicans can seem upset - keep this in mind if you're with a guide or on a tour over lunchtime, and expect a lengthy break around noon.
Buenos Dias!
When entering any business, store, or home (even your own), it's customary to present yourself by saying Buenos Dias! (good morning), Buenas Tardes! (good afternoon), and Buenas Noches! (good evening).
Failing to give these greetings will be seen as very rude, but luckily it's an easy custom to master - just shout out a good "Buenos Dias!" and watch how almost everyone in unison replies "Buenos Dias!" with enthusiasm.
Religious Holidays
Freedom of religion is part of the Dominican constitution, but Christians (Catholics, Protestants, and Evangelists) make up 80 percent of the population, and Christian religious holidays play a big part in the annual calendar and Dominican social life. The most celebrated days are:
- Semana Santa (Holy Week/spring break)
- Corpus Cristi (Body of Christ)
- Dia de San Andres (egg-throwing festival)
- Dia de La Altagracia (Virgin of Altagracia)
- La Navidad (Christmas), and Los Reyes (Day of the Three Kings)
On each of these holidays, Dominicans get the whole weekend off to spend with family and friends who live in other regions.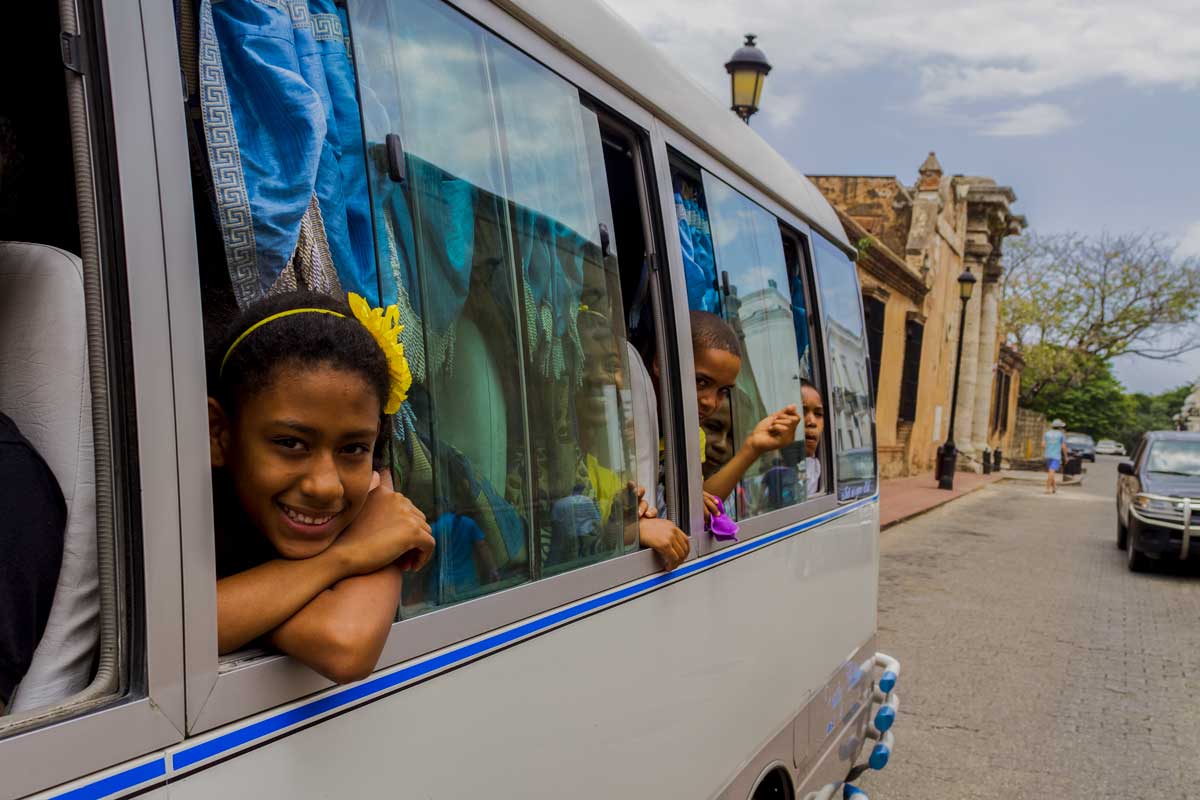 A guagua mini-bus in Santo Domingo
Photo: Goran Bogicevic / Shutterstock.com
Transportation
Transportation in the D.R. can be a little dicey, as you'll see drivers and motorcyclists running red lights, driving on the wrong side of the road, parking on sidewalks, and breaking just about any road rules that can be broken.
You'd be amazed that people aren't crashing left and right every second, as motorcyclists swerve in and out of traffic. But if you're going to travel anywhere, here are the Dominican Transport methods:
Motoconcho
The infamous Motoconchos or motorcycle-taxis, can be found all over the country on street corners, in front of businesses, and schools, they're the transport of choice for the majority of Dominicans. They're fast, cheap, and accessible to low income citizens.
The Motoconcho capital is without question the city of Puerto Plata, where any day on the road is like a battle scene out of Star Wars, with motorbikes zooming in every direction.
GuaGuas or Carritos
Guaguas (gwa-gwa) or mini-buses, and carritos (little cars) are the preferred form of transportation for people across the island. Minivans and cars (mostly Toyota Camry's for reliability) with the name or letter of your town on it, picks and drops passengers off every three or four blocks.
The Guaguas and Carritos are often packed to a loose interpretation of safe capacity, stuffing up to six people in the back, and two on the passenger side beside the driver. If you take a seat, be prepared to pick up more passengers as you go, and be prepared for it to get loud and uncomfortable before you get where you're going.
Want more specifics on how to get around once you're here? Read our guide to transportation in the Dominican Republic.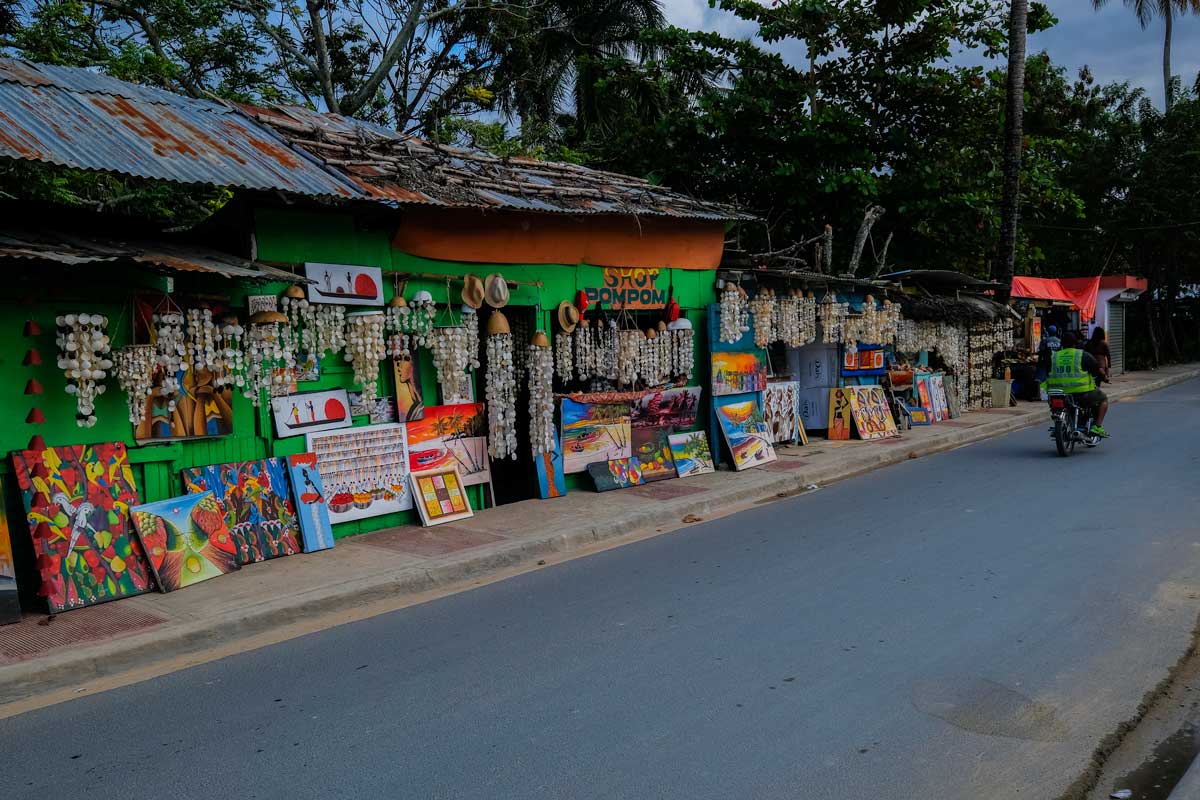 Art for sale in Las Terrenas
Photo: Anton Lau
Haggling & Tipping
Haggling is expected almost everywhere except supermarkets and banks. A good rule is to always negotiate a price before you jump in a cab or agree to buy something. To haggle successfully, locals recommend learning some essential Spanish, carrying pesos, not USD, carrying small change (including coins), being friendly and polite, and starting with around half of the first price a vendor offers you before negotiating toward a happy medium.
You might be asked for a "propina" - Spanish for tip - by people offering to do you favors, including giving you directions. Keep a handful of coins with you for these occasions, and give a couple of coins to express your gratitude. If you want to avoid tipping for these small favors, it's best to say "no, gracias" politely and to refuse the help in the first place.
Want more details on haggling, tipping and how money works? Read our guide to cash, costs and saving money in the Dominican Republic.
Dominican Music, Festivals and Food
With a diversity of African, European and Taíno ethnicities, you can expect Dominican culture to be vibrant, colourful, and spicy. Dominicans love to dance, celebrate, and cook as often as possible, enjoying themselves with whatever budget they may have. The idea is to simply live life, and live it well.
When night falls, people hit the streets and local venues, listening to the tropical rhythms that set the tone for the Dominican Nightlife.
Music
Merengue
Merengue is the music that best represents the Dominican Republic, with festive sounds of the Tambora (native drum), Guira (metallic scraper), accordions and piano. And don't forget the back-up singers.
Bachata
Once considered taboo music that would only be played in clandestine clubs and cabaret, Bachata gained popularity in the 90s for it's simple 1, 2, 3 step dance that anyone can learn. Yes, even you! Look for mentions of bachata at the clubs in the part of the country you're visiting, and try a few steps.
Salsa
Originally from Puerto Rico, Salsa has been a part of the Dominican music scene for decades. Especially in Santo Domingo, you'll see people dancing Salsa in the streets and local colmados (grocery stores).
Dembow
Dembow is an electric, up-beat music that originates from Jamaican Reggae and Puerto Rican Reggaeton. It's the most popular music among the youth and shows no sign of slowing down.
Festivals
Festival de Merengue
The Santo Domingo Merengue Festival is two weeks of celebration dedicated to the Dominican Republic's national dance, the merengue.
For two weeks each summer (from late July to early August) the world's top merengue dancers dance to the world's best merengue bands all over this gorgeous Caribbean city. This fortnight-long festival fills the capital with the rhythms of merengue, bachata, bolero, reggaeton, salsa and more. Most of the action happens on the Malecón, but visitors can attend related events across the city.
The Merengue Dance Festival is usually organized every year by the company that brews the popular Presidente Beer and hosts the country's biggest names in the business with legends like: Fernando Villalona, Mili Quezada, and Los Hermanos Rosario.
Read more about the Santo Domingo Merengue Festival and how to get involved.
Carnaval en Febrero
Every weekend in the month of February, Dominicans gear up for Carnaval, the biggest festival of the year, when people don traditional costumes that represent indigenous and Taíno culture. A very popular costume that stands out is the Diablo Cojuelo, a masked devil with spiked horns. They might be a little scary at first, but they're harmless.
Dominican Cuisine
Breakfast
Dominicans go hard when it comes to breakfast. We're talking mashed plantains (Mangu) with fried onions on top, fried squares of cheese (Queso Blanco), tiny sausages or Dominican Salami (Salchichón) and a slice of avocado.
Lunch
Second Round: El Almuerzo (Lunch Time). If at home, Dominicans typically cook up a huge pan of rice and gandules (pigeon peas), Pollo Guisado (chicken in tomato sauce), and a green lettuce salad with more avocado. Long live the avocado!
While you're here, don't miss your chance to try real Dominican fast-food, like Pica-Pollo (Dominican KFC), with tostones or frito verdes (fried plantain chips).
Dinner
This is the only meal where Dominicans eat lightly - usually toasted ham, cheese and ketchup like a grilled cheese sandwich, maybe with a glass of passion fruit juice. If dining out, a typical dinner order is Carne Salada, a dry salted meat that's fried and served with a side of tostones, or maybe Yuca, another Dominican staple.
Don't forget to see the Dominican street food you have to try!
Baseball
Baseball - or pelota, as it's called here - is the official sport of the Dominican Republic, and it's fair to say that it's a pretty big deal. Despite this island nation's tiny size relative to the United States, Dominicans account for more than ten percent of Major League players in American Major League Baseball!
Parents teach young children how to play, always encouraging the next generation of world-class talent to rise up the ranks of the Dominican league. Being a baseball player is a great honor here in the DR, and many young people can be seen practicing in their spare time, dreaming of making it big.
Here in the DR, the major league sees six provincial teams face off each year from October through to the end of December. Watching a game is a wonderful way to get involved in Dominican culture. You can read more about Dominican Baseball and how to get involved in our guide to Dominican baseball.
Written by Omar Guzman.
Published October 2020
Explore Dominican Art & Culture
Subscribe to our newsletter
Get more travel inspiration, tips and exclusive offers sent straight to your inbox