Destinations
Río San Juan: a low-profile destination on the north coast
Laguna Gri-Gri in Río San Juan
Photo: José Miguel Pérez
55 miles east of the busy tourist hub of Puerto Plata, Río San Juan is a coastal township that has lots to offer but has only recently started trending as a destination.
In and around the town you'll find half a dozen different beaches including the intriguingly named Playa de Los Muertos (Beach of Corpses), a lagoon, diving spots, a bird sanctuary and more.
A low-profile coastal attraction
Mostly farm and wooded areas inland, the shores are made up of volcanic rocky outcrops, formed by crashing waves and wind over time. Typical of the Northern regions, tropical almond and sea grape trees cover most of the beach areas, making for tasty treats and desserts sold by local vendors.
The people there are truly genuine and are quick to lend a helping hand, earning a living off fishing, agriculture, and only more recently tourism. Their annual festival Carnavarengue reflects Río San Juan's ancestral roots, where people dress up and dance on floating platforms as Sea Creatures in honor of the ocean.

Playa Caletón beach in Río San Juan
Photo: Mikkel Ulriksen
Río San Juan beaches
Sometimes you want a personal experience that feels unique, and the beaches of Río San Juan are just the place to get it. The surrounding rocky coast acts like a natural divider from you and the outside world, and these spots in between them will be your sanctuary:
Playa Caletón
Surrounded by mangrove forests, the golden sand and piercing blue water of Caletón are straight out of a Bond film. Its circular shape, carving out a huge private pool for you to swim in, sets it apart from the other stunning beaches on this stretch of the northern coastline.
Playa Grande
And "Grande" it is, with over two miles of clean spacious beach and impressive waves that even professional surfers find challenging. There's actually a Surf Instruction School if you're feeling bold enough, and want to take a crack at the waves.
Playa Preciosa
A few yards down a tiny dirt path from Playa Grande, Playa Preciosa seems to appear out of nowhere, as dense trees cover it from sight. The beach is just the right length and width to make you feel like a castaway on a small island with rocks, bushes, and drift-wood logs around you. Precious indeed!
Playa de Los Muertos
The Beach of the Dead is named for the first cemetery in the region, right near the beach. The beach itself is a picturesque patch of light-golden sand fringed by tall palms and shouldered by rocky outcrops. You won't see many tourists here but you can still see the graves that gave the beach it's unusual name.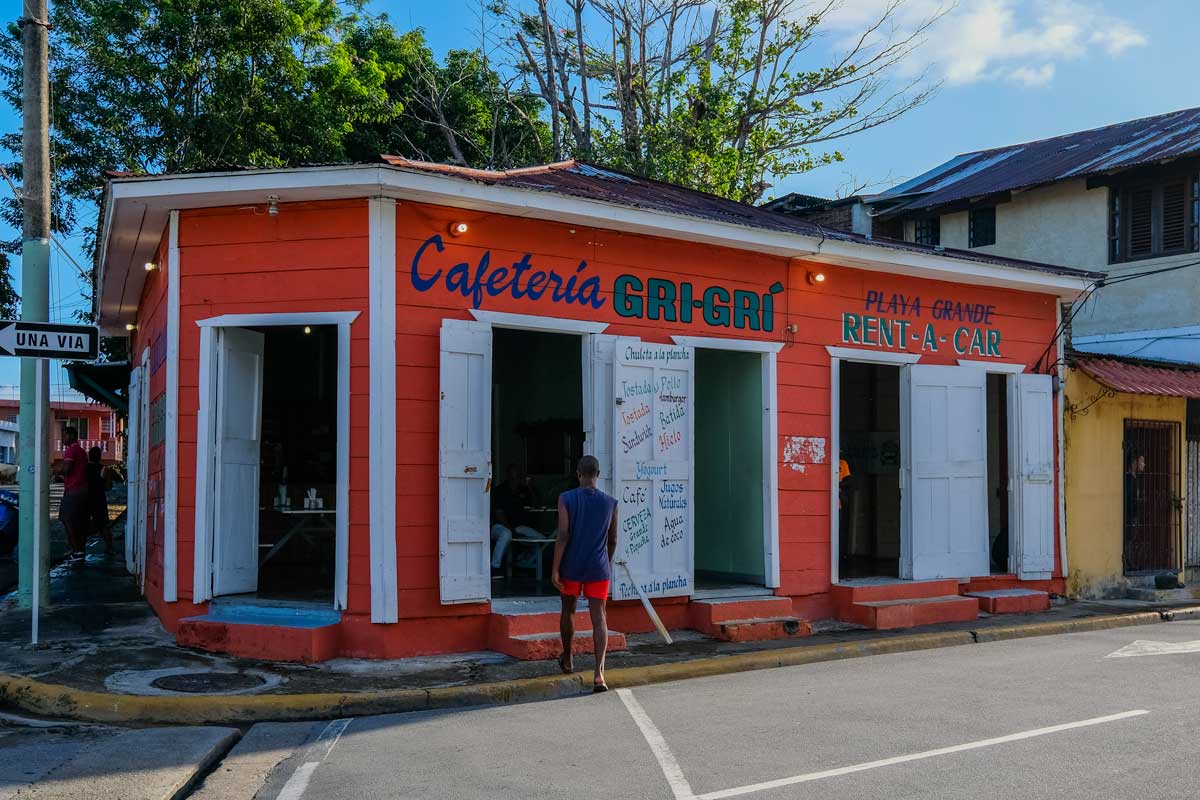 Cafetería Gri Gri, Río San Juan
Photo: Anton Lau
Things To Do
Many of the destinations in the Dominican Republic share similar activities like: snorkeling, 4-wheeling, fishing, etc., but here's one excursion unique to Río San Juan alone.
Laguna Gri-Gri Boat tour:
You'll be taken through beautiful Mangrove passages in the cool of the day, crossing over to enter a natural cave where thousands of Swallows nest in.  A few stops are made before reaching the Lagoon (similar to a Cenote) for a dive into its clear sweet waters.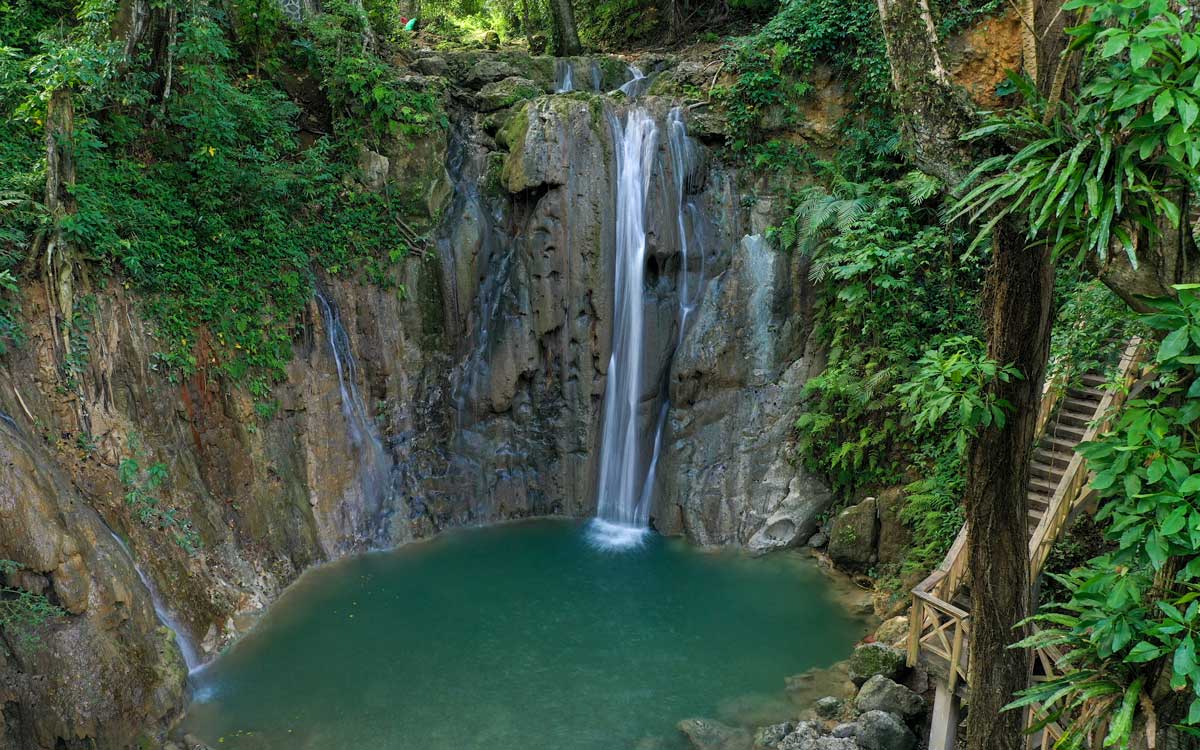 El Saltadero waterfall, Cabrera
Photo: Mikkel Ulriksen
Where to eat and sleep (to avoid the resorts)
This low-profile coastal town has recently become a trending destination. The newly-opened Amanera Resort has been described in Forbes magazine as "The Dominican Republic's new playground for adventurous vacationers and elite expatriates", but for something more low-key, we recommend the Playa Grande Beach Club. A Victorian style Hotel with wooden cottages and verandas, the Beach Club serves up an old-world ambiance in the 21st century.  The Beach club is made for travelers seeking excellent service in simple but beautiful surrounds..
Lining the beaches of Caletón and Playa Grande, a series of little shacks that specialize in preparing seafood dishes can be seen. We recommend freshly caught fish with a side of tostones (fried plantains) or white rice, an avocado salad with slices of lime, and a cold beer to wash it all down.
Getting there
Río San Juan is part of the Maria Trinidad Sanchez Province on the North East-Coast between Puerto Plata and Nagua. From Puerto Plata, it's a 55 mile drive east, and takes about 1 hour and 40 minutes to reach via the winding coastal road with gorgeous views of the North Atlantic ocean.
Written by Omar Guzman.
Published July 2020
Five of the best books about the Dominican Republic
Looking for a good read to sink into while you're soaking up the atmosphere? You'll love these great English-language books from the Dominican Republic's top authors.
Bookshop in Zona Colonial, Santo Domingo
Photo: Mikkel Ulriksen
Subscribe to our newsletter
Get more travel inspiration, tips and exclusive offers sent straight to your inbox