Destinations
Explore Bayahibe
Beach, Bayahibe
Photo: Shutterstock.com
Once a small fishing village in the East Coast of the Dominican Republic, Bayahibe is one of fastest growing tourist destinations in the country. It's home to stunning beaches, world class hotels, villas, seafood specialty restaurants and the best scuba diving spots in the Dominican Republic.
One of the best things about Bayahibe is that no matter how much it's grown, it still maintains a very relaxed ambiance. You can enjoy the most diverse land and water adventures while relaxing and enjoying the beauty of the tropics.
Go scuba diving in Bayahibe
Bayahibe is the most popular area for diving in the Dominican Republic.
For divers, Bayahibe offers access to Catalina Island and the coral reef of Saona to explore. There's two shipwrecks to discover here - the Atlantic Princess is the most accessible for all diving abilities at only 45 feet deep. Advanced divers can explore the wreck of Saint George which is more difficult to reach at 120 feet deep.
Interested in scuba diving but don't know how to do it? Don't worry! There are many scuba diving schools in the area with professional instructors that offer training and the necessary equipment for beginners.
For adventurous travelers there's even more to explore: many agencies offer swimming tours that get you up close and personal with sharks and stingrays! If you're feeling extra daring, it's a wild experience!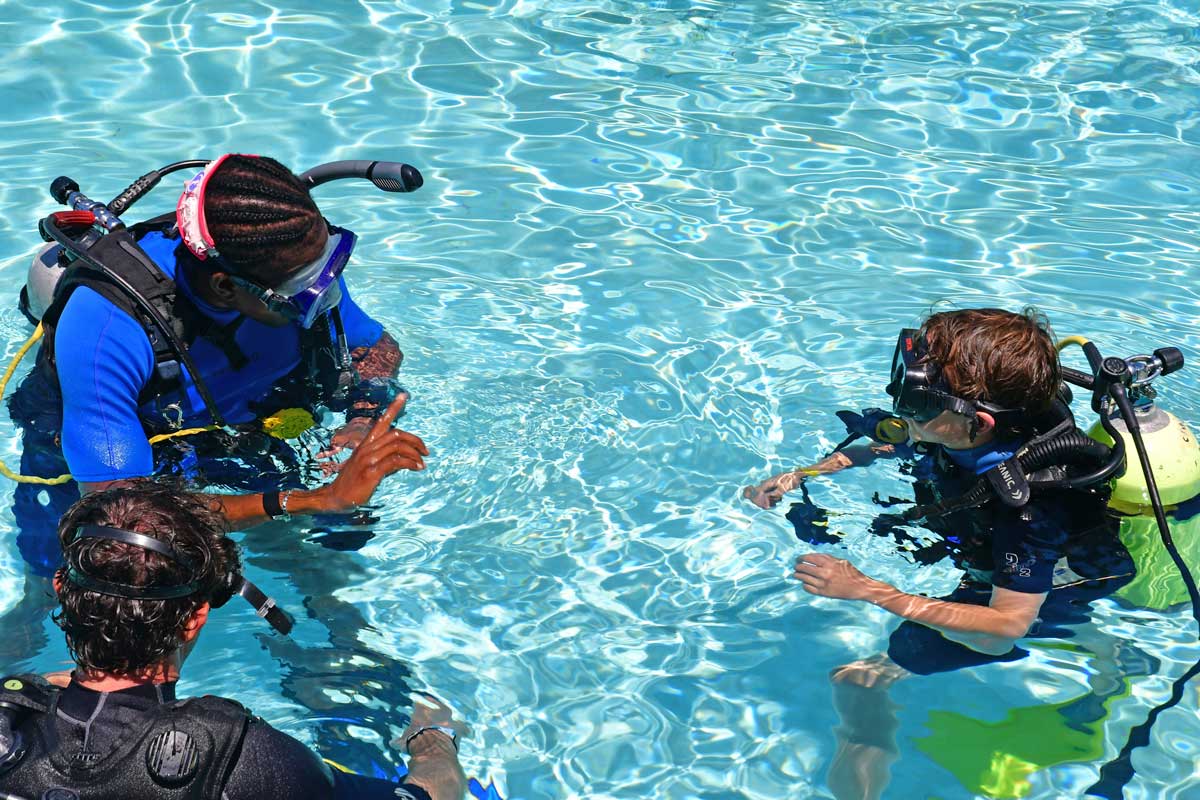 Scuba diving lesson in Punta Cana
Photo: Pack-Shot / Shutterstock.com
Off-road adventures
If you don't mind getting dirty while having lots of fun, ditch the sunbathing tourists and take a buggy expedition with locals through the sugar cane and fruit plantations, visit a cave, a beautiful lesser-known beach, and mix with down-to-earth locals on this extraordinary adventure. You can also visit a jungle ranch that takes guests to the heart of the wilderness. You'll find a variety of animals from exotic Caribbean birds to boa constrictors.
There's multiple agencies in the area where you can rent your own buggy. They also provide a guide, water and snacks for the trip.
Sail into the sunset
Looking for a little romance? Sail out to meet the sunset on a catamaran. The tour includes a guided snorkel trip to a coral reef. You can watch the sunset while drinking and grazing at the on-board open bar.
Cotubanamá National Park (Parque del Este)
One of the top attractions in the La Romana-Bayahibe region, the Cotubanamá National Park is popular with tourists for its white-sand and shallow ultramarine beaches, stunning coral formations, glittering caves that hide subterranean lagoons and Taino petroglyphs, and the chance to swim with dolphins at some of the best scuba-diving destinations in the DR. A ride through the park to Isla Saona is considered the #1 boat trip in the Dominican Republic.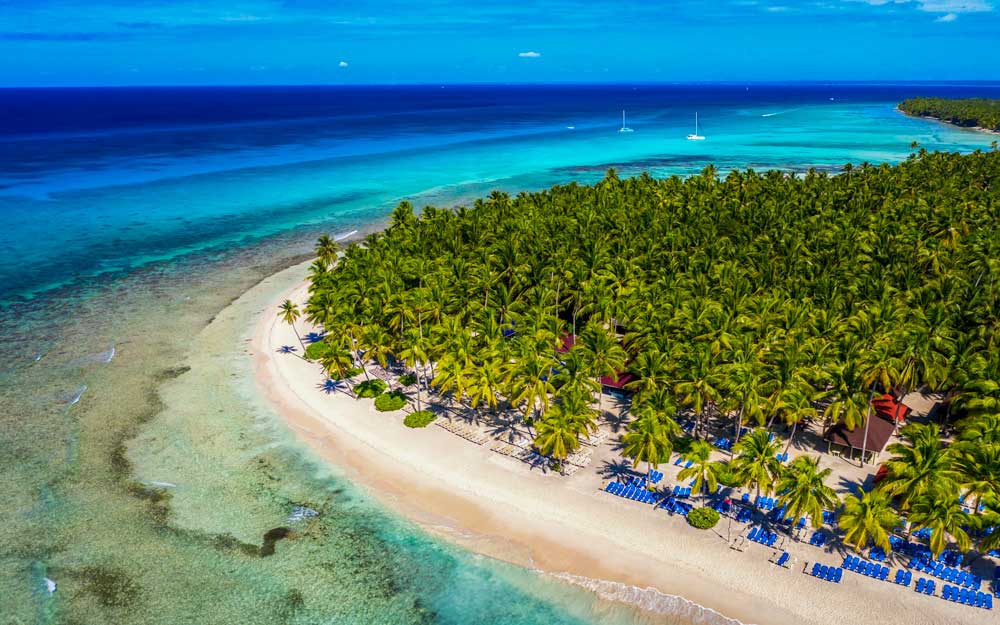 Saona Island, Dominican Republic
Photo: Shutterstock.com
Visit Isla Saona or Catalina island
While in Bayahibe, take a day to visit Saona or Catalina island, where you will find some of the best snorkeling sites in the area. All tours include a buffet lunch at the island with fresh seafood specialties.
Where to stay in Bayahibe
You can find all kinds of accommodation in Bayahibe. From small guest houses with very affordable prices to villas, bungalows and apartments for rent, and hotels from one-star to five-stars. You might run into celebrities at world class hotel chains like Hilton, Iberostar, Catalonia, Viva Wyndham and Bahia Principe, but we strongly recommend leaving the crowds at the resorts and staying at one of the area's delightful smaller hotels.
Authentic, budget accommodation in Bayahibe
Our top picks for alternative accommodation in Bayahibe are the Bayahibe Guest House Hotel and Casa Felicidad. Both offer charming, breezy rooms decorated in Caribbean style (rather than ubiquitous could-be-anywhere hotel suite style), private patios or gardens for sunny outdoor hangs, free wifi and are walking distance from Bayahibe beach and all the day-trip operators. Their hosts do a wonderful job of making guests feel welcome and safe - including solo female travelers.
Written by Nora Perez.
Published June 2020
Five of the best books about the Dominican Republic
Looking for a good read to sink into while you're soaking up the atmosphere? You'll love these great English-language books from the Dominican Republic's top authors.
Bookshop in Zona Colonial, Santo Domingo
Photo: Mikkel Ulriksen
Subscribe to our newsletter
Get more travel inspiration, tips and exclusive offers sent straight to your inbox