Wildlife & Nature
Cotubanamá National Park (Parque del Este)
Cueva del Puente, Cotubanamá National Park
Photo: Jose Luis Torres
One of the top attractions in the La Romana-Bayahibe region, the park is popular with tourists for its white-sand and shallow ultramarine beaches, stunning coral formations, glittering caves that hide subterranean lagoons and Taíno petroglyphs, and the chance to swim with dolphins at some of the best scuba-diving destinations in the DR. A ride through the park to Isla Saona is considered the #1 boat trip in the Dominican Republic.

Arial view of Cotubanamá National Park
Photo: Hemis / Alamy Stock Photo
Take A Historic Land And Sea Adventure In The Caribbean
Only an hour's drive from Punta Cana, the Cotubanamá National Park (formerly Parque del Este) covers about 50 miles of coastline and the entire island of Saona. Dressed in tropical and subtropical forests, highlighted by immense mahogany and sprawling cambron trees, Cotubanamá National offers the best of in-land exploration and island relaxation.
One of the most visited tourist attractions in the heart of La Romana-Bayahibe, Southeast of the Dominican Republic, is not only a geographic marvel, but also an important Indigenous historical site.
Cotubanamá National Park
Photo: Jose Luis Torres
Cotubanamá, warrior-chief
In 2014, the Park was renamed Parque Nacional Cotubanamá in honor of a great Taíno warrior-chief, Cotubanamá, leader of the Cayocoa. Born and raised in the Chiefdom of Higuey, Cotubanamá was a feared and strong warrior, said to have been remarkably tall and known for carrying a large bow as his weapon of choice against the Spanish invaders. The Taíno resistance was ultimately crushed, and for his "crimes" (including evacuating women, children and elders to a safer area of the island), Cotubanamá was publicly executed by the Spanish conquerors.
Wildlife
The Park's wetlands and mangroves are home to Herons and Frigate Birds, Seagulls and Pelicans and Crown Pigeons.
The protected waters are home to hundreds of species and some of the best Scuba Diving in the world, where you can enjoy swimming with schools of tropical fish, dolphins and manatees.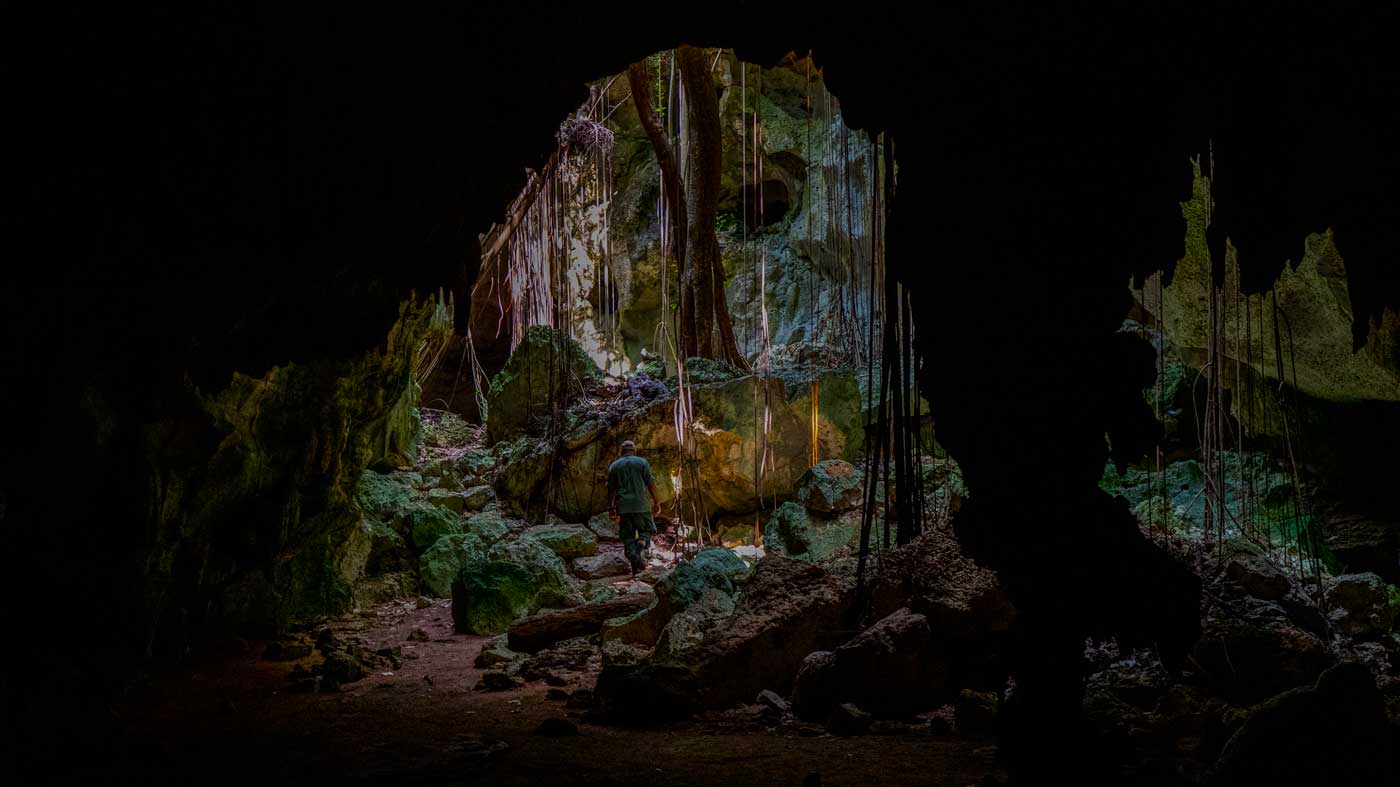 Cueva del Puente, Cotubanamá National Park
Photo: Jose Luis Torres
Unbelievable Caves
Cotubanamá National Park is home to some 400 (!) magnificent caves, where subterranean springs bubble up to supply fresh water to neighboring villages, resorts and hotels. Eerily bright-blue underground lagoons are fed by rain water, filtered by the rocky Coraline terrain above. Take a guided tour of the caves with professional Scuba instructors. There's far too many to try to see all of them, but here are the ones not to miss:
Cueva del Puente (Bridge Cave)
Known for its imposing size, this cave is especially unique, with a gigantic Centenarian Tree growing in its interior, shooting up and through the cave ceiling, reaching for sunlight. You'll be handed a hard hat and flashlights to help you along the adventure.
Sendero Padre Nuestro (Path of Our Father)
As you continue your tour, the Sendero Padre Nuestro is comprised of numerous caves and natural wonders where you'll find petroglyphs and pictographs left behind by Hispaniola's indigenous Taíno people, and trace passages to find remarkably blue subterranean lagoons. While some underground lakes are dyed bright colors by toxic compounds, the water in Sendero is pure and an important source of clean drinking water. To preserve this clean water for coming generations, the Sendero is the second-most heavily protected site in the country, but you can take a dip or even scuba dive through the canals that lead to Cueva de Chico. A real Tomb Raider experience.
Cueva de Cotubanamá (Cotubanamá's Cave)
This cave is actually located on Saona Island, a third of a mile down an improvised pathway from the town of Catuano. Legend has it that Chief Cotubanamá sought refuge here with his family while suffering a brutal defeat in the 2nd battle for Higuey in the early 1500s.

Saona island
Photo: Shutterstock.com
Saona Island
The largest offshore tropical island in the Dominican Republic, and a party excursion hotspot, Isla Saona should rank high on your to-do list. To get there, you'll jump on an exciting speedboat or catamaran tour along the stunning coastline before swimming amidst the coral reefs and basking on beaches that are the very picture of paradise.
Getting there
The Cotubanamá National Park covers the southern peninsula of the Altagracia province, extending across the Catuano strait to cover the entire island of Saona (Spanish: Isla Saona).
The park office is next to the main tour bus parking lot in Bayahibe (look for Los Melones or Bahahibe on Google Maps). At the park office, you'll need to pay an entrance fee and pick up a mandatory wristband.
Once you've got your wristband, you can drive into the park via one of two entrances. The nearest entrance to Bayahibe is at Guaraguao, a ranger outpost three miles past Dominicus Americanus. There's another entrance on the eastern edge of the park in the town of Boca de Yuma.
Most park tours head straight from Bayahibe to Isla Saona by speedboat or catamaran. En route you can stop to snorkel in the absurdly beautiful, bright-turquoise shallows, surrounded by colorful tropical fish. Traveling to Saona by boat gives you the best chance to admire the bird-thronged mangroves along the coastline, the deserted beaches, some of the park's eight emerged coral reefs and almost 400 grottos.
You'll find more than a dozen tour companies offer public and private tours, with many offering extras like lunch, an open bar, hotel pick-up and drop-off and live entertainment. Expect to pay between USD $50 - $100 for a round trip. Tours depart from Bayahibe, Bavaro, Punta Cana, Cap Cana and even Santo Domingo.
You can also get to Saona by helicopter straight from Punta Cana. Helicopter flights take 25 minutes and start at USD $299. The view from the air is other-worldly - in fact, you'll be flying close to where the helicopter scenes in the original Jurassic Park were filmed! You can read more about famous DR movie locations here.
Written by Omar Guzman.
Published November 2021.
The Dominican Street Food You Have to Try
Street food is an important part of Dominican life, and you'll see it everywhere you go: people lining up for an empanada in the morning, or enjoying chicharrón with their after-work beer on Friday night.
Check out our guide to the quintessential Dominican street food to try while you're here, according to a local.
Empanadas at El Millón, Santo Domingo
Photo: Massiel Beco
Explore the DR's nature and wildlife
Subscribe to our newsletter
Get more travel inspiration, tips and exclusive offers sent straight to your inbox