Destinations
How to do La Romana (beyond the resort!)
Casa de Campo Marina, La Romana
Photo: Jean Estrella / Unsplash.com
Most tourists who visit La Romana don't venture beyond the resort, cruise terminal and golf courses. Here's what they're missing.
On the south-east coast, an hour and a half drive from Santo Domingo, La Romana is a growing city popular with European travelers but still relatively obscure to the American crowd.
Most of the tourists who come to La Romana every year don't venture beyond the cruise terminals, Casa de Campo resort or the ocean-view golf courses. But if you're a traveller, not a tourist, there's plenty of great reasons to spend a day or a week exploring La Romana's world-class beaches, snorkelling, scuba diving and the two incredible nature reserves nearby.
Despite the imposing presence of the megaresort that put this destination on the map, La Romana as a whole is less overtaken by the tourist industry than Punta Cana or Puerto Plata, making it a good choice if you're looking for a destination that combines authentic Caribbean seaside city with plenty of amenities and guided activities on your doorstep.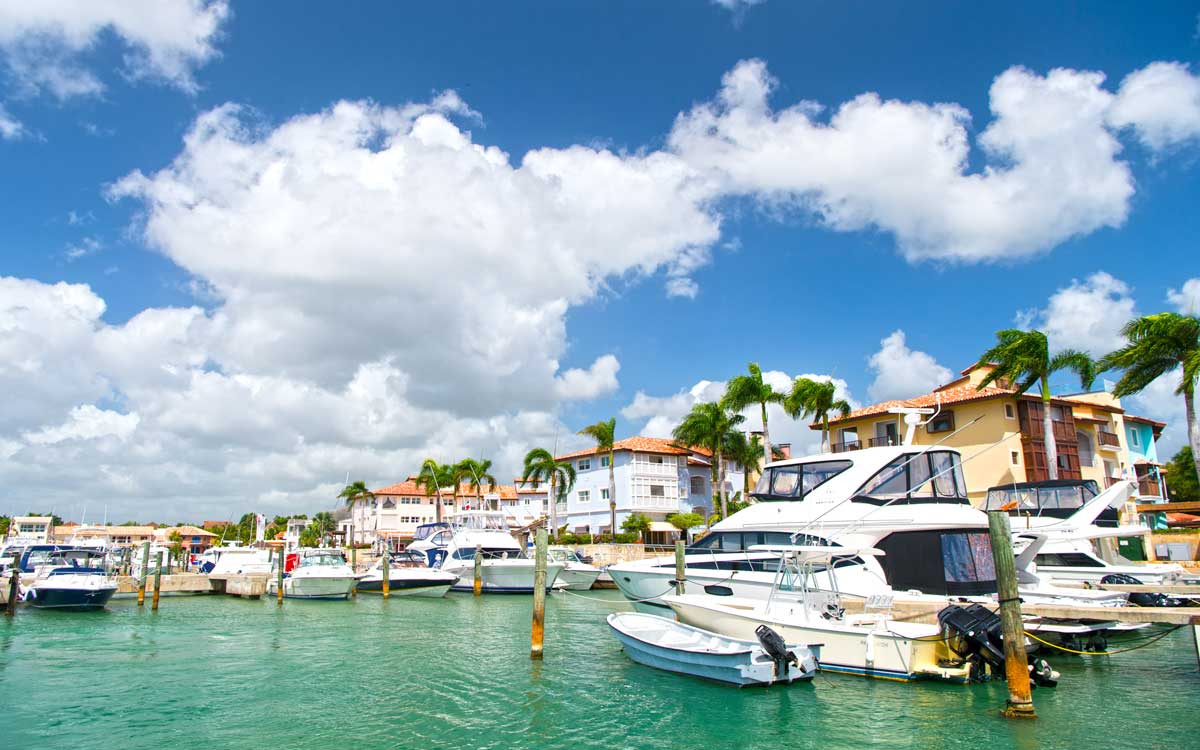 Yachts docked in La Romana
Photo: Just dance / Shutterstock.com
Need to know
Casa de Campo is a private 7000-acre megaresort complex of luxury rooms, villas, exclusive beachfronts, yacht moorings, three golf courses (including the #1 ranked course in the Caribbean), seven restaurants and, topping it all off, Altos de Chavon, a fantastical recreation of a 16th-century European village, perched atop a plateau overlooking the mighty Chavon river gorge.
Altos de Chavon has been called "the country's leading attraction" by Frommer's travel guidebook. This dramatic village is indisputably impressive and exceedingly photogenic, but it is nonetheless a re-creation, and the secure, gated nature of Casa de Campo means it's great for high-profile concerts and photography shoots, but you're certainly not wandering through a living-and-breathing Dominican town in any real sense.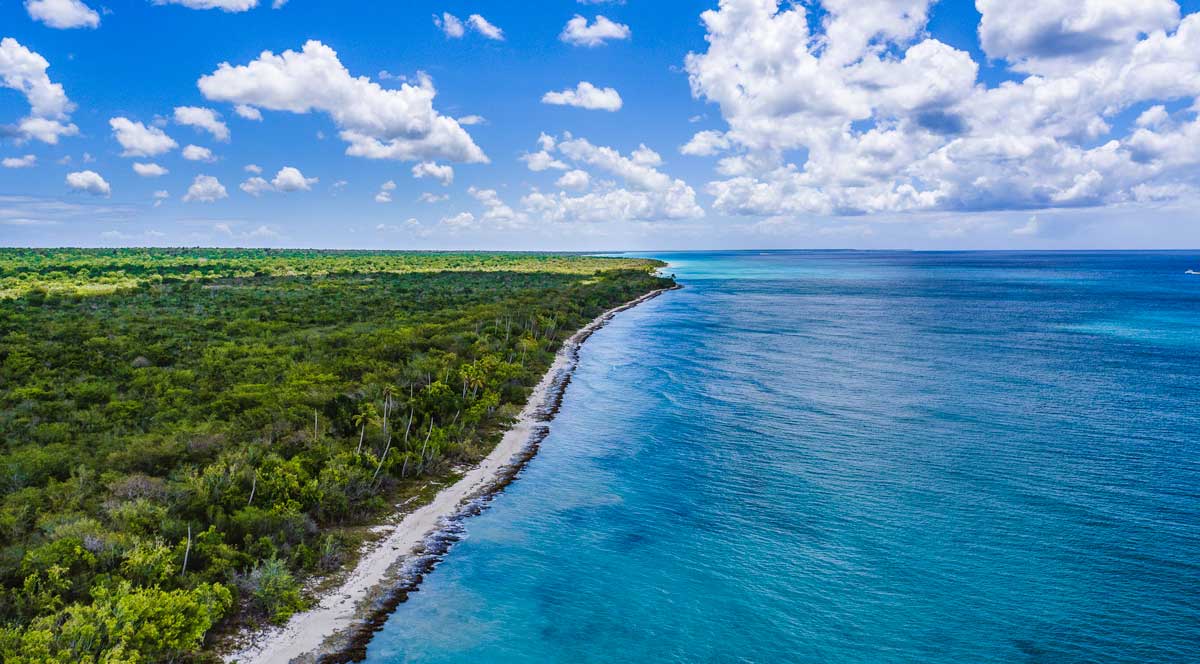 Cotubanamá National Park
Photo: Shutterstock.com
Beyond the resorts
The American sugar barons who planted the Casa de Campo resort didn't create their tropical paradise out of thin air. This part of the Hispaniolan coast is as breathtaking as any other, with a generous smattering of the fine white sand beaches that the island is famous for and miles and miles of warm Caribbean ocean fit for swimming all year round.
La Romana is a beloved base for scuba and snorkelling enthusiasts, with most of the underwater action launching from nearby Bayahibe. La Romana is also a great place to wake up before setting sail on a day trip to one of two nature reserves, Catalina Island and Cotubanamá National Park, a UNESCO World Heritage Site with hiking paths carving through dense forest alongside caves with pre-colonial Taino petroglyphs.
Cotubanamá National Park
Also known as the National Park of the East (Parque Nacional Del Este), the Cotubanamá National Park is popular with tourists for its white-sand beaches, shallow ultramarine surf, stunning coral formations, glittering caves that hide subterranean lagoons and Taino petroglyphs -plus the chance to swim with dolphins at some of the best scuba-diving destinations in the DR. A trip around the coast of the park to Isla Saona is considered the #1 boat trip in the Dominican Republic.
Catalina Island
Catalina Island is a tiny tropical island, less than four square miles in total, formed on top of a coral reef, just a short boat trip south of La Romana. The island's diverse wildlife and bright coral reefs incredibly close to the seashore attract visitors who come to sunbathe, swim, and especially to snorkel. Dive sites including the Aquarium and the Wall boast an impressive array of tropical fish including damselfish, sergeant major fish, squirrelfish and stingrays.
Getting there is easy, with a dozen different tour companies offering full-day trips from La Romana to Catalina Island starting at around USD $70. A compelling alternative to Isla Saona if that trip is looking too busy or too far for your personal itinerary.
Watch a Dominican Baseball Game
Baseball is the national sport of the Dominican Republic, and La Romana is the home of the Los Toros del Este baseball team. If you're visiting during baseball season, which runs from October to January, you can join local crowds cheering on their home team at Francisco Micheli Stadium.
Read more about Dominican baseball.
Sunbathe and swim at these alternative beaches
Minitas Beach is for resort guests only, while Bayahibe is one of the top-ranked beaches in the Caribbean and can be busy in the peak season. For a more private piece of paradise, visit Playa Caleta in La Romana or Playa Dominicus, just south of Bayahibe. Playa Caleta is a rocky beach, so bring water shoes if you have them, but the view south to Catalina Island is stunning. Playa Dominicus is a gorgeous soft white sand beach fringed with palm trees, and plenty of beachside bars to throw back some beers.

Cañaveral Food Park, La Romana
Photo: Cañaveral Food Park
The best (alternative) place to eat in La Romana
The Cañaveral Food Park is a great spot for food truck fare, fast becoming popular across the DR for locals and travelers alike and often serving up delicious flavours that rival the mainstream restaurants. We recommend: the baked lamb empanadas at the Uzbesk Food Truck.
Getting There
Flying into La Romana International Airport (LRM) is the most direct route to La Romana, but connects mostly to European ports. Most North Americans traveling to La Romana arrive via Santo Domingo, the country's capital city and central transportation hub.
You can reach Santo Domingo by the Las Américas International Airport (SDQ), by sea ferry from Puerto Rico, and by bus from neighbouring Haiti. Minibuses travel regularly from Santo Domingo to La Romana, and you can always hire a taxi.
From Punta Cana, the new Autopista Del Coral road will get you to La Romana in around 45 minutes.
Written by Aura De Los Santos.
Published August 2020
Dominican culture and customs: know before you go
If it's your first time visiting the Dominican Republic, a little knowledge about Dominican culture and customs will boost your confidence to go out, meet the locals, find your way, order off the menu, and browse and haggle.
Fruit seller in Constanza
Photo: Mikkel Ulriksen
Subscribe to our newsletter
Get more travel inspiration, tips and exclusive offers sent straight to your inbox