Dominican Republic up close
Your Essential LGBTQ+ Travel Guide to the Dominican Republic!
Drag Queen rollerskating on the Malecon, Santo Domingo Pride
Photo: Walber de la Cruz
The Dominican LGBTQ+ Travel Guide for the vacation experience of your Life!
Thinking about the D.R. as your next travel destination this season? If you're part of the global LGBTQ+ community, you might be wondering about the different customs in Dominican Republic and how the people feel about queer travelers.
To help your Caribbean dream vacation be memorable, we'll guide you through some of the ins and outs of getting around and blending in without hiding who you are or how you identify.
What to expect
As a predominantly Catholic and Evangelical country, most Dominicans may have strong beliefs about the gay and LGBTQ+ community - however, this has never led to widespread verbal or physical attacks. Locals are slowly becoming accustomed to LGBTQ+ rights and gay equality issues, due to a larger number of citizens coming out each year and advocacy from local organizations such as Diversidad Dominicana.
Although same-sex marriage is not a law, it is not illegal to be gay or for LGBTQ+ partners to live together - privacy is respected. And especially for travelers, Dominicans are more gay-friendly and glad to help you out in whatever way they can.
There might be a few things to keep in mind for a safe stay, and our LGBTQ+ Travel Guide to the Dominican Republic is here to see you through.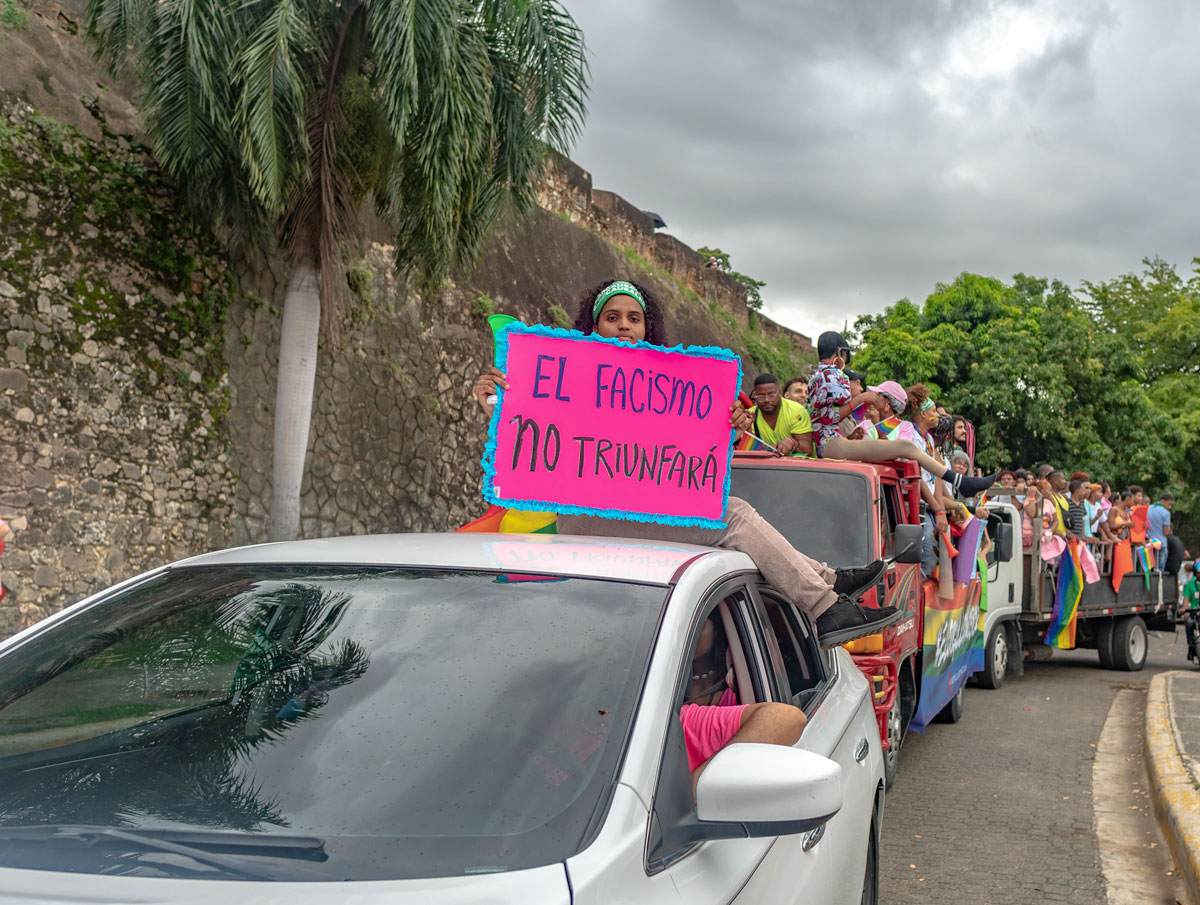 Pride-goer with sign, Santo Domingo Gay Pride
Photo: Walber de la Cruz
Public display of affection
Dominicans may be open-minded about LGBTQ+ social issues, but same-sex PDA has a long way to go - so affectionately caressing or holding hands in public with your partner will cross a red line with some locals and earn you funny stares.
Kissing in public is taboo outside the main metropolitan destinations like the Zona Colonial in Santo Domingo or resort towns like Punta Cana.
Online Hookups
Hookup and dating apps are commonly used in the D.R., and although we can't recommend one specifically, be safe as some people try to take advantage of tourists and rob them. Make sure you receive multiple pictures and preferably meet in parks, bars, or public spaces - don't invite anyone to your place unless you are 100% sure this person is legit and is not looking for money.
Risqué Venturing
Sex workers, like in many countries, are typical in the Dominican Republic, and local workers can be seen at certain bars, carwashes, nightclubs, festivals, and obviously straight-up brothels. So, if you're out venturing into uncharted areas, looking for the proverbial "good time," it would be wise to watch your drink, wallet, and car keys.
Male gigolos in the D.R. are called "Sanky Pankys" and are known for their Latin charm and ability to persuade customers into giving them as much cash as possible. For some male sex workers, the ultimate goal is to marry a foreigner and obtain a travel visa to any major country like the U.S., Canada, Spain, etc.,
Female workers are also dubbed "Chapiadoras," or "Chappy" for short. It is derived from the English word "Chop" for these female seductresses' ability to 'chop' the money right out of your account.
Public Perception
Public sentiment towards LGBTQ+ people, in general, may vary from one generation to the next, and even though the D.R. is a religious country, it's not like they're out with pitchforks in the street. In fact, you'll find religious Dominicans even friendlier than most.
You'll also be surprised to find that many of day-time Dominican tv show hosts are openly gay and well-received by viewers, like the popular show "De Extremo a Extremo."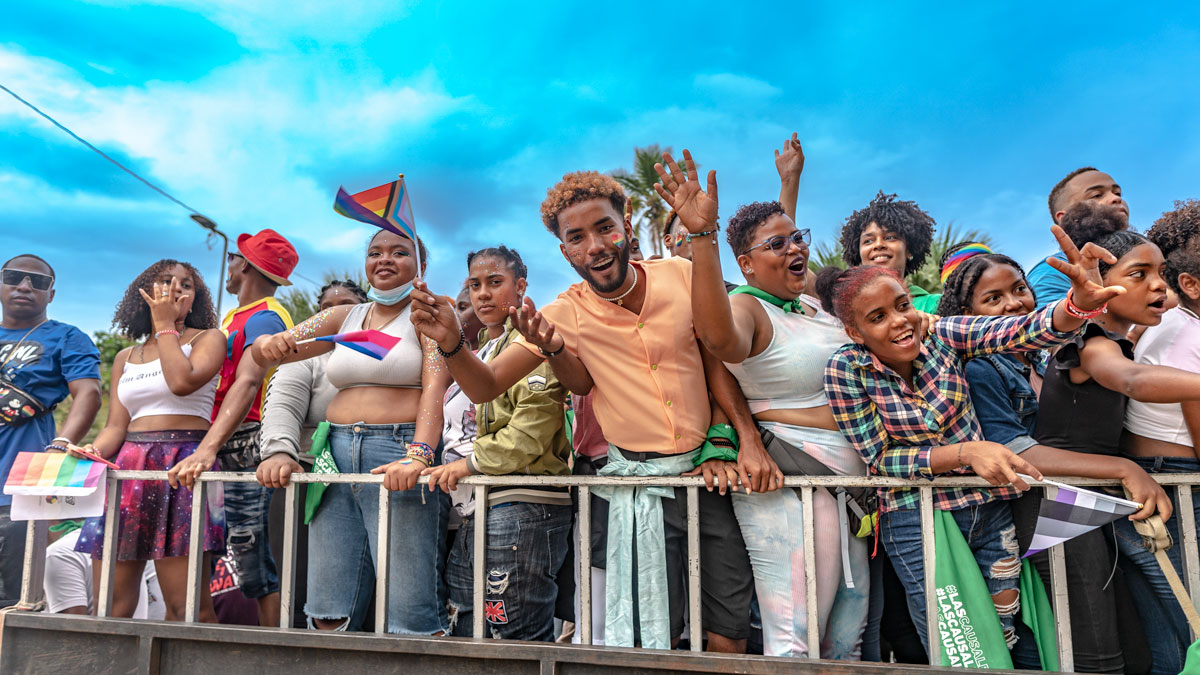 Pride-goers on truck, Santo Domingo Gay Pride
Photo: Walber de la Cruz
Queer Safe Spaces and Free to Mingle Hot Spots
To really let loose without the constraints of society and party all night and day, these following hot spots are burning bright with excitement:
Punta Cana
The D.R.'s largest tourist destination, Punta Cana, is party central on the east coast, with unforgettable clubs like Oro Disco and Imagine Nightclub - apart from the buzzing beaches of Playa Macao, Bavaro Beach, and Juanillo.
La Romana - Bayahibe
La Romana is the ideal place for a truly secluded getaway, where your business is your business, and the open Caribbean shores are your playground. Don't miss a chance to visit the romantic Saona Island.

Puerto Plata
The province of Puerto Plata has always been known as a destination where anything goes in the dark of night - especially in the beach towns of Sosua and Cabarete.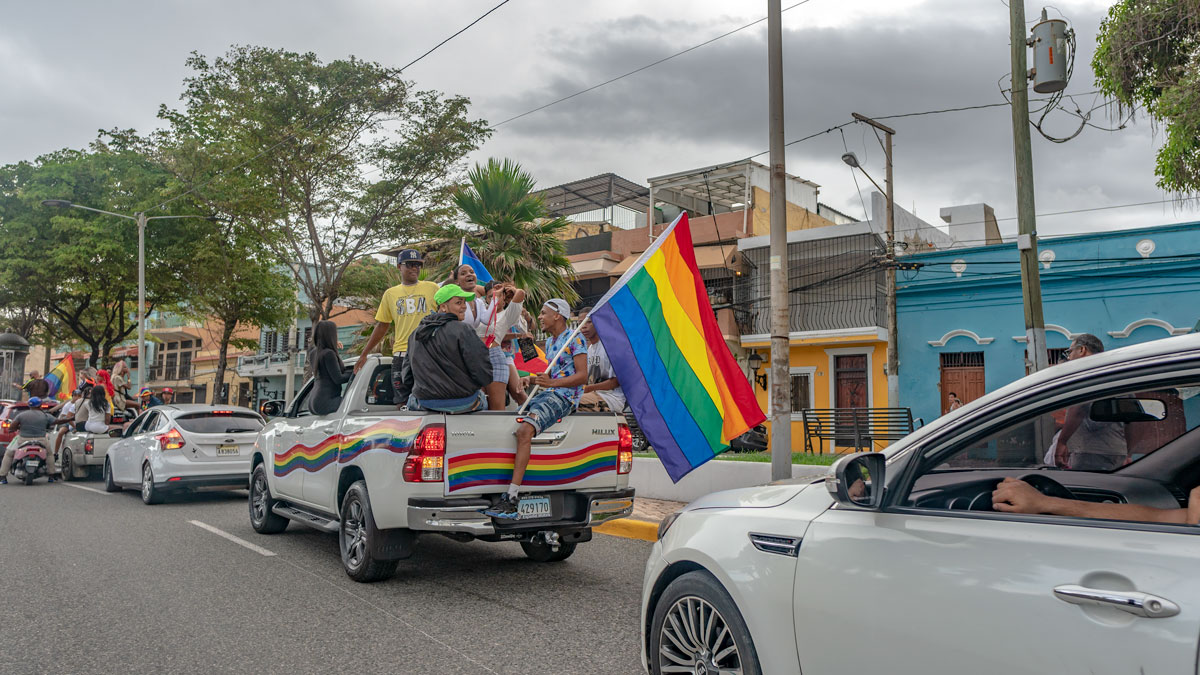 Pride-goers with rainbow flags, Santo Domingo Pride Parade
Photo: Walber de la Cruz
Takeaway Advice
The best advice regarding places to go to is to keep the PDA at a minimum. Holding hands might get a pass, but kissing and other things won't be seen with welcoming eyes in public places like restaurants, museums, and stores.
The Dominican Republic is a lovely travel haven where you'll absolutely fall in love with the weather, the people, and the beaches.
Remember to be smart about your expenses and be safe at all times. If you follow this essential guide, you'll indeed have a chill time. And if you travel during June or July, come and participate in the Santo Domingo Pride Parade. It's a party full of color, live music, and excitement - accompanied by an organized official LGBTQ + after party at one of the hottest Gay clubs in Santo Domingo or a decked-out venue.
Written by Diego Angeles.
Published October 2022.
Top Destinations in the Dominican Republic
Subscribe to our newsletter
Get more travel inspiration, tips and exclusive offers sent straight to your inbox