Beaches & Islands
Playa Rincon Beach
Rincon Beach, Las Galeras
Photo: Viagens e Caminhos / Shutterstock.com
This pristine beach on the Samaná Peninsula is considered one of the best beaches in the world, thanks to its shallow, warm, turquoise water, white sand beach and lush surroundings.
A bit of a drive from major tourist centres, Playa Rincon offers all of the world-class beach bang for your buck with significantly fewer fellow travelers.
Where to eat
As soon as you arrive at the beach, you'll see Rincon Ruby on your right. This restaurant offers fresh local-caught fish such as chillo, mero and loro and lobster, plus good pasta. They also do a divine Pina Colada, though there's very little chance you'll get caught in the rain. A stone's throw further along the beach, you'll find Brassa del Mar, a great choice to sample grilled or fried mero, chillo, hummingbird, and swordfish. Dishes start at RD $500 (about USD $8.50). Next to Brassa del Mar, don't miss the quaint little house turned into a bar, where you can buy a pina colada served inside a fresh pineapple for RD $300 (about USD $5.15).
What else is here?
Playa Rincon is just a half hour drive from Las Galeras, a fishing village on the northeastern tip of the Samaná peninsula, set between two pristine and protected green promontories. The roads are quiet, there's just a few spots to eat or get a massage and, until recently, you would have been more likely to see a humpback whale than a tourist.
Today, the scenery is the same but the scene is quite different. The natural vistas of jungle-clad mountain capes and lush cays - tiny irregular islands formed on top of coral reefs - still exist, but now there are diving schools, French-Caribbean fusion restaurants and bohemian bungalows overlooking them.
Daytime crowds flock to Las Galeras to jump aboard boat excursions to Playa Rincón, Playa Frontón and Playa Madama, brunch at La Playita beach, and go snorkeling, caving, fishing, bike-riding and more.
Despite earning a place on the tourist map, Las Galeras continues to channel a laid-back island vibe that attracts travelers, locals and expats looking to switch off from the world outside. Here's our pick of diving spots, Dominican food joints and sustainable activities worth seeking out before they go mainstream.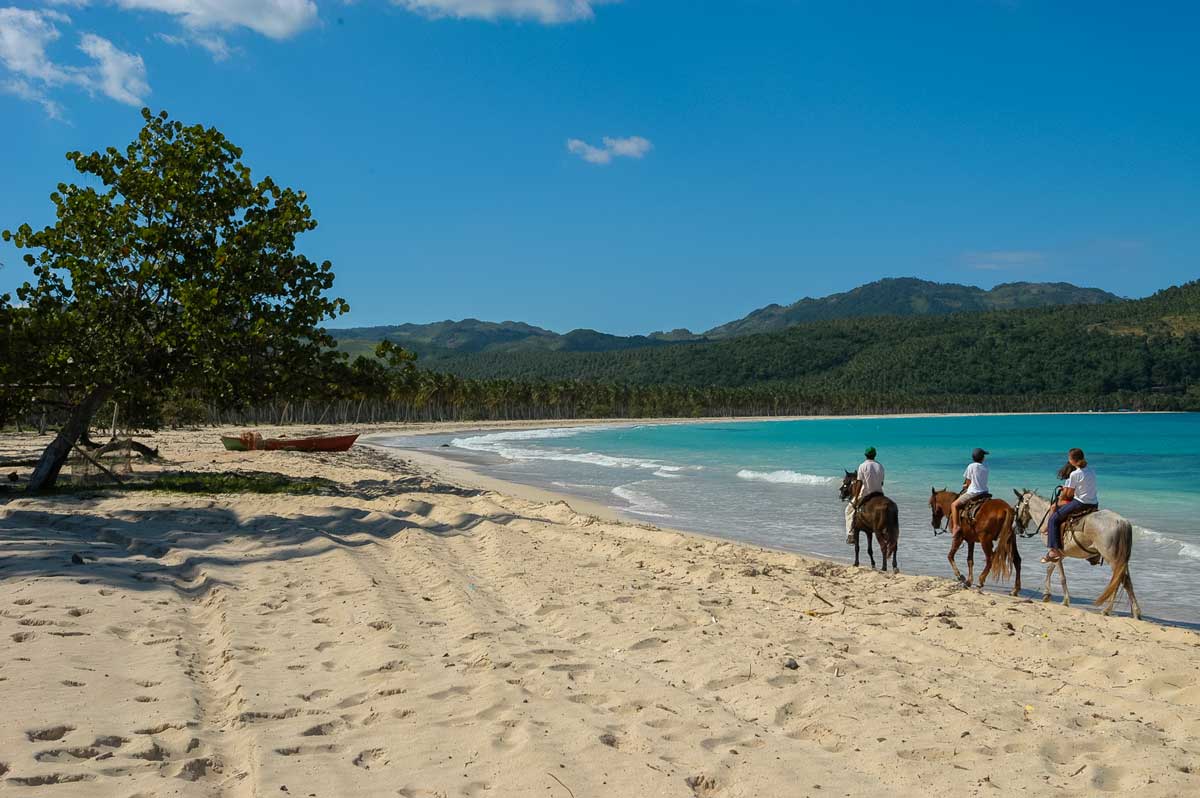 Horseback riding on Playa Rincon
Photo: Stefano Ember / Shutterstock.com
Where to sleep
Just a 10 minute drive south of Playa Rincon, Casa Paraíso Eco Lodge offers six unique rooms, all decorated differently but all with no wall facing the sea, so you can max out on the ocean view during your stay (when you're not in the infinity pool, that is).
An hour's drive west of Playa Rincon, Unique Exotic Eco Hotel is a recently-completed boutique option on nearby La Valle cove. The highlight here is the open-plan wooden kitchen, where you feel like you're eating in a treehouse in the middle of the jungle. The bungalows you'll sleep in are a few minutes away from the kitchen and lounge, right on the beach itself.
Getting there
You can reach Playa Rincon Beach by car or by boat. From Las Terrenas, the drive is an hour and forty five minutes east through the Samaná peninsula. The road is full of curves, but it is in perfect condition and offers glorious views of lush Caribbean countryside. On the way to Playa Rincon beach, you can stop in small towns like Samaná for lunch and a walk through town to more of the Dominican Republic's seemingly inexhaustible supply of gorgeous beaches.
When you get nearer to Playa Rincon Beach, signs indicate which direction to take.
Written by Aura De Los Santos.
Published Ocotber 2020
Explore Bahía de Las Águilas
Go glamping in Bahía de Las Águilas, a pristine paradise with ultramarine shores, incredible wildlife, and eco-lodges in the Dominican Republic.
Camping on the beach, Bahía de Las Águilas
Photo: chrisontour84 / Shutterstock.com
Subscribe to our newsletter
Get more travel inspiration, tips and exclusive offers sent straight to your inbox