Destinations
What to do in Las Galeras
A tropical villa with pool in Las Galeras
Photo: Pavel Prodan / Shutterstock.com
Las Galeras is a sleepy fishing village on the northeastern tip of the Samaná peninsula, set between two pristine and protected green promontories. The roads are quiet, there's just a few spots to eat or get a massage and, until recently, you would have been more likely to see a humpback whale than a tourist.
Today, the scenery is the same but the scene is quite different. The natural vistas of jungle-clad mountain capes and lush cays - tiny irregular islands formed on top of coral reefs - still exist, but now there are diving schools, French-Caribbean fusion restaurants and bohemian bungalows overlooking them.
Daytime crowds flock here to jump aboard boat excursions to Playa Rincón, Playa Frontón and Playa Madama, stretches of white-sand beach that soften an otherwise dramatically rocky coastline. Snorkelling, diving and swimming are the major drawcards here, but there's plenty more to explore for nature lovers, including hiking, mountain biking, fishing, playing dominoes at a local bar, waking up in one of the bungalows perched right out over the water, and brunching in paradise at La Playita beach.
Despite earning a place on the tourist map, Las Galeras continues to channel a laid-back island vibe that attracts travelers, locals and expats looking to switch off from the world outside. Here's our pick of diving spots, Dominican food joints and sustainable activities worth seeking out before they go mainstream.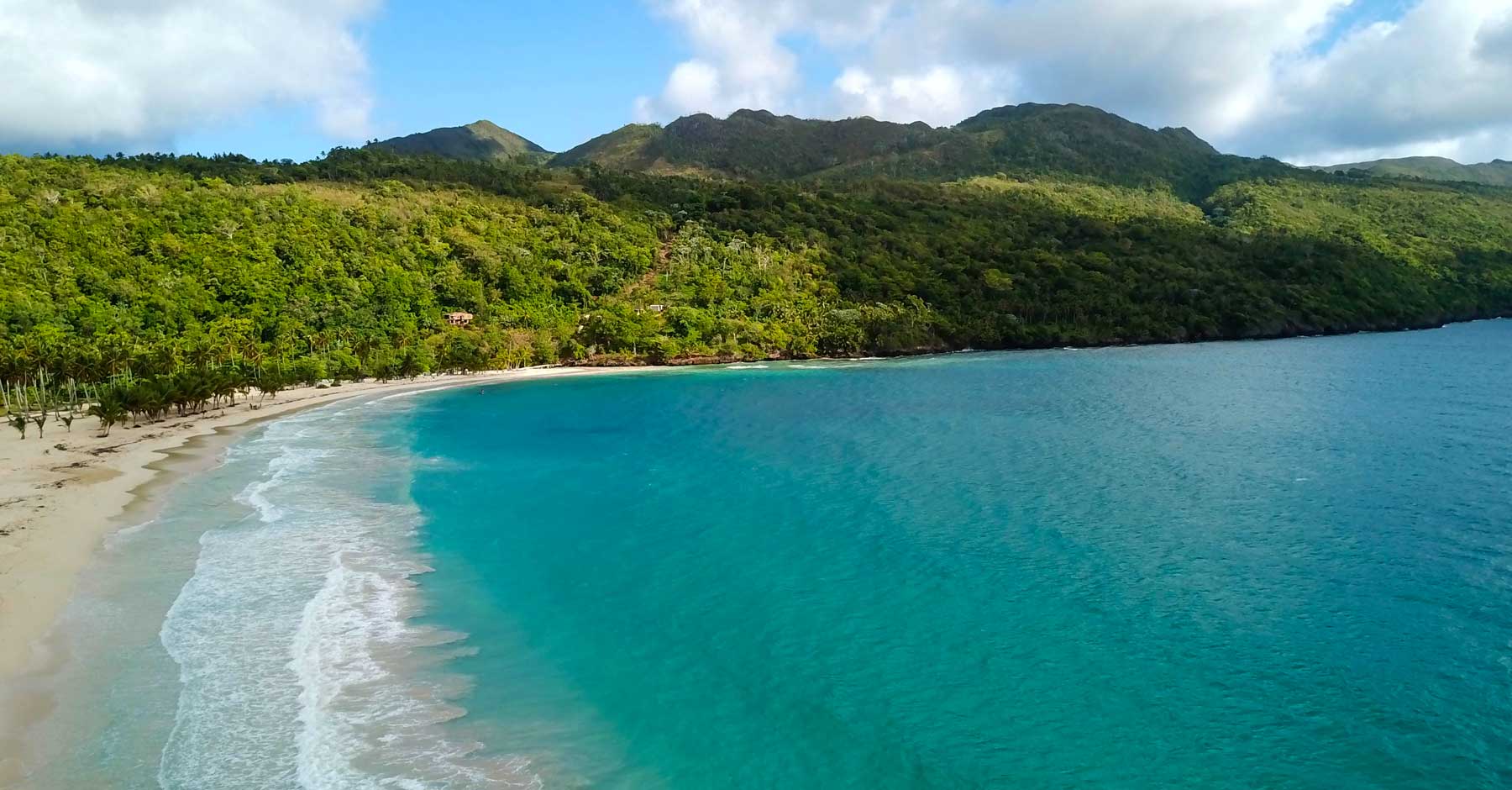 Rincon Beach, Las Galeras
Photo: Viagens e Caminhos / Shutterstock.com
What to do in Las Galeras
Hit the beach
Playa Rincón, Playa Frontón, Playa Madama, La Playita and Playa El Valle are all in easy distance of Las Galeras village. Playa Rincón regularly ranks as the most beautiful beach in the Dominican Republic. The beach abutting Las Galeras itself - Playa Grande - is rocky and jagged, so it's better for soaking up the sunshine and the view than wading into the waves. For just a few dollars you can rent a white plastic folding chair at Playa Grande and gaze out to the cays that break up the endless sea of turquoise.
Go surfing at Playa El Valle
About a forty-five minute drive from Las Galeras, Playa El Valle is a postcard-perfect surfing strip - minus the crowds. You can learn to surf here with Pirata Surf School, but you'll have to book in advance since Pirata is based in Punta Cana and will be making the trip to El Valle especially for you.
Wine and dine at Restaurant Las Galeras
For a taste of real Dominican cuisine that's tasty and authentic, head 10 minutes up the paved road from the beach to Restaurante Las Galeras, owned and run by a local family.
For a taste of French-Dominican fusion cooked up by expat Pierre, drive up to the best view overlooking the cove at El Monte Azul. Note: they've recently changed their hours - check before you go.
-Take an Excursion
Las Galeras is the perfect destination to do nothing at all, but if you do work up the desire to pull yourself off your sun lounger, there's a wealth of activities on shore and at sea.
Heading through the only real road of Las Galeras village, or along the beach, you'll see a number of tour guides offering local excursions. Here are the top three to look out for:
- Playa Ermitano & Puerto Escondido - explore idyllic, unspoilt Playa Ermitano, a white-sand beach that bleeds into crystal-blue waters teeming with tropical fish, then check out Puerto Escondido - one of the hottest spots for snorkelling in the entire Dominican Republic.
- Fishing - follow local fishermen on a half-day fishing trip, visiting the best locations for casual fishing and cooking it all up on the beach afterwards.
- Parc National Los Haitisises Cano Hondo - explore three incredible caves that still contain the drawings of Hispaniola's indigenous Taino people, then wade through the magical mangrove forest to arrive at the Cano Honda waterfall for a well-deserved dip.
By all means talk to potential tour guides and book with whomever you like, but if in doubt stick with a reputable excursion company like Joel and Ludi Excursions.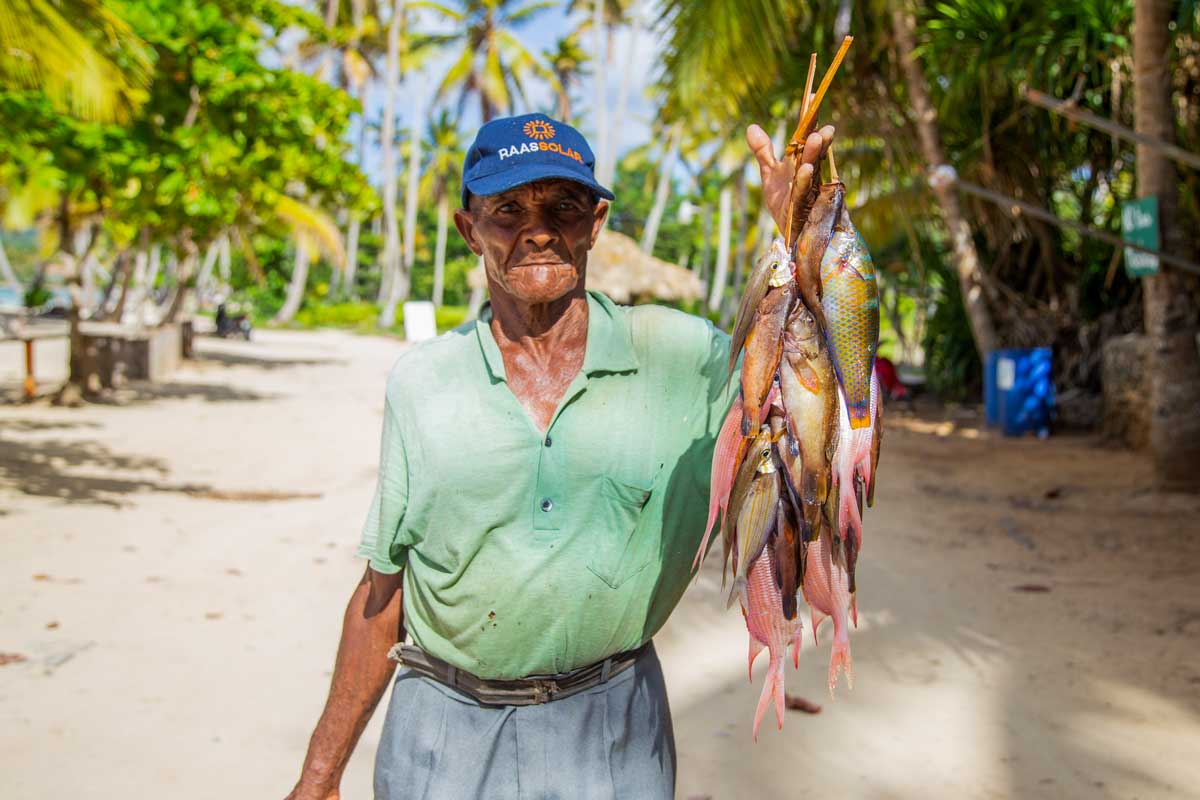 A fisherman in Las Galeras with the catch of the day
Photo: Iren Key / Shutterstock.com
Take a Bike Ride
What better way to explore the literal edge of the beautiful Samaná peninsula than by bike? Rent a bike and explore the area on your own time, or hop on a guided (but very chill) cruise around the most scenic spots of Las Galeras. Itching for a more active adventure? The main road into Las Galeras was recently paved so you can go for some high speed riding along the flats, with coconut plantations rushing by as you take to the local mountains for some breathtaking views.
Bike rentals are available from many places around Las Galeras village or along the beach, with a number of different style bikes to choose from, all at affordable prices.
Go Diving
The Dominican Republic is world-renowned for its diving spots, and Las Galeras is the jumping-off point for some of the best. A number of professional and experienced diving companies run diving nearby. Take a tour with Las Galeras Divers to discover some epic underwater environments and see some unique marine wildlife while you're at it. Humpback whales migrate past Las Galeras between January and April.
Whether you are a beginner, wanting to start your PADI certification or a seasoned vet, Las Galeras has something for all divers and capabilities.
Where to wake up
At these three sustainable stays you can sleep in starlight with the sound of the ocean crashing against the cliffs below, wake up to birdsong and ocean views, take a hot shower surrounded by nature, and sip your morning brew with one hopeful eye on the sea in case a humpback whale breaks the surface.
Unique Exotic Eco Hotel is a recently-completed boutique option on nearby La Valle cove, a forty-five minute drive from Las Galeras. The highlight here is the open-plan wooden kitchen, where you feel like you're eating in a treehouse in the middle of the jungle. The bungalows you'll sleep in are a few minutes away from the kitchen and lounge, right on the beach itself.
Casa Paraíso Eco Lodge offers six unique rooms, all decorated differently but all with no wall facing the sea, so you can max out on the ocean view during your stay (when you're not in the infinity pool, that is).
Samaná Ocean View Eco Lodge is a great option if you're in a large group, since you can only stay here if you book the whole 14-bungalow property.
Getting there
From Samana, Las Galeras is a one hour ride on a guagua through coconut plantations patchworked with rolling open fields.
Written by Andrew Miles.
Published October 2020
Dominican culture and customs: know before you go
If it's your first time visiting the Dominican Republic, a little knowledge about Dominican culture and customs will boost your confidence to go out, meet the locals, find your way, order off the menu, and browse and haggle.
Fruit seller in Constanza
Photo: Mikkel Ulriksen
Subscribe to our newsletter
Get more travel inspiration, tips and exclusive offers sent straight to your inbox