Beaches & Islands
Set Sail for Saona Island
Saona Island, Dominican Republic
Photo: Shutterstock.com
Saona Island is one of the most beautiful destinations on the planet, and the secret is out - this remote, pristine paradise has become one of the focal points of the Dominican Republic's  tourism boom, and now attracts about one million visitors every year.
Happily, this paradise isn't in danger of becoming a parking lot - the whole island is protected as part of the Cotubanamá National Park. The only buildings you'll find on the island are the two tiny settlements of Catuano, a Navy base on the western edge of the island, and Mano Juan, the main town located to the south. Thanks to the protections in force on the island, Mano Juan is still a sleepy fishing village, and its traditional wooden houses painted in different colors are part of the island's charm.
What to expect on a boat trip to Isla Saona
Most Isla Saona tours take you there by speedboat or catamaran and depart from Bayahibe (although you can also set off from Bavaro, Punta Cana, Cap Cana and even Santo Domingo). Traveling by speedboat will get you to Saona faster, while catamarans offer a more leisurely journey - you can walk around onboard comfortably and see more of the coastline as it glides by.
Traveling to Saona by boat gives you the best chance to admire the bird-thronged mangroves along the coastline, the deserted beaches, some of the park's eight emerged coral reefs and almost 400 grottos.
Most tours, whether by speedboat or catamaran, will stop to let you off for a swim in the biggest natural pool in the Dominican Republic - a huge expanse of shallow sea in the Catuano strait that separates Isla Saona from the mainland, with a floor of silky-soft pure white sand and unbelievably bright-turquoise water. Many tours provide snorkelling gear so you can get up close and personal with starfish and schools of colorful tropical fish.
From the natural pool site, it's another 20 minutes to Saona Island proper. If your tour didn't include lunch aboard the catamaran, then you can expect lunch on arrival. The buffet lunch is a great introduction to Dominican delicacies featuring fresh fish and shellfish, chicken, plantains, rice, juicy tropical fruit and exotic rums and cocktails as well as a standard party bar.
If swimming in paradise isn't quite enough, you can liven things up with a game of beach volleyball or don fins for some more snorkelling.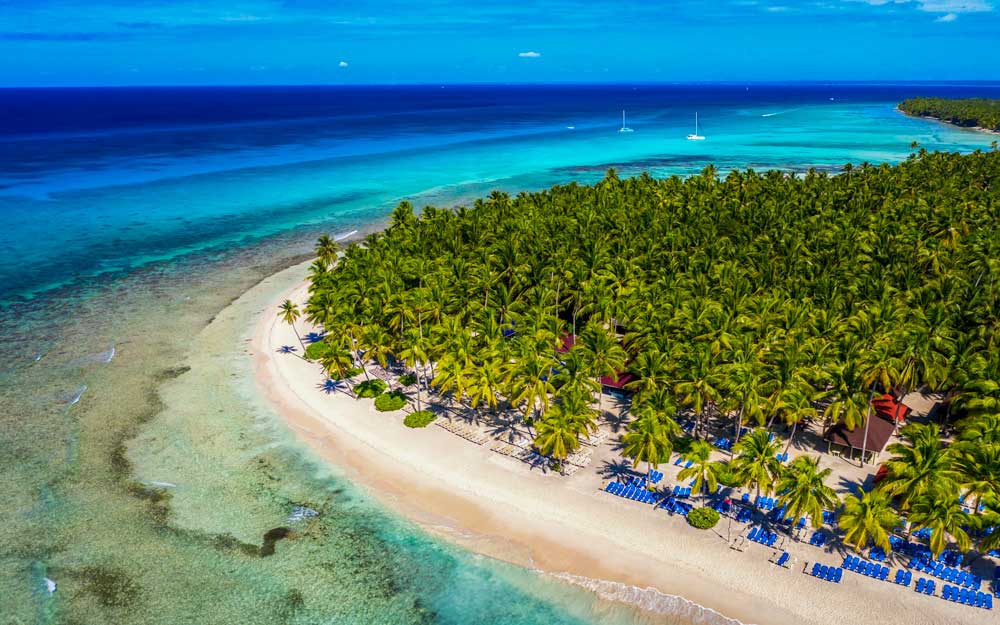 Saona Island, Dominican Republic
Photo: Shutterstock.com
Where to stay
Because Isla Saona's status as a pristine paradise depends on its protection from new tourist megaplexes, you won't find anywhere to stay on the island itself. Instead, your best bet is to stay at one of the many resorts or boutique hotels in La Romana, Bayahibe or Punta Cana.
Getting there
Saona Island lies offshore of the southeastern tip of mainland Dominican Republic. Dead south of the La Altagracia province, politically Saona belongs to Altagracia's western neighbor, La Romana.
Getting to La Romana from the capital city of Santo Domingo takes approximately 2 hours by car. From La Romana to Saona Island, travel time varies enormously depending on how you decide to get here.
You'll find more than a dozen tour companies offer public and private tours, with many offering extras like lunch, an open bar, hotel pick-up and drop-off, scuba-diving and live entertainment. Shop around for the best tour by asking agencies what extras they offer. Prices vary according to the agency and the extras included, and sometimes how you book, but you can expect to pay between USD $50 - $100 for a round trip.
You can also get to Saona by helicopter straight from Punta Cana. Helicopter flights take 25 minutes and start at USD $299. The view from the air is other-worldly - in fact, you'll be flying close to where the helicopter scenes in the original Jurassic Park were filmed! You can read more about famous DR movie locations here.
Written by Aura De Los Santos.
Published June 2020.
Dominican culture and customs: know before you go
If it's your first time visiting the Dominican Republic, a little knowledge about Dominican culture and customs will boost your confidence to go out, meet the locals, find your way, order off the menu, and browse and haggle.
Fruit seller in Constanza
Photo: Mikkel Ulriksen
Subscribe to our newsletter
Get more travel inspiration, tips and exclusive offers sent straight to your inbox