Food & Drink
Our Favorite Restaurants in Jarabacoa
Mountaintop restaurant in Jarabacoa
Photo: Mikkel Ulriksen
Indulge in Jarabacoa's vibrant food culture with our handpicked list of the best restaurants!
The mountain town of Jarabacoa has long been a secluded enclave for thrill seekers and adventure travelers due to the many exhilarating activities on offer in the area. But a growing food scene with a range of choices is slowly making this city a culinary destination in at of itself.
From Michelin-nodded restaurants to low-key neighborhood bistros, you'll find a tapestry of Spanish and Caribbean influences with rich and flavorsome food and options suited to even the most modest budget. Let's dive in and explore the Jarabacoa restaurants worth visiting.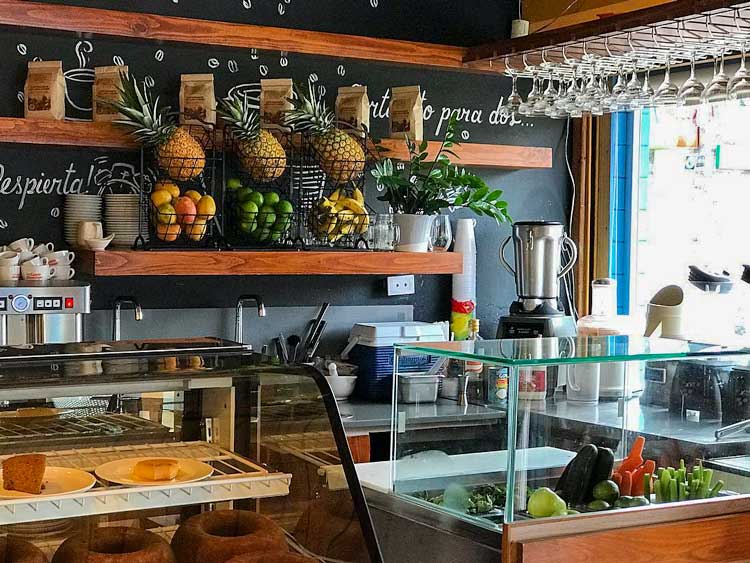 La Tinaja bakery & restaurant in Jarabacoa
1. La Tinaja
Located in the center of Jarabacoa on the busy Av. Independencia, La Tinaja is easy to spot with its cheerful blue and yellow facade. It's not only a restaurant but also a bakery and if you go in the morning, you'll be welcomed by the warm and inviting atmosphere, complete with the aroma of freshly baked pastries and coffee. We recommend their homemade cinnamon rolls or for a more classic Dominican breakfast their famous mangu con los tres golpes, featuring a flavorful mash of plantains with fried egg, cheese, and salami.
You can, of course, also opt to go for lunch or perhaps dinner after a long day of exploring. It's easy to get overwhelmed by the number of dishes on the menu, but don't worry; this upscale restaurant makes everything to perfection. Top picks include the steamed salmon with lemon caper butter sauce or the beans criollo.
Last but not least, you can't visit La Tinaja without trying their delectable carrot cake drizzled with condensed milk, which everyone raves about. It has a soft and tender crumb and a flavor that will have you savoring every bite of the nutty carrots.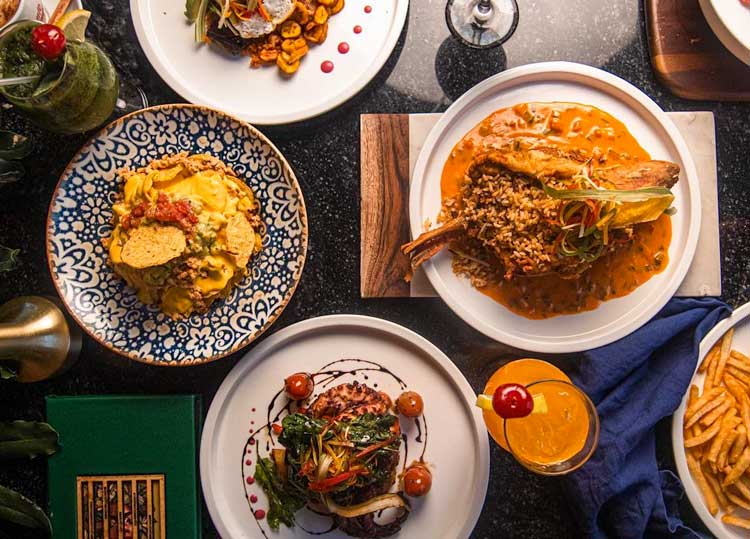 El Fresco Bistro & Cafe in Jarabacoa
2. El Fresco Bistro y Cafe
Discover the ideal blend of elegance and casual dining at El Fresco, a tasty and down-to-earth dining experience. The clean minimalistic decor, soft lighting, and hanging vines create a garden-like atmosphere.
Try their stuffed breast filled with melty cheese, bacon, and sweet plantain if you're looking for something hearty and heavy or the tender braised octopus served on a bed of roasted greens. Pair either dish with a cold Presidente or a signature cocktail for the ultimate dining experience.
El Fresco is open every day of the week from 8 am to 11 pm. We recommend making a reservation in advance if you plan to go during the weekends, as the space fills quickly. They also offer delivery if you're staying in a hotel or Airbnb in the area.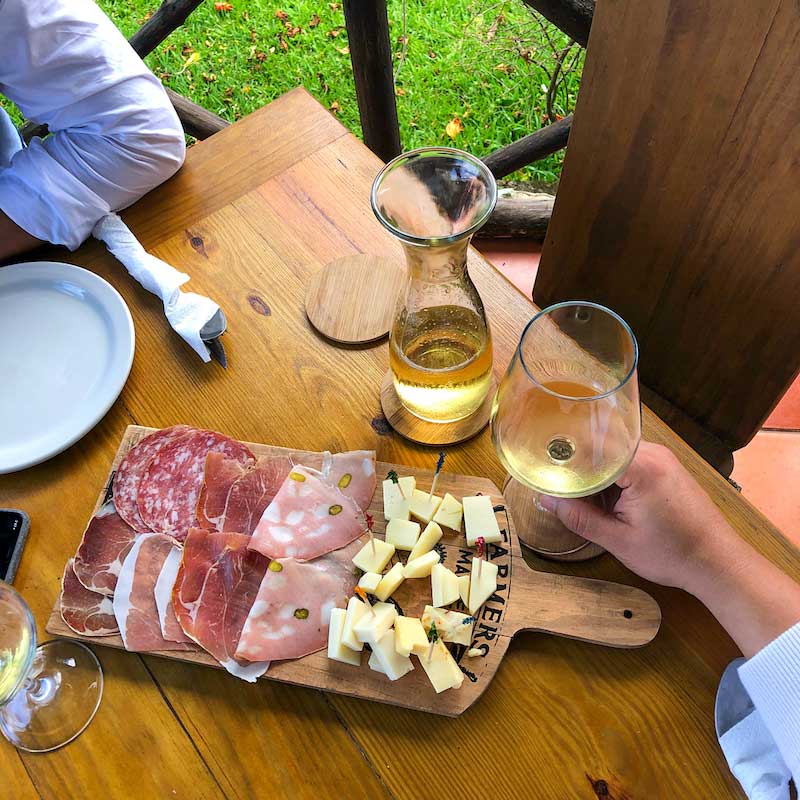 La Baita restaurant in Jarabacoa
3. La Baita
If you find yourself in Jarabacoa craving tasty pizzas baked to perfection this is the spot to go. La Baita is an Italian restaurant located on the outskirts of the city, close to the Jimenoa river and with an incredible view of the nearby farmlands and mountains in the distance.
Their menu includes a variety of traditional Italian dishes such as fresh homemade pasta, salads, focaccia, risotto, and Italian-style pizza and calzoni. A must-try pizza is the vegetarian Baita Mozzarella, with melted cheese and mushrooms drizzled with honey. The owner Marco - who is Italian - is often working the kitchen himself and will happily answer any questions and even cook up something special for you.
Complement your meal with a selection from their extensive Italian wine and beer menu, perfect to accompany your favorite dish. They even have Limoncello, the famous Italian liqueur made from lemon zest that's mainly produced along the Amalfi Coast.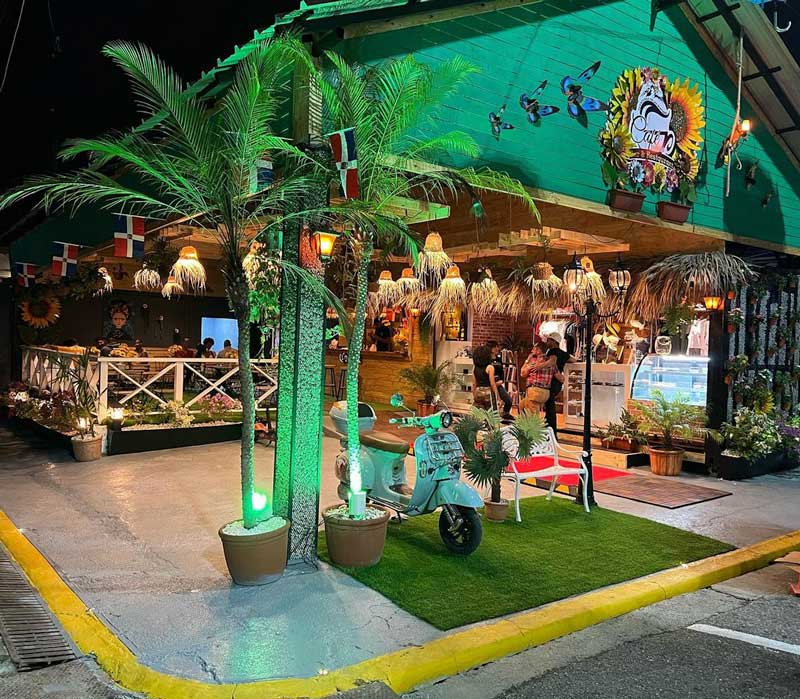 4. Cafe Colao
The ever-popular Calle Hermanas Mirabal, lined with cafes and ice cream shops in the city center of Jarabacoa, is a great place to go people-watching or just to stroll through. But one place on the street is notably worth visiting. In a wooden house painted in a bright pastel shade of turquoise with a white picket fence, you'll find Café Colao.
The interior of the café is an experience in itself, and you might feel like you're visiting a local house in the Dominican countryside. Each seating area has its own slightly different homey design decorated with old Dominican instruments, bowls, glasses, and plaques, making it an eye-catching and fun place to visit for the whole family.
Known for its delicious and traditional Dominican breakfasts, these fan-favorite dishes are a hearty serving of boiled potatoes with onions, sweet peppers, sausage, and eggs. The menu also offers a variety of lunch, and dinner options, including juicy burgers, fried fish, and tender meat dishes.

Parador Corazón de Jesús in Jarabacoa
5. Parador Corazón de Jesús
For an authentic Dominican barbeque experience, Parador Corazón de Jesús is the place to be. Located 20 min northeast of Jarabacoa on the road to La Vega, this popular spot draws in locals, travelers, and particularly meat lovers.
The go-to dish is their succulent ribs, but they also offer a wide range of other meats to choose from, sold by the pound. You won't go hungry with a generous selection of sides like crispy fried yuca or tostones, buttery sautéed potatoes, and eggplant casserole.
The restaurant boasts two levels with three dining areas, large enough to accommodate even the biggest groups. The atmosphere is surprisingly relaxed, considering the large flow of daily guests. Perhaps it's the combo of the stunning mountain views and the comforting soul food that does it.

Balcón Restaurant in Jarabacoa
6. Balcón Restaurant
Masterminded by Michelin Chef Adin Langille, Balcón Restaurant is the newest addition to the thriving food scene in Jarabacoa. From its one-of-a-kind menu to its well-crafted cocktails, El Balcón is the epitome of fine dining.
Perched atop a mountain, the restaurant boasts panoramic views that transport diners to a world above the clouds. With an atmosphere to match its menu, Balcón is the perfect place for a special occasion, an intimate evening, or if you're just looking to treat yourself to something really good. Whether you're sipping on a Hibiscus Daiquiri or savoring an oyster ceviche or pumpkin risotto, you'll be transported to a world of flavor and flair.
Remember to book a table ahead of time, as Balcón Restaurant only accommodates guests with prior reservations.
Looking for Some Cool Things to Do?
Subscribe to our newsletter
Get more travel inspiration, tips and exclusive offers sent straight to your inbox