Up Close
Covid-19: Travel Restrictions in the Dominican Republic
Lighthouse in Santo Domingo
Photo: Leo Arturo Martinez
All information in this article was correct at the time of publishing, February 5 2021 - please double check official sources for updates
With 33 countries closing their borders to US travellers last month, US residents yearning for an overseas holiday will be glad to know international travellers are currently welcome to travel to and from the Dominican Republic.
At the moment, restrictions for foreigners in the Dominican Republic aren't prohibitively strict, but there are some requirements, restrictions and free services you should be aware of. Here's what to expect if you're planning to cross the border, in or out.
If you're travelling to the Dominican Republic
Every incoming arrival must undergo a mandatory temperature check upon arrival, and anyone with positive results will be isolated in authorized locations. Border control isn't requiring negative test results of every traveller - officials are testing everyone with symptoms and conducting random testing of 3-15 percent of all new arrivals over the age of five (crew members are exempt).
If you're coming from or via the UK, you must provide evidence of a negative test result obtained within three days prior to your arrival. If visitors from The U.K don't bring their PCR results, they might be required to go through a PCR test and be isolated in a government facility.
Until February 2021, all visitors must complete either a Traveler Health Affidavit or a digital "eticket" form, a combination of the usual Customs Declaration and Embarkation/Disembarkation forms with the Traveler's Health Affidavit. From March 1st 2021, only digital "etickets" will be accepted.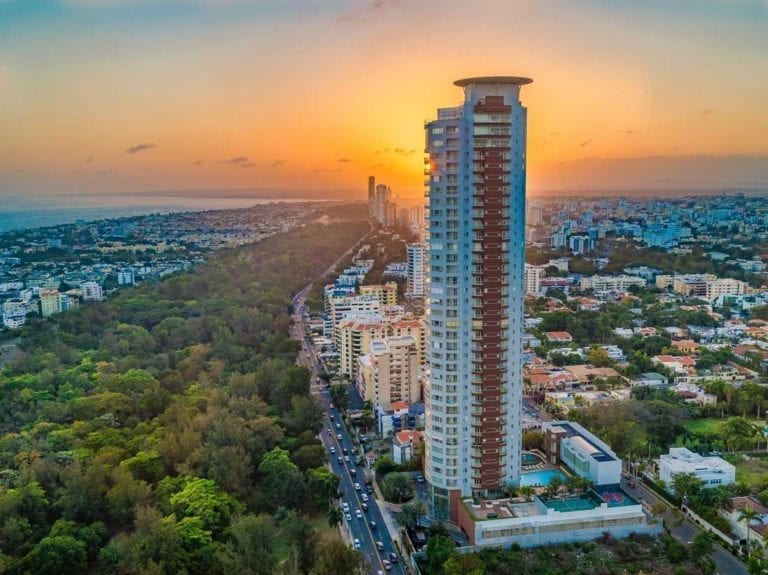 Mirador Park skyline, Santo Domingo
Photo: Leo Arturo Martinez
If you're already in the Dominican Republic
Anyone returning to the United States from The Dominican Republic must provide evidence of a negative PCR or Covid-19 test result obtained within three days prior to re-entry. Luckily, the ministry of tourism is offering PCR tests to all international visitors staying in a hotel. This service is provided to all international travelers coming via comercial flights and staying in a hotel. Confirm with your hotel to make sure the test will be covered.
Your hotel can help you arrange an appointment before you depart back to your country of origin. Your hotel might charge a fee to arrange an appointment for you, but keep in mind tests in the Dominican Republic are currently hard to get, so arranging through your hotel might be the most effective way to ensure you get the test done before your return flight.
For international visitors arriving on commercial flights on or before March 31st and staying at a hotel, the government is providing free emergency travel assistance.
How curfews and changed capacity will affect you
If you plan to stay in a hotel or resort, you won't feel the curfew currently in place everywhere else. Bars and restaurants are closed at 7 PM and transit is available until 10 PM from Monday to Friday. The curfew is subject to change every 28 days, and you can find up-to-date restrictions guidelines on the Dominican Ministry of Health's website, Instagram or Twitter accounts.
Due to Covid-19, most hotels, bars and clubs in the Dominican Republic have temporarily shut their doors. As in cities and towns across the globe, hospitality businesses are having to reinvent themselves in order to survive. Most restaurants and bars that are open, are open at half capacity.
Most of the museums are closed, and some outdoor parks as well. You can walk or run through the malecon, enjoy a beer in a park or smoke a cigar on the beach. Social life and nightlife has been affected the most, so if you have your heart set on dancing til dawn in the Dominican club scene, you might want to postpone your trip.
However, if a secluded vacation at a half-empty beach resort appeals to you, the Dominican Republic might be the destination for you. The beaches are as beautiful as ever, and there's considerably more peace and quiet than usual to be found at beachside resorts.
Written by Diego Angeles.
Published February 2021

Explore the Dominican Republic's Wildlife & Nature
Subscribe to our newsletter
Get more travel inspiration, tips and exclusive offers sent straight to your inbox